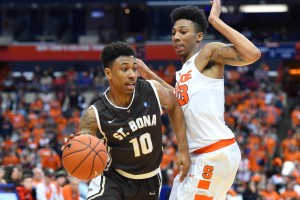 By PAUL GOTHAM
ST. BONAVENTURE, N.Y. — Dion Wright registered a career-high in points.
Jaylen Adams handed out a season-high in assists.
St. Bonaventure's Bonnies swept the Big 4 for the second year in a row. The team completed its non-conference portion of the schedule with the best winning percentage under Mark Schmidt, and the ninth-year coach moved up the ladder in all-time wins.
Somehow this all rang hollow.
On paper, Bona came away with a double-digit win. In the minds of those who matter most, it was an uneven effort with the Atlantic 10 conference season on deck.
"We have stretches where we play really well, but we haven't done it consistently," Schmidt said.  "That's the challenge. We want a team that's playing the best basketball at the end of the year, and that's what we try to push for. At the same time, in order to be successful in this league, you better be playing pretty good basketball to win."
The Bonnies dug an eight-point hole less than three minutes into the game, regrouped and took eight-point advantage into the locker at halftime. The lead fell to two early in the second stanza before the Brown and White mounted a decisive run. Even a 20-point bulge didn't seem good enough.
"At times we play really well both from an  offensive standpoint and a defensive standpoint," Schmidt stated. "We got to do it for forty minutes. We got to sustain it.
"That's the thing. Good teams, good defenses they sustain their effort on both offensive end and the defensive end. We have not done that yet. That's the challenge, and that's what we need to get to if we're going to compete and be successful in the next 18 games."
Adams handed out five of his season-high 12 assists during the decisive 26-6 second-half run, and Wright netted 17 of his 28 points after the break as the St. Bonaventure Bonnies defeated the Niagara Purple Eagles, 82-68 Wednesday night at the Reilly Center.
The Bonnies held Niagara without a field goal for nearly eight minutes during the run, but Niagara scored on 10 of their last 13 possessions to hit 16 of 32 from the floor in the second half.
"With the teams were about to play, starting on Saturday you know we can't afford to do that," Schmidt noted. "When you have a team down, you got to knock 'em out."
Nelson Kaputo added 14 on 5-of-10 shooting including 4-of-6 behind the arc.
Bona created 18 turnovers. Niagara managed just seven assists. The Purple Eagles outrebounded SBU, 35-29 and had a 15-6 advantage in second-chance points.
In their most recent outing the Bonnies fell to Siena 73-70 last Tuesday.
The Bonnies finish the non-conference portion of their schedule at 8-3 – the best non-conference winning percentage in the nine years under Schmidt. With the win, Schmidt tied Jim Baron on the all-time Bona wins list with 132.
SBU beat Canisius, 77-73 and Buffalo 60-58 earlier this season to complete the Big 4 sweep.
The ties that bind
The dozen dishes from Adams was part of an overall effort where the Bonnies handed out 24 assists on 29 made field goals. The 24 helpers marks a season high. Previous high was 19 versus Vermont. Adams and Kaputo combined for 17 dimes and just five turnovers. Many of the assists came on the Bonnies' season-high 12 3-pointers.
"Twelve assists means that there were 12 buckets," Adams said. "When teammates knock down shots the way they did tonight, it was easy to get that many assists."
"Jay hit it on the head," Schmidt said. "When you hit 12 threes, you're going to have more assists. It's a little bit inflated, but those guys handled the ball well and 17 assists to 5 turnovers. Three to one assist to turnover ratio – that's what you aim for and one of the reason why we shot 51 percent."
Not all the helpers were easy. Adams found Derrick Woods in the lane with a pretty behind the back pass to give Bona its largest lead of the game at 61-39 with 10:18 left in the game.
If I should fall behind…
Niagara grabbed two offensive rebounds and scored on three of its first four possessions to grab an early 8-2 lead.
"We got off to a terrible start," Schmidt commented. "Give Niagara credit. They came out and put us on our heels. They hit three threes in the first three minutes of the game. I think they were averaging five a game going into it. I thought we gathered ourselves."
For the record – NU hit its third three at the 15:52 mark of the half.  The Purple Eagles came in averaging 5.5 per game from long range. (Give Schmidt some slack. He is a New England/Bill Belichick fan. Score one for the "hoodie" perspective.)
From small things mama big things one day come
For the bulk of its 22-6 run, Bona used a lineup with no one taller than 6-7. Marcus Posley (6-0), Kaputo (6-0) and Denzel Gregg (6-7) joined Adams (6-2) and Wright (6-7).
"When we really go small, we bring Denzel at the four, Dion at the five," Schmidt explained. "From an offensive standpoint, that's hard to guard.
"When you have three perimeter guys that can shoot the ball and take guys off the bounce, that's hard to deal with. The problem with that is the defensive end. Rebounding, we're small. You're going to give up something from the defensive standpoint when you go small, but for us so far it's been successful. The question is will it be successful against the bigger athletic teams like we're about to play."
Turn on the tee vee Nurse Ratched
Bona hosts Davidson on Saturday. An 8 p.m. tip off is scheduled. All seven Atlantic 10 games will be televised this weekend. Saint Joseph's and Richmond get it started at noon with the first of three Saturday games televised on NBC Sports.
"This is going to give us a little bit juice for when Davidson comes in this weekend," Adams said.

Video courtesy of St. Bonaventure Athletics.  
Other games in the Atlantic 10
Dayton 85 Arkansas 81 OT
The University of Dayton Flyers won their final non-conference game of the season and the final game of the 2015 calendar year in thrilling fashion, edging the Arkansas Razorbacks 85-81 in overtime. The win gives coach Archie Miller his 100th win at UD.  He is the third-fastest coach to do so in program history behind Don Donoher and Tom Blackburn. READ MORE.

Video courtesy of the University of Dayton Athletics.
Rhode Island 88 Brown 85 OT
Rhody erased a 15-point second half deficit and took an extra five minutes to earn an 88-85 victory over Brown at the Pizzitola Center on Wednesday night. READ MORE.
VCU 80 North Florida 68
VCU held North Florida, the NCAA leader in 3-pointers per game, to a season-low-tying treys and produced two 20-plus point scorers in an 80-68 win. Seniors Melvin Johnson and Korey Billbury led the way with 23 and 22 points for the Black and Gold, while redshirt junior Mo Alie-Cox added a career-high 19 for the Rams. READ MORE.

Video courtesy of Virginia Commonwealth University Athletics.