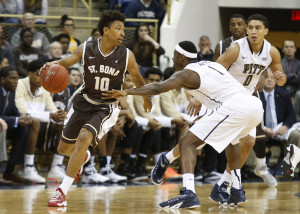 By PAUL GOTHAM
ST. BONAVENTURE, N.Y. — Who says an occasional threat can't have a positive impact.
Faced with prospects of having the taste of a loss linger during an extended layoff, the St. Bonaventure Bonnies rallied for an 80-68 victory over the Vermont Catamounts in non-conference action at the Reilly Center, Tuesday night.
After leading by as many a dozen points, St. Bonaventure went into the locker room at halftime with a six-point edge that felt closer than that.
"We have 11 days off and challenged the guys," Bonnies head coach Mark Schmidt said about the halftime discussion focused on the number of days before their next game. "What do they want to do with these next 11 days?"
Bona responded with a decisive 26-10 run in the second half. But reinforcement was needed when Vermont knotted the score at 45 less than two minutes in the second half.
"We didn't do a good job in the first half of closing out possessions," Schmidt added. "We kept them in the game. A team like that if you keep them around long enough, they're going to stick.
"We came out a little lethargic in the second half. They hit two threes, tied the game up, and we started playing."
Jaylen Adams delivered a career-high 28 including two of his seven 3-pointers during the pivotal stretch as the Bonnies won for the third time in as many games.
"Once the first one goes in, it kinda makes it for the next one to go in," Adams said. "After that? The first two go in it could be a good day. My teammates found me in open spots."
Coming out of a timeout, Adams drilled a pull-up three to give Bona a 48-45 edge. The sophomore guard topped his season-high of 25 registered in the Bonnies 80-70 win over Ohio on Saturday.
"I thought Jay was terrific especially in the second half," Schmidt noted. "Played even better than he did against Ohio U."
Adams finished the night 9-of-14 from the floor and 7-of-1o from the behind the arc. He used an upfake to create space for another trey and a nine-point advantage. Teammate Dion Wright freed him with high screen for another 3-ball and a 65-55 SBU lead.
"We came together as a team and understood it's a game of runs," Adams said. "They had their run, but it was our time."
Adams handed out a game-high seven assists and added four steals. As a team the Bonnies connected on 11-of-20 from long range.
"The thing that is really different is how we attack the paint," Adams said. "It's a lot easier to knock down shots when it's coming inside out. We are able to get in the lane. When we get in the lane for kick outs, it's easier to hit open shots."
Adams netted 17 in the first half. He made it an 11-point game when Denzel Gregg fed him behind the arc. Next trip down the floor, Marcus Posley connected and Bona led 39-27.
"We did a poor job executing our scouting report, but all the credit should go to them," Vermont head coach John Becker said. "They beat us tonight.
"We knew Adams can shoot…We had him as a tight close-out guy. We didn't want him to shoot threes. For whatever reason we decided not to do that and let him get threes up. Kid really shot it well. He made everything tonight. He made a bunch, and we just kinda let him shoot. We're a really dumb basketball team right now."
Vermont responded, though. Darren Payne scored back-to-back buckets. Trae Bell-Haynes followed with a baseline drive and layup before Drew Urquhart converted a pair of free throws with a tenth of a second left in the half.
Bell-Haynes opened the second stanza with a trifecta late in the shot clock, and Kurt Steidl knotted the game at 45 with a catch-and-shoot three.
"We can't allow ourselves to get leads and then relax," Schmidt noted. "Mature teams when you get up by 12, you put the pedal down."
Bona's defense primed the run. Vermont's ball screen offense found open lanes for dribble penetration in the first half and early in the second. Bona's man-to-man defense held the Catamounts without a field goal for nearly four minutes in the second half – a stretch which included three turnovers.
"They responded," Becker stated. "Good teams do that. Other teams makes a run; they stop the run. They get the momentum back."
Wright scored 10 of his 16 points in the second half. Gregg added 10.
Steidl led Vermont with 19.
Urquhart paced the Catamounts with a game-high 12 rebounds.
Vermont fell to 4-6 on the season.
Bonaventure improved to 6-2. The Bonnies host South Carolina State on the 19th.