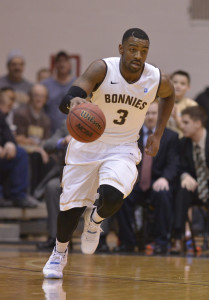 By Paul Gotham
OLEAN, N.Y. — Who says lightning can't strike twice.
For the second time in as many games Marcus Posley beat the buzzer as the St. Bonaventure Bonnies downed the No. 18 Virginia Commonwealth University Rams, 73-71 in Atlantic 10 action at the Reilly Center, Saturday afternoon.
Posley's scoop shot high off the glass helped the Bonnies fend off a short-handed VCU squad.
"I was able to get to the basket a little bit, and I had a clean look," Posley said of the game-winner.
The junior guard turned down a high ball screen before driving the lane and finishing between VCU's Mo Alie-Cox and Jordan Burgess.
"I definitely thought about pulling up," Posley explained. " I did a little stutter step, and I seen he didn't really bite for it when came up, so I just attacked the basket and was able to get a clean look."
The shot ended a seesaw affair which involved just two ties,  but saw VCU rally from eight down with 9:21 to go in the game.
"We got some big stops at the end," VCU coach Shaka Smart commented. "We were able to tie the score. Obviously the shot that Posley made was the difference. It was a terrific shot. I'm sure when we see it on tape, we'll see that our defense wasn't bad. It's a better shot."
Posley's shot came on the heels of his end-to-end effort as the horn sounded, and Bona came back to win at Davidson on Wednesday, 62-61.
"I haven't been involved as a player or coach, Bona head coach Mark Schmidt said when asked if he had ever witnessed consecutive game winners at the buzzer by the same player.  "To be involved in two games like that against two teams that were not supposed to beat, and we pull it out at the end? Yeah, it's exciting. It's what you coach for. It's what you play for, those types of moments."
VCU came into the game forcing 17.3 turnovers per game, but the Bonnies committed just nine turnovers – a season low for the Rams. Bona turned the tables on VCU and its full-court pressure.
"Going into the game one of the main keys to winning was to keep our turnovers below 12," Schmidt noted. "You can't give a team a free press. You can't let 'em press you and then when you break it, pull it out. You gotta make 'em pay for attacking…When you break it, you got to attack. Then you have to decide when to go and when not to go. I thought we did a decent job of attacking when we had numbers and pulling it back when we didn't. That's what you gotta do. You can't allow them to get up in you 94 feet, and once you break it, you pull it out and set it up five on five. You have to make 'em pay."
Led by freshman Jay Adams, who handed out a game-high seven assists, the Bonnies dished 17 helpers on 28 made field goals.
"You can't play on your heels against this team," Adams said."If you play scared against this team, they're going to expose you. You gotta come out and attack them just like they attack you."
The game was as much about the short-handed VCU squad as it was Posley's heroics. The Rams were without Briante Weber, the nation's steals leader and face of Havoc defense, who was lost a week ago to a season-ending ACL/MCL injury. He finished his career 12 short of the NCAA's all-time steals record. Wednesday, Treveon Graham, a sure first-team all-conference player, re-aggravated an ankle injury. He watched the game in his uniform and walking boot.
"Our guys showed a lot of fight," Smart said. "There were a lot of times where we could have folded up the tent. The crowd was terrific today. They were loud, but our guys hung in there and really battled."
The Bonnies took the opening tip and jumped to an early advantage. Andell Cumberbatch grabbed an Adams feed for a catch-and-shoot 3-pointer. Dion Wright scored underneath. Posley hit one of two free throws. Then Adams found Posley on the break for a trey and a 9-1 Bona lead.
"They did a really good job of coming out from the jump and being very aggressive against us," Smart stated.
But in what would be a recurring trend throughout the day, the Rams responded.
Terry Larrier knocked down a three. Melvin Johnson drilled a trifecta off an inbound pass and followed with a runner off the window cutting the lead to two at 11-9.
Wright and Cumberbatch pushed the lead back to five with buckets in the paint.
Doug Brooks used an upfake and went high off the glass as VCU went into the locker room trailing by one at 32-31.
"We didn't quite get enough stops to win," Smart said. "A lot of that had to do with St. Bonaventure."
Adams and Posley nailed treys on consecutive shots as SBU stretched their advantage to 10 at 47-37 with 16:33 to go in the game.
Alie-Cox finished inside, JeQuan Lewis connected for three to make it a one-possession game at 49-46.
Denzel Gregg capped seven straight with an emphatic dunk when Posley led him with an alley oop.
"I definitely threw it up there," Posley said. "Denzel made me look good. That's all I can say."
The win was the first for the Bonnies over VCU as A-10 foes. Bona has a 3-2 edge in the all-time series.
"I told the guys after the Davidson game I don't know if we could get better," Schmidt said. "Today got better. It's always great to beat a team of that caliber in the Reilly Center. We haven't played as well as we are accustomed to playing at home."
Wright led all scorers with 19 on 8 of 12 shooting. Posley followed with 15.  Youssou Ndoye added 13. Gregg netted 10 hitting 4 of 4.
"I thought Denzel Gregg had a big impact on this game," Schmidt said. "I think we lose sight. Marcus hits the big shot, but Denzel had a big, big part. In order for us to compete and win in the Atlantic 10, you need those role guys. Those guys coming off the bench. Everybody is going to have their day in the sun, but I thought he did a really good job."
The Bonnies hit 15 of 28 (53.6 percent) from the floor in the second half.
Larrier led VCU with 15. Lewis chipped in 14 and six assists. Johnson added 11. Burgess pulled down a game-high 11 rebounds.
Bona outscored VCU in the paint, 40-28.
The Rams had 27 second-chance points to 10 for Bona. VCU also had a 13-8 advantage in points of turnovers. VCU's bench outscored their counterparts, 30-10.
It was the first occasions this season when VCU scored 70 points or more and lost. The Rams were 14-0 when topping the 70-point mark prior to Saturday.
The win was third straight for St. Bonaventure over a ranked opponent. SBU knocked off then No. 18 Saint Louis in the quarter-finals of the 2014 Atlantic 10 tournament. The Bonnies defeated then No. 21 UMass, 78-65 last January.
St. Bonaventure (13-8/6-4) hosts UMass (13-9/6-3) on Wednesday. A 7 pm tipoff is slated.
VCU (18-5/8-2) hosts La Salle (13-9/5-4), Wednesday.