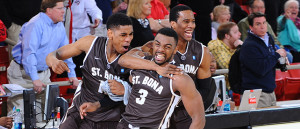 Courtesy of GoBonnies.com
Marcus Posley went the length of the floor and scored on a short, off-balance jumper just prior to the buzzer to give St. Bonaventure a 62-61 win over Davidson on Wednesday at Belk Arena.
Posley's heroics followed a three-pointer by Davidson's Peyton Aldridge with 4.8 seconds left that made it 61-59 and appeared to crush Bonnies' upset bid.
The loss was the first for Davidson at Belk Arena and the Wildcats' 61 points were a season low. Defense keyed the Bonnies as they limited Davidson to 39 percent shooting and blocked nine shots.
Posley led the Bonnies with 19 points Youssou Ndoye totaled 16 points, 12 rebounds and four blocks while Dion Wright added 14 points.
How It Happened:
The Bonnies got things going right from the opening tip-off. Jumping out to a 7-2 lead going into the under 16 media timeout; the run was capped off by an Andell Cumberbatch steal and dunk.
Davidson answered the Bonnies reeling off five unanswered points before a Youssou Ndoye euro-step lay-up kept St. Bonaventure in front five with

11:51

remaining in the first half.
As the Wildcats started to heat up from three-point range, knocking down two threes and converting three free throws, SBU was resilient extending their lead to six thanks to six points from Dion Wright.
A three apiece from Davidson's Kalinoski and Watkins helped give the Wildcats their first lead of the ball-game, 26-24, with

3:37

left in the first half.
Brian Sullivan drilled a three for the Wildcats with 41 seconds on the clock to extend Davidson's lead to four heading into the half.
Over the first five minutes of the second half the Bonnies and Wildcats traded buckets with Davidson maintaining a one-point lead with

14:52

left on the clock.
Nearly halfway through the second half the Wildcats held a narrow two-point lead, the teams only scored a combined 20 second half points heading into the under 12 media timeout.
The Bonnies trailed by four with nearly

8:30

left in the second half, however, a Jay Adams pull-up jumper and Youssou Ndoye slam, off a beautiful feed from Adams, tied the game at 46 with

6:39

remaining.
The Bonnies gave their short-lived second half lead up to Davidson with

4:29

left on the clock, however, the Bonnies would respond again. Led by two free throws and a layup from Dion Wright, St. Bonaventure led by three, 57-54, with

3:06

remaining in regulation.
With

1:21

remaining, Jay Adams was fouled and knocked down two clutch free throws to give the Bonnies a three-point lead, however, a Jordan Barham layup would cut St. Bonaventure's lead to only one with just under one minute left.
A huge block by Ndoye and a colossal defensive stand put Marcus Posley at the line with under 20 seconds remaining.
Posley would make one of two free throws giving the Bonnies a two-points lead, however, Peyton Aldridge, a freshman, would nail a three with four seconds remaining in regulation to give the Wildcats a one-point lead.
With hardly any time left on the clock, Posley would take the ball on a dead sprint and get all the way to the rim to sink a floater at the buzzer to give the Bonnies the road victory.
Beyond The Box Score:
Ndoye's 12 rebounds now give him over 600 rebounds for his career (608).
Jay Adam's nine points put him over the 200 career point mark (207); Adams reached the milestone in just 19 games, making him the fastest player to reach 200 career points since Andrew Nicholson accomplished the feat in just 16 games.
Adam's (Jay) seven rebounds also set a new career high.
Posley's seven rebounds tie a career-high set earlier this season at home against Siena.
Chris Dees' two blocks tie a season-high, previously recorded on the road against Duquesne.
The Bonnies held the Wildcats to a season-low 61 points, Davidson averages over 80 points per game.
St. Bonaventure's victory was the 200th in Mark Schmidt's career and also ended Davidson's 15-game home winning streak at Belk Arena, the Wildcats were 9-0 at home this season coming into tonight.
Up Next: St. Bonaventure will host No. 22 VCU at Reilly Center this Saturday, Feb. 7, at 2:00. The game will air on NBC Sports Network.