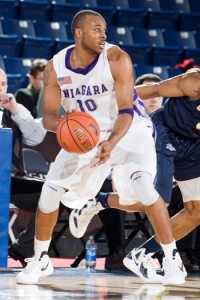 By Paul Gotham
SPRINGFIELD, MA – Niagara's Purple Eagles average 74 points per game. Reaching that mark in today's Metro-Atlantic Athletic Conference men's semi-final match will be a test if OD Anosike and the Siena Saints get their way.
"Niagara is a team coming in with a tremendous amount of confidence," Anosike said after Siena's win over Marist in the MAAC quarter-finals. "They've got a high-octane offense. If we go in there and try and slow them down offensively and try to make them defend for 35 seconds on the shot clock every single time, I think we got a pretty good chance of beating them."
That strategy hasn't worked yet for the Saints against the MAAC's top team.
Juan'ya Green and Antoine Mason combined for 44 as the Purple Eagles defeated Siena, 87-64 on January 17th at the Taps Gallagher Center in Lewiston, New York. The Niagara duo combined for 36 as the Purple Eagles registered a 78-69 triumph at the Times-Union Center.
"Juan'ya, Mason those guys are obviously tremendous scorers," Anosike added.  "You don't want them to starting getting 25-30 or else you're going to have problems. If you can hold them in the high teens, they can be okay and hopefully have a chance to win."
Anosike, who had 17 double-doubles for the season and 45 for his career, pulled down 12 rebounds and led Siena with 24 points. He scored four of those points in the final four minutes of Friday night's matchup as Siena overcame a four-point deficit early in the half.
Siena and Niagara tip off at 2:30 p.m. from the MassMutual Center.