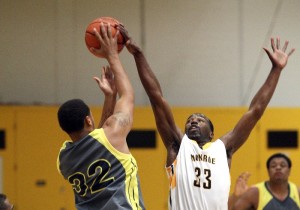 By Paul Gotham
ROCHESTER, NY – Call it a lesson learned. After a sluggish start in his team's previous outing, Monroe Community College head men's basketball coach Jerry Burns knew something had to change.
The 22-year head coach turned to his assistants Marlin Johnson and Demtrius Rhodes for ideas.
There is no questioning the result.
Relentless pressure was the theme as the Monroe Community College Tribunes thumped the Alfred State Pioneers, 128-48 in WNYAC action Saturday night on George Monagan Court.
"Marlin and D said we need to press more," Burns commented. "It kinda gets us going. When we started out the game, our goal was to pressure them, and we did that."
Going with a smaller lineup, Monroe's full-court pressure forced 18 Alfred State turnovers in the first half for a 26-point lead.
"The constant pressure wore them down," Burns explained. "But it also got us easier shots, and got us going."
Ta-Quan Zimmerman (Waterbury, CT/Holy Cross) capped a 6-0 spurt out of the gate with a rebound and putback. Zimmerman made it an 8-2 game with an offensive rebound and up and under move for a basket.
Arnold Fripp, Jr. (Brooklyn, NY/Brooklyn Collegiate) knocked down a three from the top of the key on a kick out from Greg Williams (Cincinnati, OH/Princeton)
Monroe pushed the lead to double digits when the press created a turnover and Jahvari Josiah (Brooklyn, NY/Beach Channel) converted a layup.
Williams sparked an 8-2 run as Monroe ran the advantage to 20. The sophomore guard finished a rebound and putback. He followed with a floater in the lane for another deuce. On the next trip, he took a pass on the wing and drove for the bucket. Kenny Johnson (Philadelphia, PA/Abington Friends) converted a rebound and putback for 31-11 Tribune lead.
MCC didn't look back.
Fripp connected on a pair of charity tosses. Johnson led Tashawn Desir (Brooklyn, NY/Nia Prep) for a catch-and-shoot trey from the left corner.
Malcolm McNair (Jacksonville, FL/Samuel L. Wolfson) turned a pair of steals into layups, and the lead bulged to 43-15.
Marcus Blythers (Rochester, NY/Churchville-Chili) drilled a trifecta from the top of the key for a 50-20 MCC lead.
Johnson completed a traditional three-point play for the 59-23 halftime score.
Edward Hector (Atlanta, GA/Creekside) led the way as the Tribs outscored the Pioneers 69-25 after the break.
Hector scored 13 of game-high 19 in the second stanza.
Seven other Tribunes notched double figures. John Velez-Rivera (Bayamon, PR/Seneca Valley) hit five-of-seven behind the arc for 18 points.
Desir added 15.  Josiah scored 13.
Zimmerman had 12 with five rebounds, zero turnovers and one charge taken.
"He got a couple of easy baskets and got us going," Burns said of his sophomore guard. "He also got himself going. It's easy when you're up a lot of points not to take a charge. But it goes to the credibility of the player whether it's being there to take the charge, make the extra pass, or whatever it is, you have to play. He did those things while he was out on the floor."
Williams chipped in 11 while McNair and Blythers had 10 apiece.
Monroe converted 34 turnovers into 49 points while allowing just 18 field goals. At the same time, the Tribs hit 40-of-73 (54.8 percent) from the floor handing out 23 assists.
"It was just a good team effort," Burns said. "I think we got to look at what we can do in terms of pressure. If we're going to play that style is it full court man-to-man or we just going to constantly trap and pressure all over the place."
Blythers had a team-high six rebounds as every Tribune in uniform grabbed a board to win the battle on the glass, 43-32.
Johnson had game-highs of seven assists and four steals.  Monroe had 19 steals.
Donnie Stevenson (Red Creek,NY/Red Creek) paced Alfred State with 11 points. Marquis Chatman (Allen, TX/Allen) corralled a game-high nine rebounds.  The Pioneers (6-10) travel to Genesee CC,  Tuesday for an 8 p.m. tip with the Cougars.
Monroe trailed Mercyhurst North East, 53-39 at halftime of Thursday night's game before rallying to win, 97-90.
With the win, Monroe improved to 17-2 on the season. The Tribs are ranked sixth nationally. Monroe travels to Jamestown Tuesday for a 7:30 tip time at Jamestown Community College.