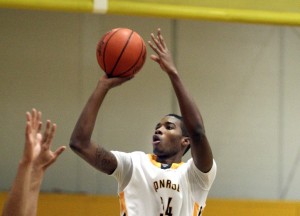 By Joe Manganiello
ROCHESTER, NY — Down by as many as fifteen points and trailing by fourteen at the half, Monroe Community College head coach Jerry Burns found a lineup that could bring the Tribunes all the way back in a nail-biter.
Greg Williams (Cincinnati, OH / Princeton) led the Tribunes with 22 points as Monroe downed the Mercyhurst North East Saints, 97-90, in WNYAC action on George Monagan Court Thursday night.
"A good basketball team finds different ways to win," Burns said. "You're not going to win every basketball game the same way. You're not going to play well every game. This was a big win for us because we were down fourteen at the half and not playing well. But to find a way to win, that has to come from the players, and the guys found a way to do that."
Mercyhurst North East began the first half with a 10-2 lead, a byproduct of their aggressive 1-3-1 zone defense and a pair of early field goals by guard Je'Land Head. The Saints have thrived on creating turnovers all season (10.8 steals per game, 25th in nation), and continued that trend, forcing 10 Tribune turnovers on five steals in the first half.
Answering Mercyhurst North East early on, Monroe broke down the zone for a 9-0 run, which included seven points from forward Arnold Fripp Jr. (Brooklyn, NY/Brooklyn Collegiate).
The two teams battled to a 21-21 tie at the 10:00 mark of the 1st half before Saints guard Soutiri Sapnas took over. Sapnas scored five points in the game's first ten minutes, but added another 15 points before halftime. One of his three-point makes actually banked in from the top of the key, to which Sapnas turned toward his coach, smiled and shrugged his shoulders.
Sapnas missed the team's first eight games this season, but has averaged 22.6 points-per-game in nine contests on 44.6 percent three-point shooting.
"I thought (Sapnas) played really well," Burns said. "I don't think he played for them in the first half of the season. I don't remember seeing him. But it is all about making shots, and he made shots. That makes him a difficult kid to defend. He just made shots."
As a team, the Saints shot 60 percent from the field in the first half, 75 percent from three-point land and connected on seven more shots than the Tribunes, taking advantage of the sloppy defensive half from Monroe.
"We didn't have any energy. We came out flat. We weren't ready to go from the jump. Then we were trailing. Nothing good ever happens when you come out flat. And they were shooting pretty good from the field, even making some threes off the backboard," said Tribunes sophomore Ta-Quan Zimmerman (Waterbury, CT / Holy Cross). "I was just trying to get the team to stay in there because, you know, (the Saints) can't shoot like that the entire half. We just have to keep playing defense and getting stops."
Meanwhile, the Tribunes struggled to follow up Tuesday's incredible three-point barrage against Genesee Community College. They were just 3-13 from three-point land (.231) in the first half Thursday night, and below 43 percent from the field. Williams scored eight points in the first half, while Arnold Fripp Jr. (Brooklyn, NY / Brooklyn Collegiate) paced the team with nine points. The Tribunes were down 53-49 at the half.
The Tribunes got the lead down to nine in the early-going of the second half. But Saints guard Damon Jones brought the momentum quickly back to the Mercyhurst North East side with a huge dunk over Williams. Jones drove baseline and leaped, cramming the ball with two hands and earning the foul, where he then completed the three-point play, making it a 61-49 score. The Saints promptly stole the ball on the next Tribunes possession, and a fastbreak finish by Sapnas on the following possession made it a 64-49 lead.
Burns called a timeout, and put a new five-man combination on the floor. Trying to get a bit smaller in order to set up a press defense, he sent out Tashawn Desir (Brooklyn, NY / Nia Prep) and Jahvari Josiah (Brooklyn, NY / Beach Channel) at guard, Williams, Zimmerman as a third wing, and Fripp Jr. as the lone forward.
This lineup would spark a 22-5 run, getting Monroe back within two points, 69-71.
"Coach likes to sub and sub and sub until he finds the right unit that can get the job done," Zimmerman said. "Tonight that was the group that got the job done."
"As the game was changing, I could tell the speed of the game was going toward us," Fripp Jr. said. "(Our team) had more energy and it sparked a run. We just took it from there."
With the team and crowd all the way back into it, Burns began carefully rotating guard Kenny Johnson (Philadelphia, PA / Abington Friends) and forward Dallas Gary (Buffalo, NY / East) back into the flow of the game, and to great results. Johnson had four of his game-high six assists in the second half, and Gary had six of his 13 points. Burns admits one of the most difficult decisions of the night was keeping Gary on the bench for such a long stretch of the second half.
"You know, I could have played (Dallas) Gary a little more. They were going small and Fripp was playing well. And I wanted to make sure we kept good pressure on them with our press and our zone. Fripp was playing so well and so I couldn't put him on the bench."
Johnson fed Josiah on a three-on-two fastbreak for a lay-up that tied the game, 71-71. The lead went back and forth before getting deadlocked again at 77, but the Tribunes pulled away with a forceful 9-2 run, and maintained the lead for the duration of the game.
Williams led the way offensively for the Tribunes, scoring his 22 points on 7-14 shooting (5-5 FT) and three three-pointers. He also collected six rebounds.
Fripp Jr. scored a season-high 20 points on 7-10 shooting (5-6 FT), all while swatting five blocks. He added a pair of assists and led the Tribunes with 29 minutes.
"I felt good today and I had a little bit more bounce in my step (than on Tuesday)," Fripp Jr. said. "I felt like it was going to be a good day. Overall, I'm glad my team got the win. That was the most important thing."
Zimmerman scored 15 points, collected six rebounds, dished six assists and committed just one turnover. Although he did not start for the second consecutive game, Burns did start him for the second half.
"I expect so much out of (Ta-Quan). That's why I started him in the second half. He is one of our team leaders and he does a lot of things that people don't see," Burns said. "If you saw the last two possessions of the game, just the way he took care of the basketball. He had the ball and made those two passes. You can look at the stats and see 15 points, but the poise he had at the end of the game in those crucial possessions, that's why I had him starting the second half."
Desir was the fifth Tribune scorer in double-figures, tallying 11 points in 17 minutes of action. He ignited the Monroe defense in the second half, swiping two steals and heading the press. He also had two assists.
Arguably the most underrated performance of the night was that of starting point guard Kenny Johnson, who finished with two points, six assists, a steal and a game-high 10 rebounds in 25 minutes.
Josiah scored eight points on 3-3 shooting and had a pair of blocks. Dallas Gary finished with five rebounds to go along with his 13 point performance, and made a team-high five foul shots.
Sapnas finished with a game-high 28 points for the Saints. He hit 11-25 shots, 3-8 from behind the arc. He added a pair of assists and a steal.
Head scored 15 points, passed out five assists, brought down five rebounds and had two steals for the Saints. Jones scored 14 points with 10 foul shots, and also had five rebounds.
Mercyhurst Northeast (8-9, 2-2) will next take on Jamestown Community College-Cattaraugus Campus on Jan. 22. Monroe defeated Jamestown CC-CC 103-84 on Jan 10.
Monroe Community College (16-2, 3-0) will defend its home court on Saturday against Alfred State College. The Tribunes are ranked as the No. 6 overall team in the country.