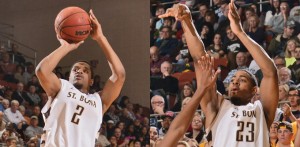 ATHENS, Ohio – The St. Bonaventure men's basketball team (3-2) erased an 11-point second-half deficit, but Ohio (6-0) remained undefeated despite a career-high 19 points from Eric Mosley and an additional 17 from Chris Johnson with a 69-64 win over the Bonnies Wednesday night at the Convocation Center.
A Johnson floater put the Bonnies in front, 64-63, with just 49 seconds left. However, Ohio's D.J. Cooper came right back down the floor and hit a pull-up 3-pointer from well beyond the 3-point line just 11 seconds later to put the Bobcats back in the lead, 66-64.
After the Bonnies called their final timeout, Demitrius Conger missed what would have been a go-ahead 3 with 19 seconds left, and the Bobcats closed the game out from the free-throw line to move to 6-0 for the first time since the 1969-70 season.
Bonaventure turned the ball over a season-most 20 times, leading to 21 Ohio points. The Bonnies also hurt themselves from the free-throw line as they went just 14-25 (56 percent).
Mosley also finished with a career-best six 3-pointers as the senior went 6-8 from long range, and also dished out a team-high-tying four assists – easily the most of his season to this juncture.
Junior Charlon Kloof added 10 points – including the first 3-pointer of his season – and Conger chipped in with 10 as well as SBU placed four scorers in double figures for the third straight game.
Ohio, which returns all five starters from an NCAA Tournament Sweet 16 team that lost to North Carolina in overtime, came into the game Receiving Votes in both national polls and had outscored their first five opponents by an average of 24.6 points – eighth best in the country.
The Bobcats jumped out to a six-point lead, 12-6, just seven minutes in, but Mosley erased that deficit on consecutive possessions as he hit from 3-point range. A pick-and-roll with Mosley and Marquise Simmons on SBU's next offensive trip resulted in a Simmons' lay-in and capped an 8-0 SBU run which gave the visitors a 14-12 advantage.
The game was tied five times in the first half and the lead changed hands on nine occasions, with Ohio making the last push to take a 37-29 lead to the locker room. Bonaventure had a 26-25 lead with 5 minutes remaining in half following Mosley's fourth 3-pointer, but the Bobcats closed the frame on a 12-3 run.
After digging themselves into that 11-point hole just 1:33 into the second half, the Brown and White fought back and eventually took the lead, 55-54, on a Kloof steal and dunk with 8:44 left in the contest.
The Bonnies shot 6-7 from 3-point range in the first half, with Mosley going a perfect 4-4. In the second half they went 2-7, but the 57.1-percent clip from 3-point range (8-14) is the best of the season to this point.
Cooper led a trio of Ohio double-figure scorers with 16. Walter Offutt added 14 for the Bobcats, and Nick Kellogg contributed 13 in a starting role as Ohio won its 15th straight home game.
St. Bonaventure returns to action on Saturday when the Bonnies make their first appearance in the Reilly Center in more than three weeks against the University at Buffalo. Tipoff is set for 7 p.m., and fans are encouraged to arrive early in order to receive the commemorative men's and women's basketball pocket schedules, which have been completely redesigned for the 2012-13 season.
GAME NOTES: Mosley's previous career high was 18 against Temple on Feb. 12 of last season … both teams scored 22 points in the paint … the Bona bench out-scored Ohio's, 25-14, with a majority of the damage coming from Mosley … SBU continues to lead the all-time series, 6-4 … Kloof fouled out in 21 minutes of action … Kellogg is the son of CBS lead college basketball analyst Clark Kellogg, who played collegiately at Ohio State and was a 1982 NBA First Round Draft Pick of the Indiana Pacers.