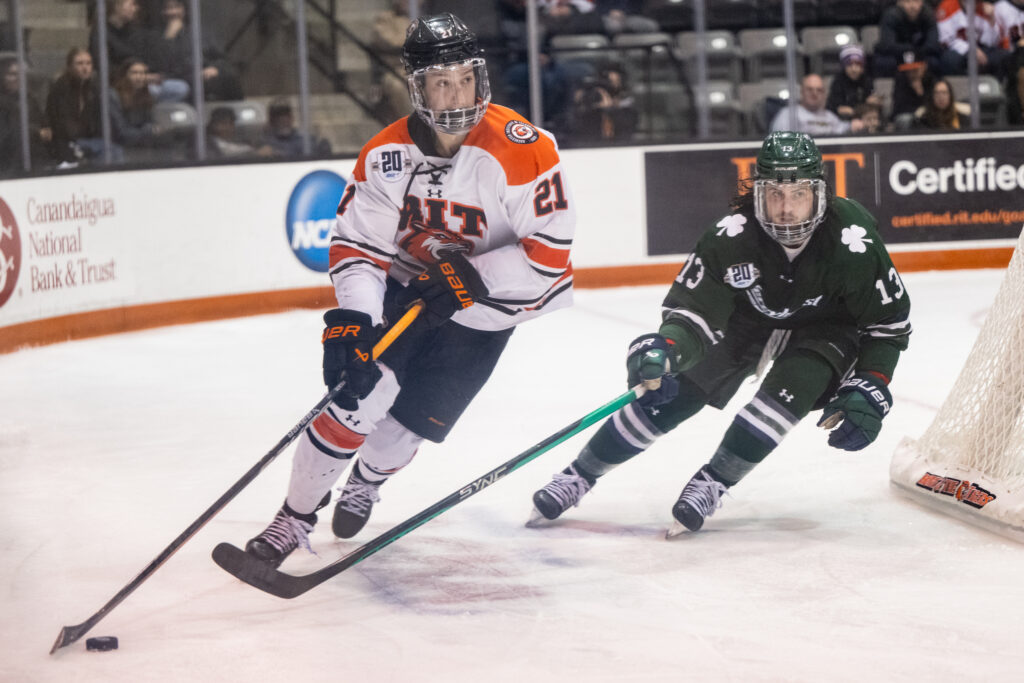 By PAUL GOTHAM
HENRIETTA, N.Y. — Six months have passed since RIT men's hockey lost on home ice to Holy Cross in the deciding game of the 2022-23 Atlantic Hockey semi-finals. With that, the regular season champions went home earlier than expected.
Head coach Wayne Wilson hopes that early departure serves a building block to this season's success.
"As a coach, you're disappointed for your players," Wilson said during RIT's preseason media day. "You're racking your own brain about what we could have done."
RIT took a record of 18 wins, 7 losses and one tie into the postseason. The Tigers had clinched top seed for the conference tournament during the second-to-last weekend of the regular season. They had won four straight and five of six games before dropping a 1-0 decision to the Crusaders in Game 1 of the best-of-three series. Wilson's team rebounded in Game 2 before losing 5-1 (two empty-net goals) in what was the season finale.
For the second straight year, RIT had lost in the conference semifinals.
"If we win that first game, now we're ready to roll," said Wilson who is entering his 24th year behind the RIT bench. "You're entering the second one on pins and needles a little bit. That was a hard-fought game."
Penalties, a recurring theme for the Tigers in 22-23, played a role in the outcome. RIT was whistled for seven infractions in Game 2 and five more in Game 3 including three in the opening period when Holy Cross took a lead it did not surrender at 2-0.
"Penalty trouble kind of eliminated us," Wilson said. "We weren't in the fight. We played hard. We were short-handed too much to give ourselves a chance. You learn your lessons. We talked about penalties a lot during the course of the year. Sure enough, that's what eliminated us just as much as Holy Cross did. It was our own undoing. Hopefully,
"We're an aggressive team, so we understand just by playing that style that we're going to take penalties. It's the lazy penalties. The retaliation penalties. There are certain penalties that are not aggressive. They're mental breakdowns. That's what you have to eliminate."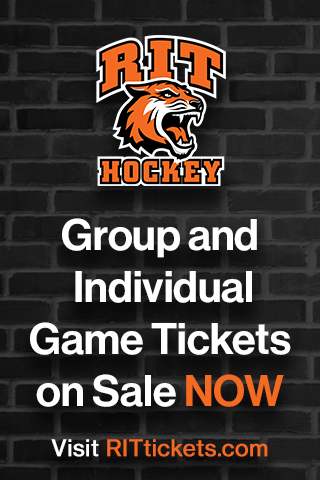 Looking to turn the tables, RIT opens the 2023-24 campaign on the road at St. Lawrence University on Saturday, October 7th.
"It was an accomplishment to win the regular season, but it doesn't get you to the NCAA (Tournament)," Wilson said. "You got to be better than that. We're coming back hungry even though we did have a good year. We're not satisfied by any means. I think we're better prepared. Maybe we don't win the regular season, we'll know in the playoffs that we got to be better. That's the most important championship of the two, the playoff one.
"I'm looking forward to seeing if we can take that next step by learning."
Carter Wilkie leads a squad that returns its top four scorers and five of six leading point-getters from a year ago.
"Every guy came back bigger, faster, stronger," said Wilkie the 2022-23 Atlantic Hockey Player of the Year. "I thought I had a good summer and I look at some of the guys around me and wow, everyone took it seriously. We're on a mission to not let that happen again. You can see it within the culture, within the guys showing up day to day."
Wilkie finished with 14 goals and 26 assists for a team-high 40 points in '22-'23. He is joined by fellow returners Gianfranco Cassaro (14 goals-18 assists-32 points), Cody Laskosky (13-15-40) and Aiden Hansen-Bukata (2-30-32) along with Tyler Mahan (11-9-20) and Caleb Moretz (5-14-19) who contributed to a Tiger offense that led Atlantic Hockey with 127 goals in conference play including 28 power play goals (fourth in the AHA).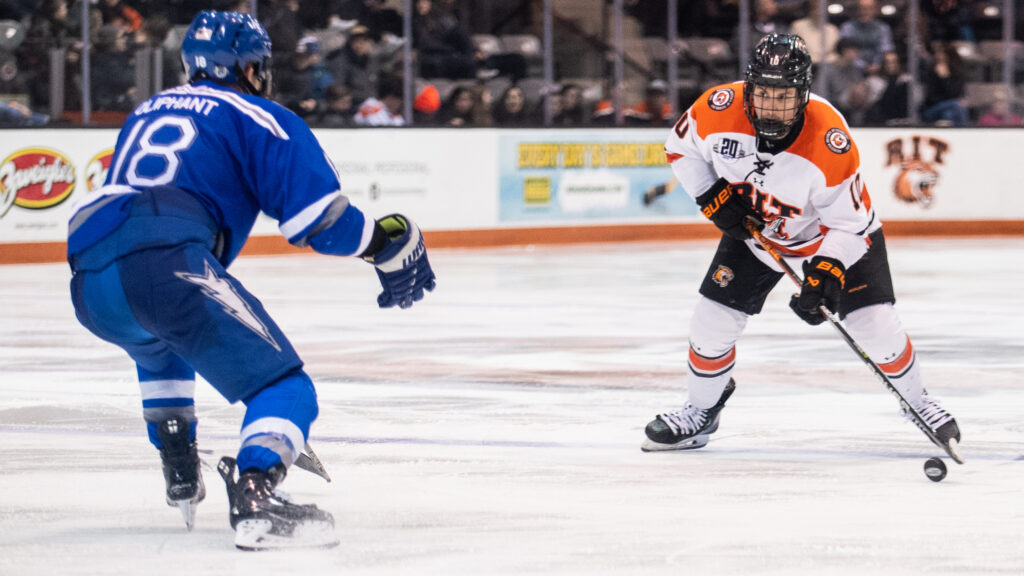 "If you skate with this group, you're going to get better," Wilkie said. "That's why I've had so much success. The guys in the room. They pick me up when I'm down and the same thing vice versa. It's really cool to play with these guys."
Wilkie enters his junior year having twice played in the conference semifinals.
"We won our regular season championship. That was one of our goals. We fell short of one at the end of it, but you take it and let it fuel you for this year as much as you can. A lot of us are coming back over the summer and are like 'hey, we've been this close for two years. We're one game away from that championship game. We know we can be there. We know we can win, so it's just a driving force. It really just dragged a lot of guys forward."
The Calgary, Alberta native spent a week this past summer at the Las Vegas Knights Development Camp.
"Obviously, I needed a little bit more strength and skill," he said of his off-season focus. "I found that I got held a little bit in corner battles. I'd like to create a little bit more space and have the ability to get out of those situations, so I put on a little bit of weight. I worked on getting stronger in my and creating opportunities. That (Vegas Camp) taught me a lot of ins and out with that."
RIT welcomes the University of Notre Dame to the Blue Cross Arena for the Brick City Homecoming Weekend on Saturday, October 14th.
The two teams split a pair of games in South Bend, Indiana when Notre Dame hosted RIT.
"Homecoming is a really exciting game," Wilkie said. I get chills every time thinking about it – the atmosphere and playing down there. It'll be a good test. Right now we're focused on that first game we got coming up against St. Lawrence.
"It's definitely in the back of guys' minds (game against Notre Dame). That game in showing up and making sure we're all dialed in and prepared for it. We're going to take games one at a time. Hoping for a win obviously and I'm confident we can pull it off."