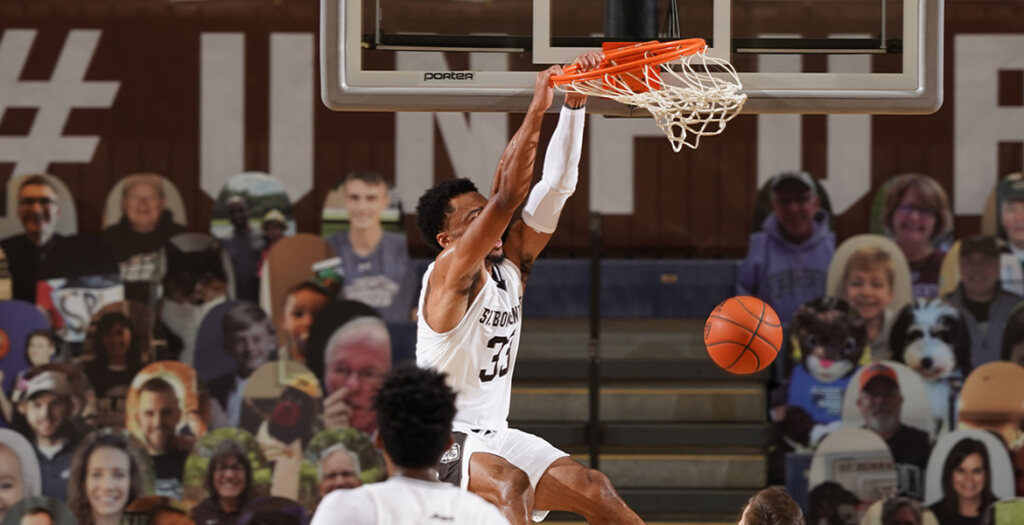 Former St. Bonaventure men's basketball standout Jalen Adaway recently signed a deal with BK Patrioti Levice, or Levickí Patrioti, a professional basketball team that competes in the Slovak Basketball League.
"(Adaway) will be the right player to bring athleticism and physicality to the perimeter player position," Michal Madzin, BK Patrioti Levice's head coach, said. "He works hard on both ends of the board, and at the same time I believe that he can quickly adapt and adapt to European basketball."
According to a release, Adaway and Levickí Patrioti reached a deal in early July. Levickí Patrioti has won four Slovak League titles, most recently during the 2022-23 season. The team also grabbed the Slovak Cup in 2019.
"First of all, I am extremely grateful for the wonderful opportunity I have been given," Adaway said in a release. "One of the main things about me is that I love to win, and I work incredibly hard. Success is a feeling I'm addicted to. My main goal is to help the team to another title; that's the main thing for me. I will work on myself every day to get better, but at the top of my list is winning for the team. I can't wait to come to Levice and start working."
Adaway is coming off a 2022-23 campaign for the Austin Spurs, the NBA G-League affiliate of the San Antonio Spurs. Appearing in 11 contests, Adaway averaged 5.7 points, 2.1 rebounds and 21.3 minutes per game.
Back in April, Adaway was dismissed and disqualified from the G-League for violating the terms of the league's anti-drug program. He is eligible to apply for reinstatement in a year.
Adaway transferred to St. Bonaventure from Miami University (of Ohio) for the 2020-21 season. Aiding the Bonnies' efforts to capture the 2021 Atlantic 10 tournament title and secure an NCAA tournament bid, Adaway started every game and averaged 12.2 PPG and 6.0 RPG. He also shot 51 percent from the field and 35 percent from 3-point range.
During the 2021-22 season, his final one for the Bonnies, Adaway started 23 games and averaged 15.3 PPG and 5.9 RPG. He also shot 47 percent from the field and 38 percent from 3-point range.
Adaway went undrafted in the 2022 NBA Draft. He played in six games for the Miami Heat in the NBA Summer League, averaging 3.3 PPG and 1.8 RPG.