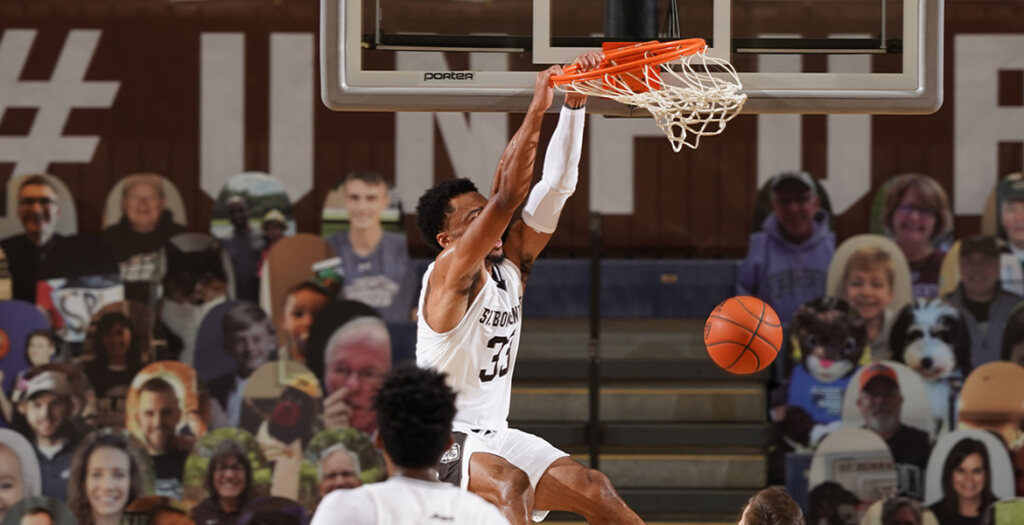 By Kevin L. Smith
Former St. Bonaventure University men's basketball guard Jalen Adaway penned an Exhibit 10 deal with the NBA's San Antonio Spurs on Wednesday, according to ESPN NBA Insider and Bonnies alum Adrian Wojnarowski.
According to a release on GoBonnies.com, an Exhibit 10 contract is a "single-season NBA deal that allows the franchise to convert the contract to a two-way deal as long as that change is made prior to the beginning of the regular season."
Adaway played with the Miami Heat last month in the NBA Summer League in Las Vegas. Appearing in four games for the Heat, Adaway averaged 3.5 points and 2.5 rebounds per game, averaged nearly 13 minutes a game, and shot 40 percent from the field.
Adaway played two seasons with the Bonnies, with the 2021-22 season being his final one in the Brown & White. In 53 games for St. Bonaventure this past season, the Logansport, Ind. native averaged 14.1 points (746 points in total), 36.0 minutes, 5.9 rebounds, and racked up 42 steals.
In his senior campaign with the Bonnies, Adaway received Atlantic 10 First Team All-Conference and USBWA All-District nods, averaging 15.3 PPG in his final season.
Prior to his time with the Bonnies, Adaway played two seasons for the Miami (OH) men's basketball team.