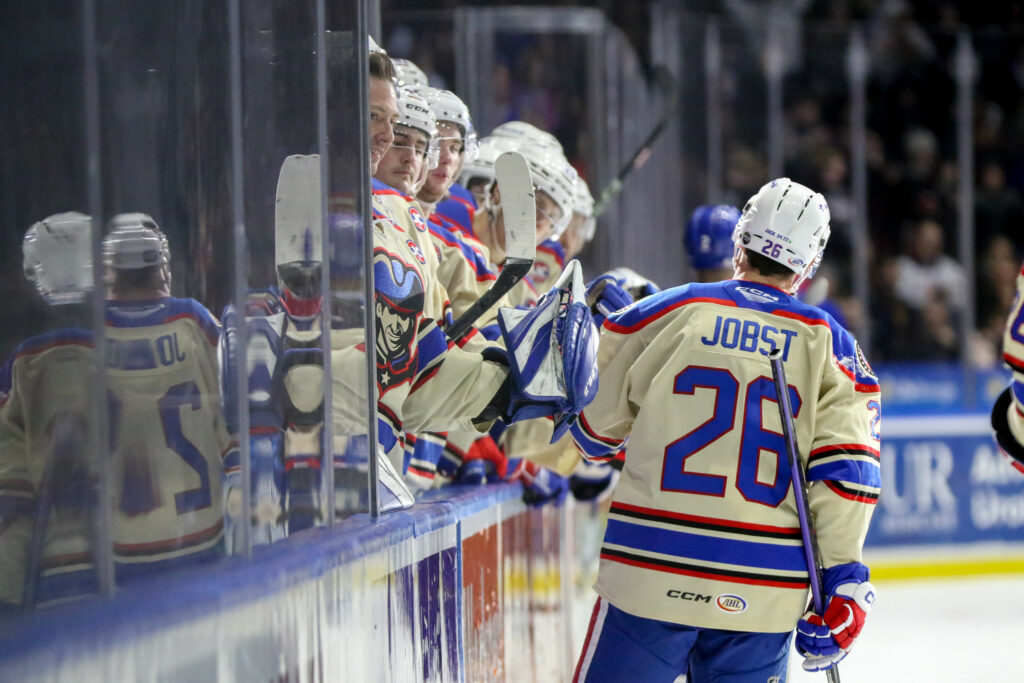 By KEVIN OKLOBZIJA
Mason Jobst had just taken the first-star curtain call, the reward for the first hat trick of his professional career, yet he seemed a bit unsure about how to feel.
There obviously should have been jubilation for the fourth-year veteran forward.
Not only did he score three goals, but he also surpassed his career high for goals in a season and ended a scoring drought that stretched back to the beginning of November.
Still, it was difficult to celebrate since his line with Michael Mersch and Anders Bjork also was on the ice for five goals against, including the tying and winning goals in final four minutes as the visiting Toronto Marlies rallied for a 7-5 victory on Saturday night.
"I don't know if I've ever been part of a game like that," Jobst said. "It's nice to get four goals (the line set up one by Jeremy Davies) but it also cost us the game the other way. That was a heart-breaker, for sure."
And one that was difficult to comprehend after a seven-goal third period that featured little determined-effort defense. The Amerks scored two of those goals, by Davies and Jobst. The Marlies scored five, erasing 4-2 and 5-4 deficits before taking the lead with nine seconds to play to silence the season-high crowd of 7,541.
"That line was basically just trading goals with the other team," Amerks coach Seth Appert said. "Most of those goals were poor defensive play. Not the D-corps, I think it was more the forwards. Just sloppiness of defensive precision."
Sadly, that third-period inefficiency is becoming a trademark. The Amerks often lead in the third period. Just as often they seem to give up the lead. Sometimes they recover to win.
On Saturday they couldn't recover, on the backcheck or on the scoreboard.
"It's just a mindset," Mersch said. "We have to keep playing aggressive."
When Davies scored just 35 seconds into the third period, the Amerks had a 4-2 lead. But former Sacred Heart star Marc Johnstone scored his first two AHL goals – the first at 4:58, the second at 13:21 – and the game was tied.
Jobst, however, retaliated on the next shift, soaring in behind the defense on a breakaway to score his sixth goal of the season at 14:07.
"It was nice to get my first career hat trick, for sure," said Jobst, whose only two career two-goal games came three days apart in the spring of 2021. "Sometimes the puck's just bouncing your way. Things were going in. I was getting some lucky breaks."
Coming into Saturday, the Speedway, Ind., native had scored three goals in 28 games. He had a career-high five as a rookie in 2019-20 with Bridgeport and again in the COVID-19 abbreviated season of 2020-21.
But he looked very much like a polished scorer on Saturday. On his first goal, alone in the slot, he scored on a slick in-tight backhander. His second goal came on a rebound, then his third was on a breakaway.
"He is a scorer," Appert said. "He was a Hobey Baker finalist in college (at Ohio State). He hasn't maybe had opportunities to do so as much in pro (but) he's earning opportunities and producing."
The Amerks just couldn't protect those third-period leads.
"Familiar place again, going into the third period up one goal," Jobst said. "We seemed to have been there quite a bit in the last month or so. I think we're maturing as a team. We've won most of the games we've been up one goal, I would say, but there's some things we need to tighten up."
The Marlies fifth goal came at 16:02, after Mersch couldn't handle a loose puck in the left of the slot. A shot and rebound later, the game was tied as Toronto celebrated defenseman Noel Hoefenmayer's 10th goal.
The winning goal came after the Amerks just missed at the other end. Instead, the Marlies darted the other way and set up Abruzzese.
"It was a three-on-three line rush, we just didn't execute it, not communicating and identifying," Appert said. "It was not a complicated play."
And yet it ended up in the net, as Nick Abruzzese hammered a shot past goalie Malcolm Subban from the right circle off a Mikko Kokkonen pass.
Eventually, bad habits take a toll. "I think that catches up on you," Mersch said.