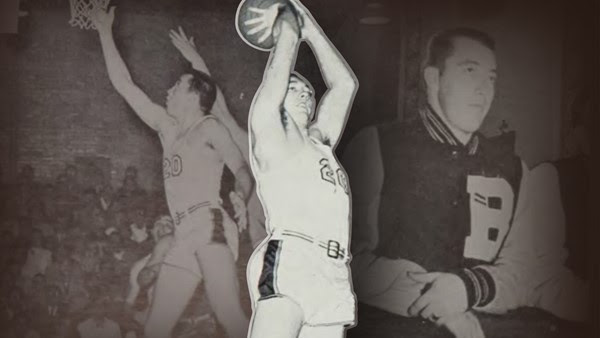 Courtesy of GoBonnies.com
ST. BONAVENTURE, N.Y. – St. Bonaventure will pay tribute to the life and career of the late Bill Kenville, '53, at Saturday afternoon's men's basketball game inside the Reilly Center.
During halftime of the contest vs. Bowling Green, which tips off at 2 p.m., a special recognition ceremony will be held honoring Kenville, a legendary figure of the men's basketball program.
Kenville graduated from St. Bonaventure University in 1953, where he was a three-year varsity basketball player. Upon graduation, he held five scoring records and four rebounding records, and to this day he holds the distinction of being the only Bonaventure player to win a championship at the NBA level.

His college career merited him All-American Honorable Mention honors in multiple years from the Associated Press, United Press International and Catholic Colleges.
During his time at Bona's, he helped lead the program to the NIT, the top national postseason tournament at the time, in both 1951 and 1952.
Kenville was selected by the Syracuse Nationals in the 1953 NBA Draft.

He played point and shooting guard for the Nationals from 1953-1956 and with the Fort Wayne/Detroit Pistons from 1956-1960. The highlight of his professional career was playing in two Championship Series with the Nationals, winning the NBA Championship in 1955. He was the high scorer in the seventh and deciding game of the championship.
At Saturday's game, fans are invited to stay in their seats at halftime as Kenville's No. 20 jersey will be raised to the Reilly Center rafters.
"While we are not officially retiring the No. 20 from the program, Bill's jersey will remain in The RC as a tribute to his career and contributions to the program," St. Bonaventure Director of Athletics Joe Manhertz said. "He was a true great of St. Bonaventure basketball and served as a tremendous representative of the university throughout his life."

He was inducted into the St. Bonaventure Hall of Fame in 1971 and the Greater Binghamton Sports Hall of Fame in 2018.
Tickets for Saturday's game are available online at GoBonnies.com/Tickets and by calling the SBU Ticket Office at (716) 375-2500.