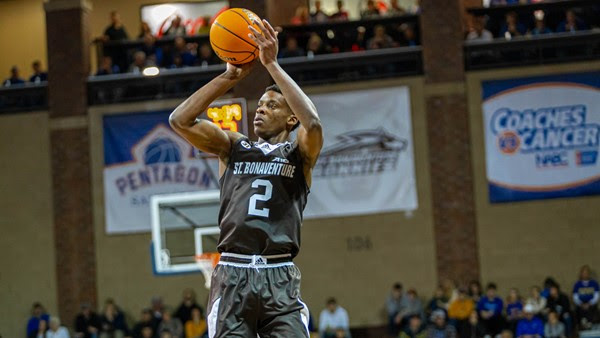 Courtesy of GoBonnies.com
SIOUX FALLS, S.D. – A game-changing 13-3 run late in the second half, aided by mounting Bonnies foul trouble, sent South Dakota State to a 66-62 win Tuesday night over the St. Bonaventure men's basketball team at the Sanford Pentagon.
Kyrell Luc led all scorers with 17 points, adding five assists, while Yann Farell had a breakout game with 16 points and 11 rebounds. Daryl Banks III added 14 points.
Down 61-57 after leading for the majority of the second half, Banks drained a three to close within one under a minute left. A defensive stop gave the Bonnies the ball back with a chance to re-take the lead, but a three-effort bounced off the front iron with 26 seconds to go.
A Luc runner in the lane got the Bonnies back within two with 11 seconds left. Forced to foul, the Bonnies sent Matt Mims to the line and he made good on both attempts to put the game away for SDSU.
In what was an essentially a home game for South Dakota State, the Jackrabbits pulled ahead early, scoring eight of the game's first 10 points. Most of the first half was in the control of SDSU before the Bonnies chipped away.
The Bonnies used a 9-0 run late in the half to take their first lead of the night on a Banks three-ball, eventually heading to the locker room up a bucket, 32-30.
St. Bonaventure maintained its momentum into the start of the second half. Bona's posted the first five points and forced a quick Jackrabbits timeout as the Bonnies took their largest lead, 37-30. After multiple quiet possessions each way, Chad Venning banked one home for a nine-point advantage with 15:45 to play.
Another Banks trey would give the Bonnies a 42-35 edge, but that began a swing of the pendulum back-and-forth and the teams traded momentum surges.
A Jackrabbits run pushed SDSU back in front, igniting the partisan crowd.
The Bonnies would answer, though, taking the lead back on a three from Farell in front of the Bona bench with 7:45 to play.
Whistles became the Bonnies' biggest enemy down the stretch.
With the game tied, 53-53, and 4:51 to play, Venning fouled out and, less than a minute later, Anouar Mellouk was also whistled for his fifth and disqualifying foul.
During that stretch, the Jackrabbits seized control with their run.
In the end, a 26-10 difference in fouls proved to be too much for the Bonnies to overcome.
Matt Dentlinger finished with 16 points to lead a veteran SDSDU squad. Zeke Mayo hauled in 13 rebounds to help the Jackrabbits to a 37-29 lead on the boards.
St. Bonaventure wrapped the night shooting 38 percent from the floor while the Jackrabbits finished at a 43 percent clip, including 50 percent after halftime.