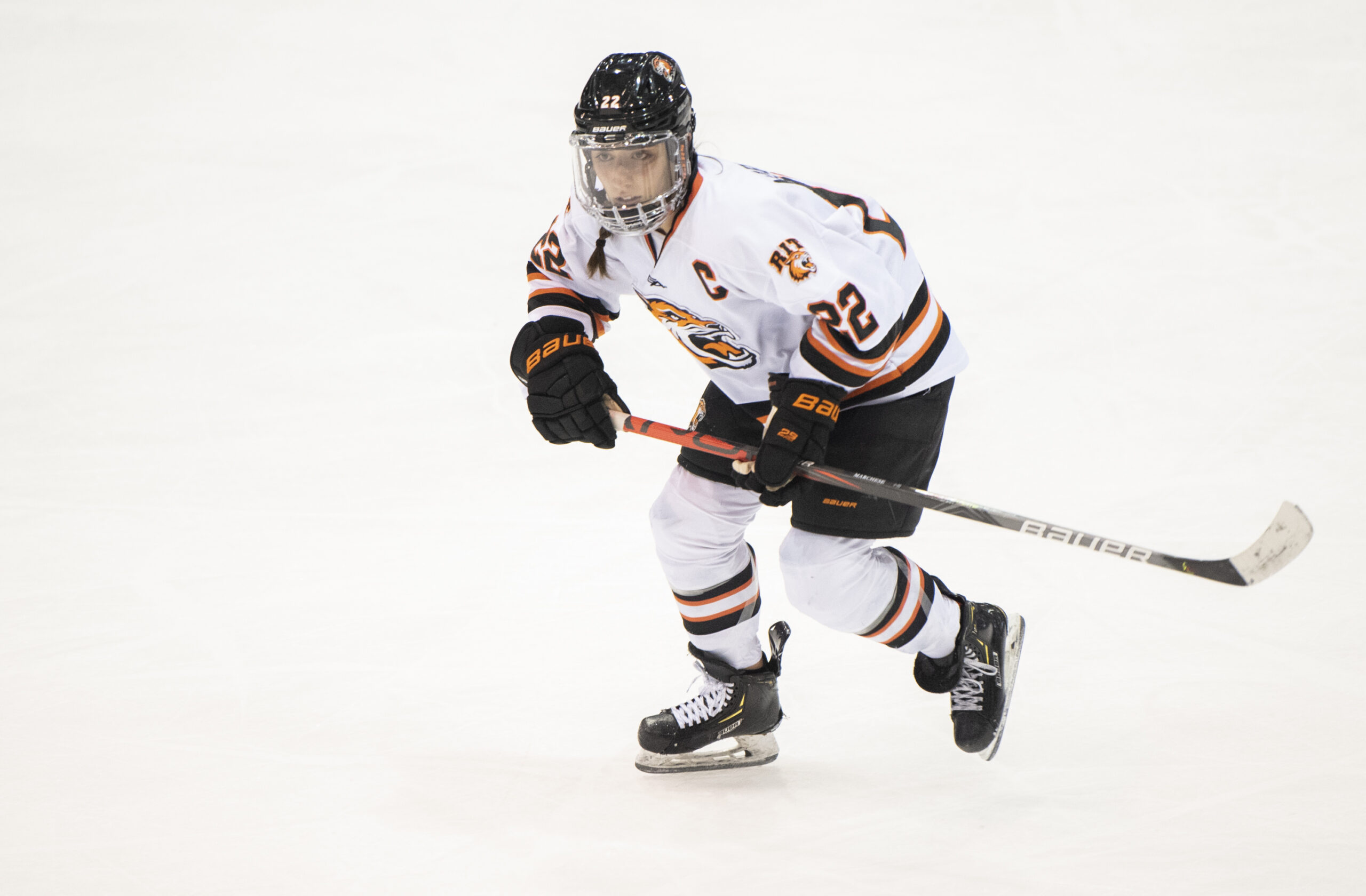 By CHUCKIE MAGGIO
Jordan Marchese didn't feel her fourth year at Rochester Institute of Technology provided a satisfying conclusion to her college experience. The Tigers played a shortened 16-game season after previously facing a cancellation. Marchese's family in Mississauga, Ontario couldn't attend games, nor could any spectators.
Marchese eagerly took advantage of the option for a fifth year of eligibility the NCAA extended its athletes.
"Last year we didn't get a full season," Marchese explained at the Gene Polisseni Center Thursday, "so I feel like my four years weren't complete. A fifth year was definitely necessary to fulfill my four-year time here at RIT."
A defensive-minded forward, the captain is not only preparing to add to her 114 career blocked shot total (she blocked six Mercyhurst attempts on Jan. 7, tying her career high) but also to help lead a group that includes 13 newcomers.
Marchese has held leadership positions on the Tigers since 2018, when she first wore the "A" as a sophomore assistant captain. This is her second year wearing the captain's "C."
"To have Jordan back is… I don't even have words," RIT head coach Celeste Brown told Kevin Roche on the RIT SportsZone Hockey Media Day broadcast. "She's an unbelievable leader, an unbelievable human being. She's a heart-and-soul player; think of a Tiger hockey player, that's Jordan. We attribute our success in building our program partly to her."
"I was once in their shoes- in their skates, rather," Marchese noted when discussing her "empathetic" leadership style. "So kind of just understanding where they're coming from at all times and being a friend before anything else."

Marchese played defense as a freshman before converting to forward, but she acknowledged that protecting the RIT end is still her foremost priority. Despite scoring six goals and tallying eight assists in 2019-20, she identified shot-blocking as more of a forte than finding the score sheet.
"I wouldn't say I'm the biggest goal scorer out there but I definitely like to block shots, which I feel is pretty important," Marchese remarked. "… As a senior now, super-senior in my fifth year, I think I have a little bit of knowledge on how the play is, how fast it is and how I can excel in that."
A business management major who could play professional hockey in Europe after leaving RIT, Marchese has high aspirations of improving on a one-win 2020-21 season but also has an eye on the program's intermediate future. The team's freshmen, she said, can elevate the Tigers to new heights. Welcoming 13 first-year players isn't seen as a burden but a boost.
"Honestly, it's not even looked at as a challenge. I think each one of them are so great," Marchese commented on the SportsZone Media Day broadcast. "I'm so happy that they're here to take this team to the next level. This year I just want to start off with a strong foundation, a full year without COVID, and hopefully we'll continue on for years to come.
"I'll be the proudest alumna around."