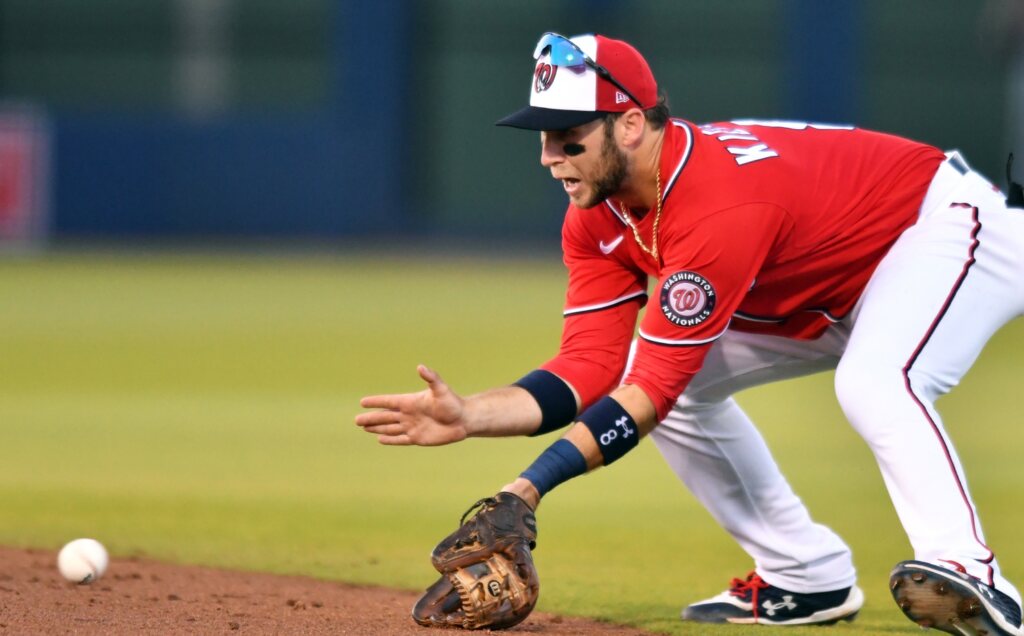 By CHUCKIE MAGGIO
The left side of the Rochester Red Wings infield will be closely monitored by fans and Washington Nationals executives alike this summer. The Nationals released their minor league Opening Day rosters on Monday, with 2016 first round pick Carter Kieboom and fast-rising 20-year-old Luis García headlining Rochester's 33-man group.
The third base-shortstop duo will help lead the Red Wings as they start the season at Lehigh Valley on Tuesday. Kieboom hasn't hit yet at the major league level, batting just .180 in 139 at bats. The 23-year-old did, however, bat .303 with 16 home runs and 79 RBI for Triple-A Fresno in 2019. A two-time Futures Game Selection, Kieboom's first major league hit was a game-tying home run against San Diego in April 2019.
García, who turns 21 on May 16, will be the first player born in the 2000s to wear a Rochester uniform and the youngest position player on the Opening Day roster since Al Pardo in 1983. A left-handed batter who was born in New York City but grew up in the Dominican Republic, García hit .276 with two home runs and 16 RBI in 40 games with Washington in 2019. He also scored a run in the Nationals' opener this season, appearing in six games with the big league club before being optioned to the Alternate Training Site on April 12.
"The two infielders that have been top prospects in our system have had a taste of the big leagues and need to create more consistency," assistant general manager of player development Mark Scialabba acknowledged Monday, "but I think we're still very high on Carter Kieboom and Luis García. They're dynamic players.
"García loves playing the game, has a lot of fun and can impact the game on both sides. (He) is just still learning so much about the game. And Carter is someone that has the ability to barrel up the baseball and hit with power. He's just gotta get into his swing with his legs more and get into a position where he's creating a more consistent bat path. He's working on that right now. Defensively, they'll be playing on the same side of the infield most of the time, so that's exciting."
The new-look roster will feature some familiar former Red Wings. Outfielder Ramón Flores, who hit .308 and drove in 17 runs in a 30-game stint, and Ryne Harper, who did not allow an earned run in three Wings appearances, will start the season in Rochester after playing for the club in 2019.
The Nationals believe Daniel Palka, who played parts of two seasons with Rochester and signed a minor league contract with Washington on April 16, can still display the power that produced 27 home runs for the White Sox in 2018.
"We know what he's capable of doing," Scialabba said of Palka. "One of our managers, (Double-A Harrisburg manager) Tripp Keister actually had him in the fall league, so we knew the person and we know that obviously he has left-handed power… The fact is that we think maybe there's an opportunity to have him bounce back with us. We know that the ability's there, just we have to get it out of him, so we wanted to take a chance, brought him to spring training in Florida. He's shown well. We're excited to get him going and getting some at bats to see what he can do to add to our major league depth."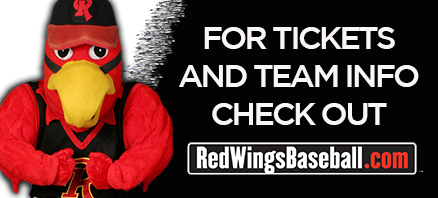 Palka will be joined in the outfield by Nationals fan favorite Gerardo Parra, a Santa Barbara, Venezuela native who hit eight home runs in 2019 and endeared himself to Washington during its World Series run with his "Baby Shark" walk-up song. Parra, who turns 34 on Thursday, is a lifetime .276 major league hitter who played in Japan last year.
Steven Fuentes and Jefry Rodriguez were two pitchers Scialabba singled out who have a shot at helping the major league team at some point this season. The 23-year-old Fuentes, Washington's No. 22 prospect, maintained a 2.69 ERA at Double-A Harrisburg in 2019, striking out 63 batters and walking just 15. Rodriguez, who has pitched in 24 major league contests and has a 3.81 ERA in 11 Triple-A appearances, last pitched for Estrellas in the Dominican Winter League.
Ben Braymer pitched in three games for the Nationals last season and is rated the system's No. 21 prospect. The roster includes four catchers with major league experience, including Welington Castillo and Blake Swihart. Tres Barrera is the organization's 19th-ranked prospect and will see significant time behind the plate after being suspended in 2020 for testing positive for an anabolic steroid.
Washington is supplying Rochester with enough talent for a competitive and interesting team as it stands, but Frontier could also see a few star-studded rehab assignments over the next four months. Scialabba said MLB rules are temporarily restricting rehabbing players to Triple-A for their minor league tune-ups. Each aspect of this shortened season will make the Red Wings' debut as a Washington affiliate more intriguing.
"It's going to be an exciting day (Tuesday) for everyone involved," Scialabba said. "Obviously these players who have grinded through this process, it obviously means a great deal to them to get back on the field officially. All the hard work that they put in behind the scenes in a very difficult, challenging environment where some players didn't have access to fields or gyms for an entire year… and the fans and the communities involved, it's just gonna be a great day."