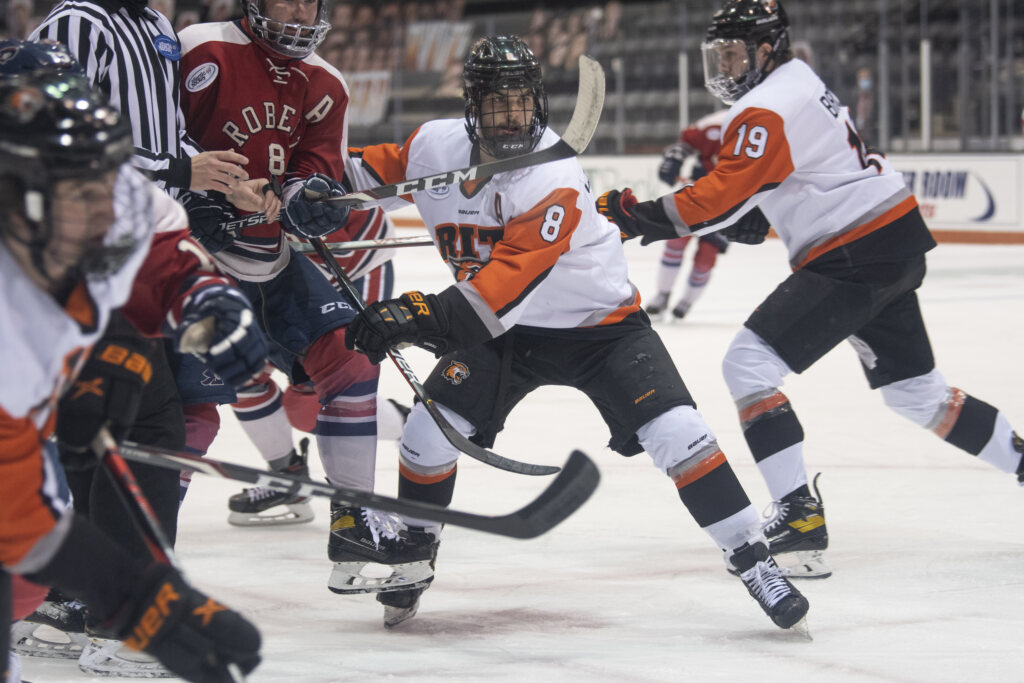 By TIM IRVING
Senior goalie Ian Andriano made 39 saves and RIT's offense exploded in the second period in a 6-1 win over Robert Morris.
The victory snapped a three-game losing streak for the Tigers, who are trying to avoid a first round game in the Atlantic Hockey playoffs.
Coach Wayne Wilson said, "trying to avoid that single-game elimination…single-game, anything can happen, best-of-three I think the best team should win."
Having three strong goalies will give the Tigers and edge and Andriano stopping 17 shots in the first period after the Colonials put him in a shooting gallery early on, was a big key.
A minute into a scoreless second period, Randy Hernandez gave Robert Morris and early lead and RIT a wake-up call.
On a power play five minutes later, Jake Hamacher put the puck on net, Will Calverley, who missed all three games in the skid due to injury, knocked in his own rebound in front to equalize.
Four minutes later, Alden Dupuis skated inside the left face-off circle and let fire a slap shot that put RIT up 2-1.
Just over a minute later, with the Tigers on the penalty kill, Calverley and Kobe Walker broke in two-on-one, Calverley's shot was stopped but Walker put in the rebound.
RIT's defense stepped up late in all three periods, blocking shots in front of Andriano.
In a 4:25 stretch of the third period, the Tigers tacked on three goals. A great passing sequence between Hamacher, Aiden Hansen-Bukata and Elijah Gonsalves got the first of the series.
Diarmad DiMurro netted his first college goal, followed quickly by a Caleb Moretz play in front.
Andriano stopped 11 shots in each of the final two periods, improving to 2-2 on the year.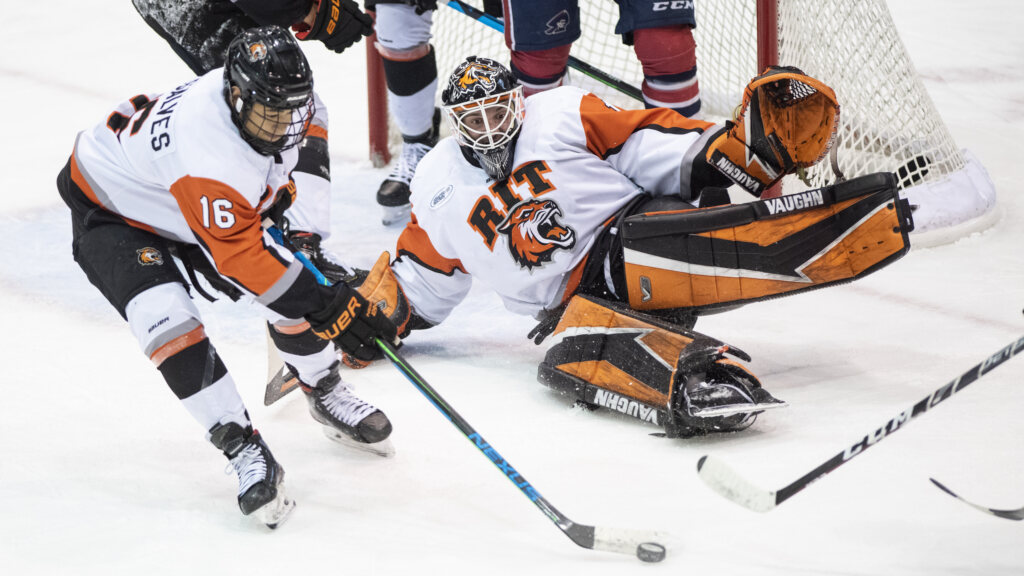 "I thought he played really well. I thought it took us a while to get our legs going. When we got our legs going and we started skating, I thought that was the difference in our team," Wilson said.
The Tigers have 20 points now and sit in a tie for sixth. The top five teams avoid first round games.
RIT hosts Robert Morris again Sunday and then play Niagara Wednesday and Mercyhurst on the road Saturday to wrap up the regular season.