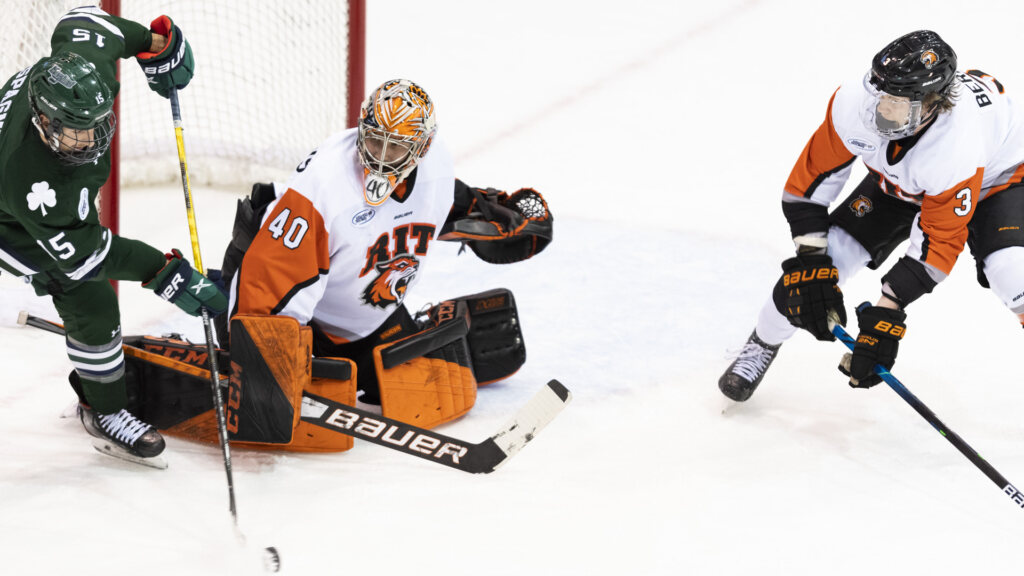 By TIM IRVING
COVID-19 has forced RIT men's hockey coach Wayne Wilson to constantly shuffle his players, especially the goalies and getting number one starter Logan Drackett some rest is key.
So, with a home-and-home series against Mercyhurst, he called on Kolby Matthews and the sophomore responded with a 31-save performance and a 2-1 victory for the Tigers over the Lakers Friday at the Polisseni Center.
"Logan's been our security blanket, really for a number of years here but we really thought he's (Kolby) worked hard and so has Ian (Andriano)," said Wilson, "you gotta get him in."
The Tigers played virtually flawless defensive hockey through the first two periods, while using three freshman defensemen in front of Matthews.

RIT also used the forecheck in Lakers' end of the ice to their advantage. Early in the second period, Diarmand DiMurro stole the puck deep in the Mercyhurst zone and fed it along the boards to Elijah Gonsalves, who backhanded in front for Jake Hamacher. The senior's one-timer put RIT up 1-0 the 5:42 mark, his sixth goal of the year.
3:40 later, Calvon Boots made a forecheck at the blue line, Bryson Traptow hit Alden Dupuis for a backhander and a 2-0 Tigers lead, Boots with his first assist for the Tigers.
Matthews stood tall in the net at the other end and made a sprawling save with the Tigers shorthanded to keep the Lakers off the board.
Mercyhurst started the third period on a power play and pinned RIT in their own zone for much of the final period, the Tigers only getting three official shots on goal.
With 6:04 to play, the Lakers staved off an RIT attack and got the puck up ice, Matthews got caught of the net and before he could get back in front, Brendan Schneider pumped the puck into the empty net to cut the lead in half, 2-1.
"They're a very good team in transition and we helped with their transition game, particularly in the third," Wilson said.
For the third straight game, the Tigers fended off an extra skater in the final minutes to gain the victory.
With their third straight win, RIT improved to 5-2-1-1 in Atlantic Hockey play, third behind AIC and Robert Morris and 7-4-2 overall with the return game in Erie on Saturday at 5:05.