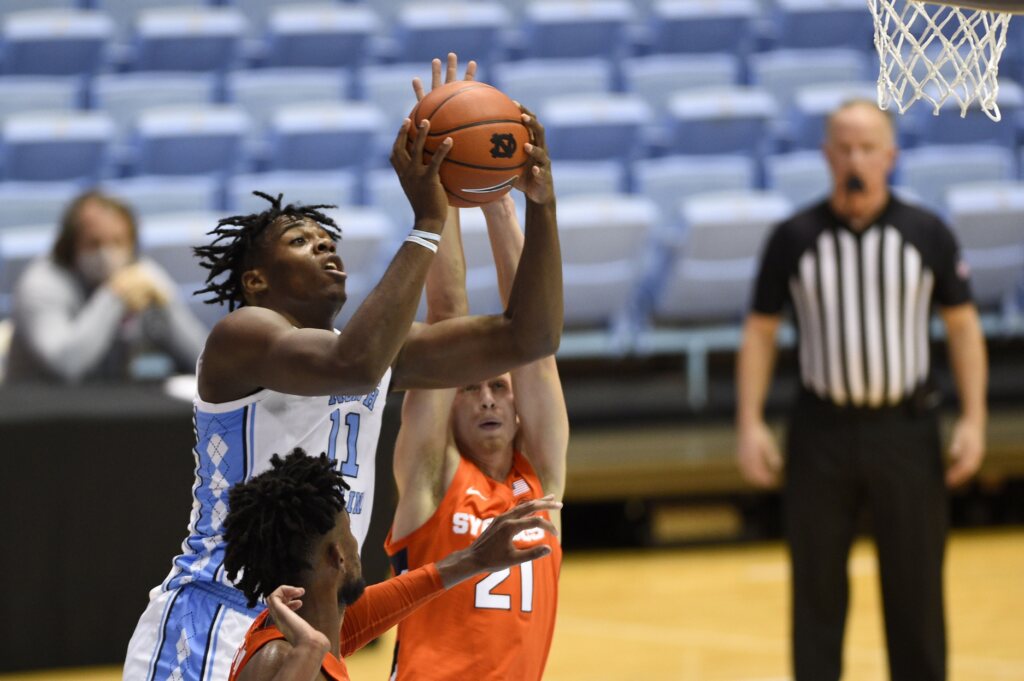 By PAUL CIFONELLI
In a game where it seemed neither team could get into a sustainable rhythm, North Carolina flexed its muscle en route to an 81-75 home win over Syracuse. The Tar Heels outrebounded the Orange 48-31, which allowed them to win despite shooting just 39.7 percent (29-for-73) from the field.
North Carolina grabbed 24 offensive and 24 defensive boards in the game. Armando Bacot led the way with 12 and Garrison Brooks had 10. Seven of Bacot's rebounds were on the offensive side, while Brooks had eight on the defensive glass.
.@quincyguerrier drives for the 3-point play 💪

Cuse 15-14 | 13:48 1st pic.twitter.com/IW9r19kaQ0

— Syracuse Basketball (@Cuse_MBB) January 13, 2021
Syracuse coach Jim Boeheim also believed that rebounding ended up deciding the game.
"We forced them into shots but then they got the ball back," Boeheim said. "It was offensive rebounding and points inside. They're a big team. They're difficult for us and we have to play almost perfect. We played well on offense but we have to almost play a perfect game on offense."
The Tar Heels had possession from the 16:34 mark of the second half to the 15:21 mark. There were six shots and five offensive rebounds in that time, which also included a TV timeout. Despite having the ball for that long, no points were scored.
Defense ➡️ offense

Cuse on a 13-2 run in the last 6 minutes

ACCN: https://t.co/SuuFrr1yjb pic.twitter.com/RJEyMyFBK2

— Syracuse Basketball (@Cuse_MBB) January 13, 2021
The largest lead of the game by either side was 10, which North Carolina had late in the first half. That didn't last long, as Syracuse was able to surge back and tie the score at 40 at halftime. Syracuse's largest lead was five, which came near the midpoint of the second half.
Both Syracuse and North Carolina had runs early in the second frame. North Carolina scored the half's first nine points on four made twos and a free throw. Syracuse answered with a 13-0 stretch of its own to take a four-point lead. The teams exchanged buckets and Syracuse took its five-point lead, then the Tar Heels went on a 13-0 run of its own to reclaim the lead.
The Orange followed that up with a 12-1 advantage to snag a one-point lead, but two made free throws from Day'Ron Sharpe gave the Tar Heels the lead for good. Beginning with the free throws, Syracuse was outscored 14-7 over the game's final three minutes.
Bacot and Brooks both had double-doubles to lead North Carolina. Bacot scored 15 to go with his 12 boards and Brooks had 16 and 10. R.J. Davis also scored in double figures, netting 12 points on two made threes. Leaky Black had a team-high seven assists and three blocks. Kermit Walton (9), Sharpe (8), Andrew Platek (7), Caleb Love (7) and Walker Kessler (2) also scored for the Tar Heels.
Quincy Guerrier and Buddy Boeheim kept the Orange close in the first half, as the duo combined for 29 of Syracuse's 40 first-half points. Guerrier finished with 23 points and 11 rebounds, while Buddy Boeheim didn't score in the second half and ended with 18. Alan Griffin started to find his shooting touch again, making six of 12 field goal attempts and scoring 16 points. Marek Dolezaj (6), Joe Girard III (6), Robert Braswell (4) and Kadary Richmond (2) rounded out Syracuse's scoring.
Closer look at Buddy's back-to-back 3's

Boeheim with the Orange's last 8 points of the half

ACCN: https://t.co/SuuFrr1yjb pic.twitter.com/3MhT1nelPV

— Syracuse Basketball (@Cuse_MBB) January 13, 2021
The Orange are off until Saturday, when they travel to take on Pittsburgh for the second time this season. The Panthers won the first game at Syracuse, 63-60. That game is set to tip off at noon. North Carolina's next game is also on Saturday at noon, when it will take on Florida State.