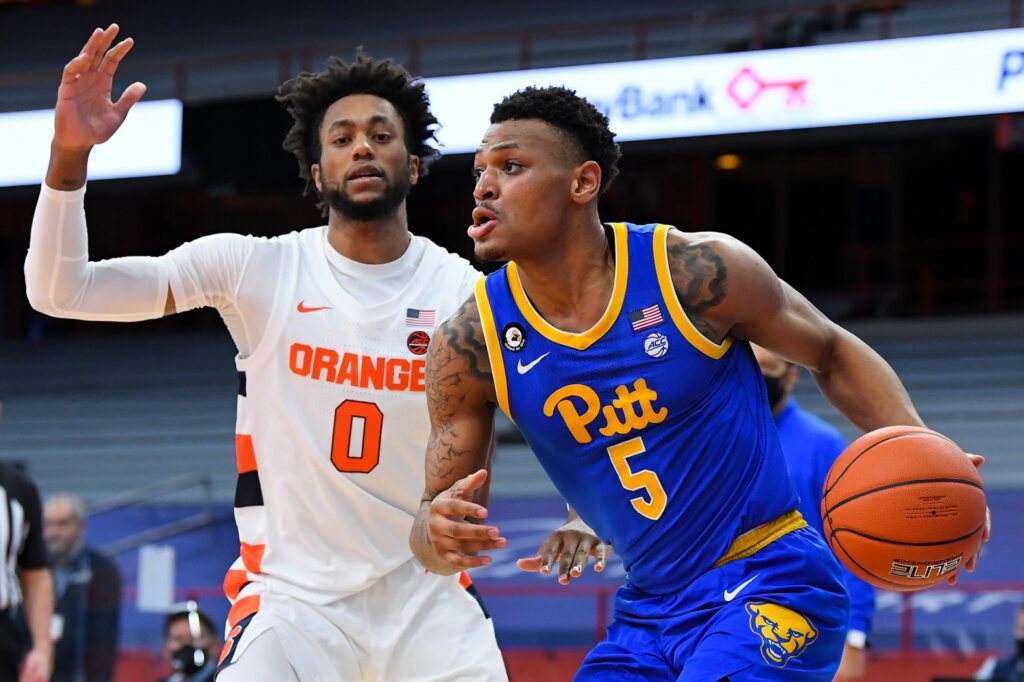 By PAUL CIFONELLI
Pittsburgh only led for 8.2 seconds in its game at Syracuse, but those 8.2 seconds were the final ones. Au'diese Toney tipped in a missed three by Ithiel Horton that gave Panthers a 61-60 lead and sealed a comeback victory.
The Panthers made two separate comebacks in the contest, with Pittsburgh trailing by 16 with 11 minutes left in the game. Syracuse also held an 18-point advantage with four and a half minutes remaining in the first half. Pittsburgh was down by 14 at the half and cut the deficit to four before the Orange began to pull away again.
According to Syracuse coach Jim Boeheim, the team's collapse was a result of the team shooting 36.7 percent (22-for-60) from the field in the game.
"Obviously. we depend a lot on shooting," Boeheim said. "We started off the game making shots, got the same shots the whole game, but we didn't make them. Our defense was pretty good, solid. But we depend on making jump shots and we haven't really made them."
After Pittsburgh got the game to four in the second half, the Orange were able to extend the lead back out because of Robert Braswell. Braswell knocked down three triples over a two-minute span, which gave him four threes in the game.
Pittsburgh shot just 22.2 percent (6-for-27) from the field in the first half. The Panthers scored 18 points in the half, but turned on the jets in the second half. Pittsburgh made 44.7 percent (17-for-38) of its second half field goals, including six of the team's seven made threes in the game.
Additionally, Syracuse was outrebounded 49-33. Quincy Guerrier, the Orange's leading rebounder, was limited to 17 minutes due to foul trouble and Toney, William Jeffress and Femi Odukale combined for 29 boards. The Panthers were able to score 21 second-chance points on 20 offensive rebounds.
"They got us on the boards in the second half a little bit," Boeheim said. "Quincy being out, he's our best rebounder, that hurts us for sure. The boards are a problem for us anyway. With Quincy out we're unbelievably thin and small, there's no question about that."
Horton, Toney, Xavier Johnson and Odukale all scored in double figures for Pittsburgh. Horton led the way with 14 points, while Toney notched a 12-point, 14-rebound double-double. Johnson also had 12 and Odukale provided 10 points. Terrell Brown (8), Abdoul Karim Coulibaly (5) and Jeffress (2) also scored for the Panthers. Gerald Drumgoole Jr. (Irondequoit) played three minutes and didn't score.
Alan Griffin and Braswell were Syracuse's only players to score in double figures. Griffin scored 15 points and Braswell had 12. Marek Dolezaj pitched in nine points and Joe Girard III and Buddy Boeheim scored eight apiece. Kadary Richmond (5) and Guerrier (3) rounded out Syracuse's scoring.
Both teams were missing players in the contest, which was the first for each team in multiple weeks. Syracuse, which hadn't played since its game against Buffalo on Dec. 19, was without Bourama Sidibe and Frank Anselem. Sidibe was expected to play after missing all but one game due to a torn meniscus, but was held out as a precaution due to knee soreness. Pittsburgh played without leading scorer Justin Champagnie, Noah Collier, and Nike Sibande. Champagnie has a knee injury, while Collier and Sibande were held out due to COVID-19 protocols.
Syracuse's next game is scheduled for Jan. 9 at 8 PM against Georgetown. Pittsburgh will Florida State on that same day at 2 PM.