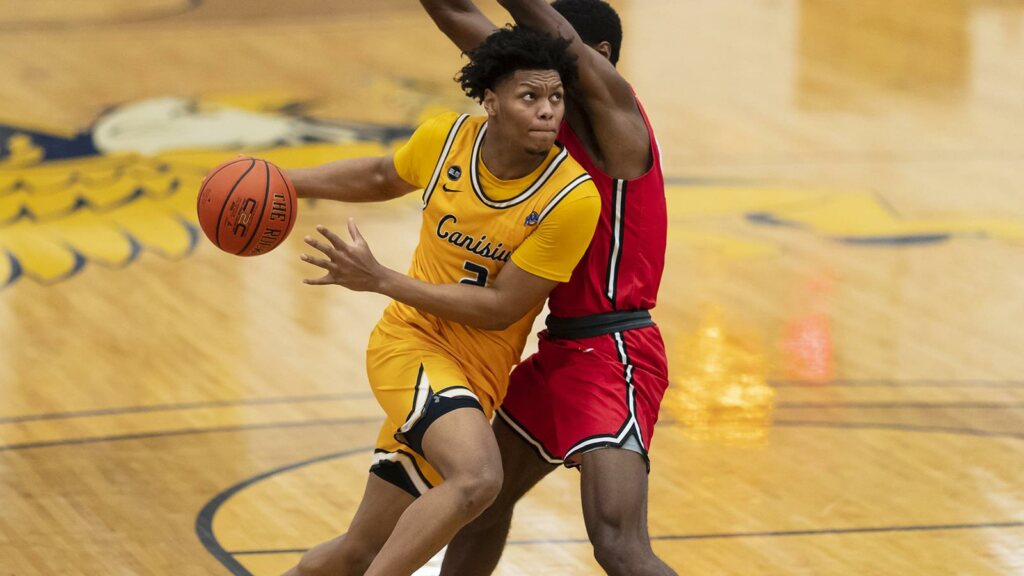 By GRIFFIN DELLA PENNA
BUFFALO, N.Y. — The Canisius College Golden Griffins defeated the Saint Peter's Peacock's 63-60 Saturday afternoon at the Koessler Athletic Center in a hard-fought MAAC matchup. Today's win for the Griffs was their second over St. Peters in 24 hours, after a 70-58 victory on Friday, bring their overall record to 3-3.
As the game came down to the wire, JUCO transfer Junior
Ahamadou Fofana
stepped to the free-throw line four times in the last 25 seconds of play and converted on seven of his eight attempts to maintain the slim lead. Fofana, a 2019-2020 (NJCAA) Division II All-American at Erie Community College, set career-highs with 17 points, four assists, two steals, 33 minutes played, and shooting 9-10 (90 percent) from the free-throw line.
Postgame, he credited his recent success and transition from JUCO basketball to the Divison 1 level.
"Adjusting to the speed of the game because everybody at this level can play, so I just have to come in and play my role. For my team, I just have to go out there control the team, and be a leader."
Head Coach Reggie Witherspoon praised Fofana, saying his free throws down the stretch were, "…crucial to us winning that game. St. Peter's will make you play down to the last second and put the pressure on you to make the free throws and make it a two-point game. Ahamadou didn't let that happen."
After controlling the offensive glass early, creating second-chance point opportunities, Canisius maintained a five-point lead late in the first half in a low-scoring affair. Contributions off the bench from Seniors
Majesty Brandon
and
Scott Hitchon
, as well as Junior
Malek Green
, accounted for 24 of the 32 first-half points for the Griffs who outscored the Peacocks' bench 24-8.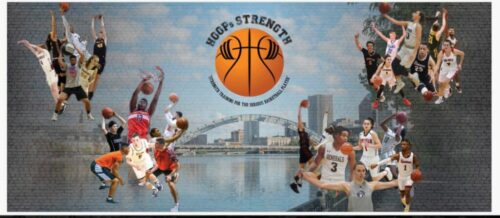 Saint Peter's top player Junior KC Ndefo, a selection for 1st team in the Preseason MAAC Coaching Polls, had a limited roll in what was only a three-point deficit at the half for the Peacocks. Coming off Friday's contest where he led all scorers with 17 points, seven rebounds, and five blocks, Coach Witherspoon's gameplan was to do everything they could to make it difficult for his presence to be felt.
"He's a tremendous player with an extreme amount of intensity and passion," said Witherspoon, "we wanted to make it as difficult as possible for him; you can't completely shut him down, but you can limit all the things that he does well because if you let it get too easy he can take over a game."
With a little under thirteen minutes left in the second half, Ndefo did make his presence felt after a sequence of a blocked shot and an offensive rebound on the other end leading to a converted and-1, tying the game up at 44 apiece. Ndefo, a former AAU teammate of Ahamadou Fofana during high school in the Bronx, would finish the game with 15 points, shooting 46 percent from the field and six turnovers. MAAC Preseason third-team members Daryl Banks III and Doug Edert were also held in check combined for 22 points and shooting 38 percent for St. Peter's.
In what appeared to be a much more balanced attack for Canisius after getting players back from injury meant that Coach Witherspoon could tinker with their rotation and gameplan their back-to-back series accordingly. With a team like St. Peter's who is deep, plays very hard, and unselfishly, it was crucial to keep guys fresh while also having the flexibility to bring certain guys in situationally. Fofana added how, Playing back-to-back games is definitely challenging, especially against a team like that it just takes a team effort. "It can't just be one guy; we need everyone to come in and contribute."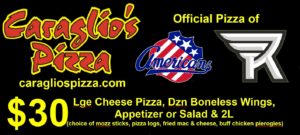 Malek Green had a solid day with 11 points and five rebounds in just 18 minutes of play before landing awkwardly on his right leg after a rebound and going down hard, grabbing his knee with only 26 seconds left to play.
The severity of the injury is still up in the air and will be further evaluated on Monday. Junior Jordan Henderson added a solid eight points along with big men Jacco Fritz and Jalanni White having big days defensively containing KC Ndefo and Hassan Drame.
Canisius looks to use these wins as motivation and propel them as they look forward to an away series against Siena, a series that was postponed in December because of COVID-19.
"If we continue to use this team mindset and guys start putting aside the individual thoughts for the greater good of the team. It takes a tremendous effort to play as a collective unit and I hope that we can use that to propel us moving forward [into next week.]"
Both games can be found on Friday, January 8th, and Saturday the 9th on WECK Radio Buffalo or available streaming on the ESPN App.