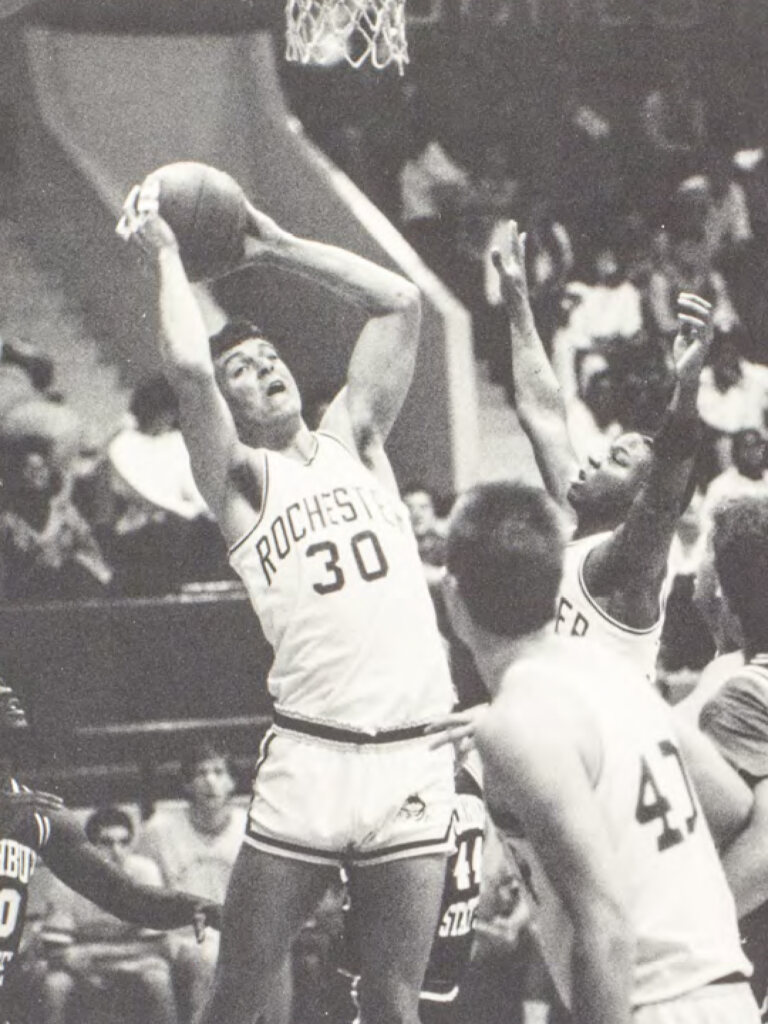 By JOHN LIKANJE
Mark Nunge was known as a basketball player, a doctor and a father of five children. But, to people who were personally acquainted with him, including former University of Rochester head coach Mike Neer, he was also a "really good guy."
Neer, who was at the helm of the program from 1973 to 2010, coached Nunge from 1985 to 1989. He still vividly recalled his recruitment process due to the extreme circumstances surrounding it. Nunge was born and raised in Potsdam, New York and wrote a letter to Neer expressing his interest in attending and playing at Rochester.
"Even at the Division III level, generally, the high school players that write to you seeking attention aren't as good as the ones you find out on the recruiting trail," Neer explained. "High school games, summer leagues. They didn't really have AAU (Amateur Athletic Union) back in the 80s. In-state, 6-foot-6, a straight-A student who scored very highly on the board. All we really needed to do was go see him play to get an idea if and how he would fit with our program."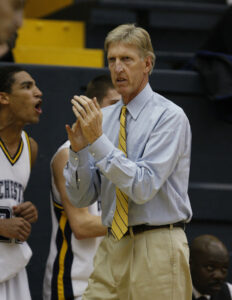 As much as Neer wanted to go see Nunge himself, the major dilemma was that this was during the winter when basketball season was in session. Furthermore, traveling from Rochester to Potsdam in the winter was especially dangerous at that time due to GPS not being readily available to the public. Fortunately, Neer had someone on his staff determined enough to make the trip: former assistant and current Villanova University head coach, Jay Wright.
"Jay wanted to make a name for himself as a recruitor," Neer said about Wright, who was in his first year as an assistant in 1984. "The long story short, he goes up there, leaving that morning. I don't hear from him until after midnight. He calls me at home and he is pulled over, filling a tank of gas in one of the few places open in a foot and a half of snow up in the north country.
"He says, 'Coach, this trip is tough, but I'm going to have to spend the night someplace else so I'll see you tomorrow afternoon. By the way, the kid is a good kid. He's smart, under control, a lefty, good touch and a good passer.'"
Reminiscing back to that time, Neer was grateful to Wright because not only did it result in Nunge visiting multiple times afterwards with his father to attend games, practices and meet the other players, but Rochester was a more realistic option for him than his alternative choice, Princeton University. In fact, Pete Carril, the head coach at the time, encouraged Nunge to strongly consider Rochester due to the reality that he had a better chance of only playing Junior Varsity if he came down to central New Jersey.
Rochester was the best of both worlds for Nunge. Not only was he a key rotation player for one of the most competitive Division III schools in the country, he was set to graduate with a Biology degree from a premiere academic institution. That's what Neer liked about Nunge the most: he already knew what goals he wanted to achieve in college and didn't require any assistance adjusting to the campus lifestyle.
Nunge carried that demeanor with him both on and off the court. On the court, he hung on to every word and instruction from Neer and the coaching staff. Although he wasn't the best player, he was well aware of his limitations and excelled at his role: a 6-foot-6, left-handed big man capable of scoring inside and rebounding. Off the court, Nunge was a mature individual who mostly kept to himself but sported a sense of humor as well. Neer never had to worry about him getting into trouble and even had him live with the upperclassmen so that "his maturity would rub off them."
"I had a joy coaching him," the 42-year head coach said about Nunge. "First of all, he wanted to be coached. He wanted to understand the whole offense and the whole defense. I bring that up because he ends up as a doctor in emergency medicine. Well, if you're going to deal with emergencies, then you sure would want to know how that particular bone or organ fits in the hole. Mark was a very even-keeled player."
Nunge's personality was a major reason why the Yellowjackets notched winning records in three of his four years, including his junior year (1987-88) with an 18-9 mark. Overall, he compiled 627 points, 431 rebounds, 196 assists, 79 steals and 36 blocks in 102 career games. His best season was his senior year (1988-89) when he averaged 9.6 points on 54.9 percent shooting, 6.7 boards and 3.4 assists as the Yellowjackets finished with a 17-10 record, including a 13-1 mark at home. Neer still remembered Nunge's game-winning shot against Washington University in St. Louis that year.
"A lot of memories came back," Neer said, referring to January 12, 1989 when the Yellowjackets defeated the Bears, 67-64. "The past couple of weeks, I went through boxes in my attic, pulling out articles and photos and putting together a scrapbook to send his children."
Although the season ended in the first round of the Eastern College Athletic Conference (ECAC) Upstate New York Tournament, Nunge made sure to pass his wisdom on to the returning players. They definitely took his knowledge to heart as they went on to win the national championship the following year. Not only did Nunge attend the Final Four in Springfield, Ohio, he never missed the team's visits to St. Louis when he was at Washington University for medical school or Atlanta when he was at Emory University completing his residency. Neer was especially appreciative of Nunge's loyalty despite attending two other University Athletic Association (UAA) schools. Nunge was already in a class of his own by completing the UAA Triple Crown: an undergraduate degree at Rochester, a graduate degree at Washington and completing his residency at Emory.
Even 16 years later, Nunge never forgot his roots. In 2005, the Yellowjackets competed in the Final Four in Salem, Virginia. It was a special time for Neer because he was born and raised in the state. During that period, Nunge lived in Lynchburg and invited him to lunch at his place. Then he surprised Neer by making the trip and attending both games with his youngest child.
"I went into the stands to seek out my friends and family and one of the first people I saw in the stands was my son, Tyler and he's sitting next to Mark Nunge," Neer recalled after the Yellowjackets' Final Four victory to advance to the national championship. "Sitting next to Mark was my mother, who was in her 70s at that point and rarely made it to games. She's sitting with a newborn, an infant in her lap. I go up and say hi and ask, 'Mom, what's going on?' Mark says, 'Oh, that's our fifth kid. That's Joey.'"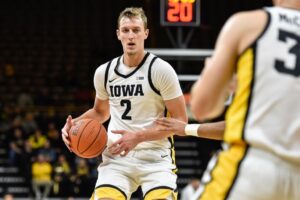 Now that Nunge has passed, Neer hopes his legacy lives on through the rest of his family, especially his son, Jack. Jack Nunge is a redshirt sophomore at the University of Iowa. After missing the first two games of this season, the 6-foot-11 forward returned and posted 18 points, five rebounds, one block and a steal in honor of his late father. Jack is averaging 7.6 points and 5.4 rebounds so far for Iowa, who is currently ranked No. 10 in the Associated Press (AP) Top 25.
Mark Nunge passed away in late November at the age of 53. A visitation service was held for him in Newburgh, Indiana and a private service was livestreamed online the day after.
Neer has been permanently retired from coaching since 2014 after a three-year stint at Hobart College following Rochester.