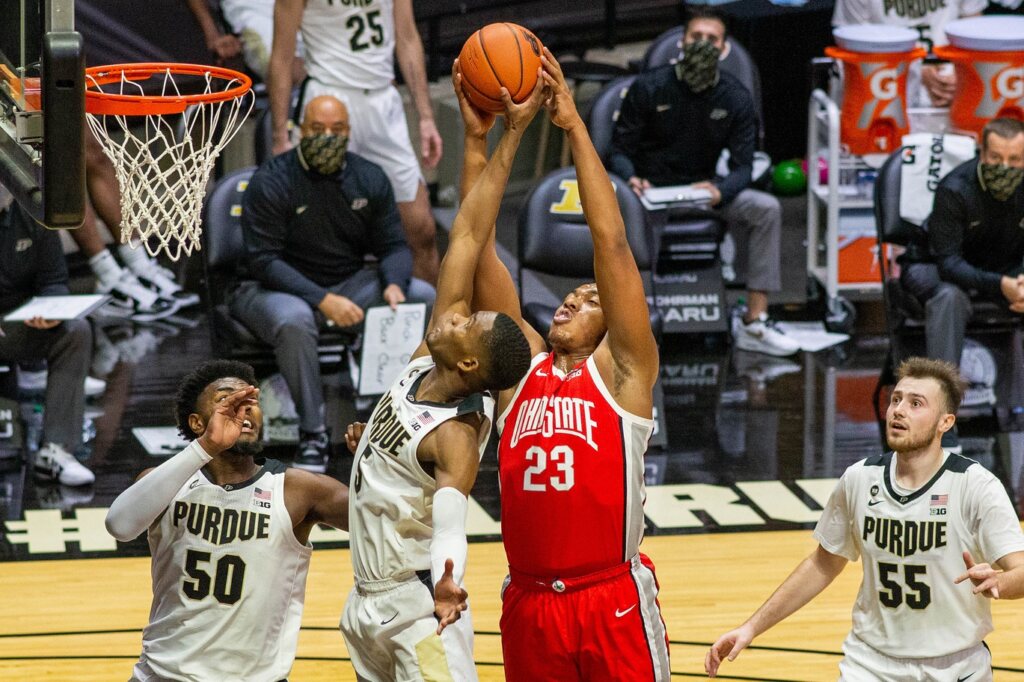 BUTLER (1-1) 66
No. 7 VILLANOVA (6-1) 85
Collin Gillespie scored six points during a stretch in which Villanova turned a six-point edge into a 12-point advantage and pulled away for the win – the 600th career victory for head coach Jay Wright. Leading 59-53 midway through the second half, the 6-foot-3 point guard knocked down a jumper, a pair of free throws and finished a layup. Jeremiah Robinson-Earl made a layup, Caleb Daniels netted a three-pointer and Justin Moore converted two foul shots as the Wildcats extended their lead to 72-60 with 4:23 left. Gillespie and Earl were the top scorers with 18 points apiece. Earl added five rebounds and four assists while Gillespie had five dimes, a steal and a board. Moore netted 13 points and Jermaine Samuels 12. For Butler, Jair Bolden led with 18 points, six rebounds and three assists. Aaron Thompson produced 14 points, five assists and three rebounds before exiting with a lower leg injury. Chuck Harris contributed 12 points. Other scorers – Butler: Bryce Nze (9), Myles Wilmoth (7), JaKobe Coles (4), Myles Tate (2); Villanova: Daniels (8), Cole Swider (8), Eric Dixon (5) and Brandon Slater (3)
No. 20 OHIO STATE (5-1) 60
PURDUE (5-2) 67
Trevion Williams led four players in double figures with 16 points off the bench as Purdue handed Ohio State its first loss of the season. The 6-foot-10 forward scored 10 of his points in the second half on three layups and a pair of midrange jumpers. Williams corralled nine rebounds and dished out eight assists as well. Eric Hunter, Jr. netted 15 points on 6-of-11 shooting while Brandon Newman and Sasha Stefanovic chipped in 10 apiece. For Ohio State, Justice Sueing recorded 14 points, five boards and two assists. Duane Washington, Jr. had 13 points, four rebounds and a pair of assists. Other scorers – Ohio State: Musa Jallow (7), Zed Key (5), Justin Ahrens (3), Eugene Brown (3), Jimmy Sotos (3); Purdue: Mason Gillis (6), Aaron Wheeler (5), Jaden Ivey (4) and Zach Edey (1)
SAM HOUSTON STATE (3-5) 63
No. 11 TEXAS (6-1) 79
Greg Brown and Courtney Ramey both netted 17 points as Texas rolled to an 18-point halftime lead and cruised to victory. Brown notched a double-double with 10 boards plus two blocks and two steals. Ramey handed out six assists and grabbed four rebounds. Andrew Jones had 13 points, three rebounds, two assists and two steals. For Sam Houston State, Zach Nutall stuffed the stat sheet with a game-high 23 points, four rebounds, two steals, one assist and one block. Donte Powers chipped in 11 points. Other scorers – Sam Houston State: Tristan Ikpe (8), Kian Scroggins (5), Demarkus Lampley (4), Jarren Cook (3), Terryonte Thomas (3), Javion May (2), Bryce Monroe (2), Manny Crump (1), Dylan Robertson (1); Texas: Matt Coleman (9), Jericho Sims (7), Donovan Williams (7), Kai Jones (6), Brock Cunningham (3)
No. 21 DUKE (3-2) 75
NOTRE DAME (2-3) 65
Matthew Hurt led a hot-shooting Duke squad with 18 points as the Blue Devils jumped out to a double-digit first-half lead and extended it to as large as 17 en route to the win. The 6-foot-9 forward converted 8-of-17 field goals and 2-of-2 free throws and filled the rest of the stat sheet with five rebounds, three assists, two blocks and a steal. Freshman guard DJ Steward scored 16 points and grabbed a team-high seven boards. Jeremy Roach made 5-of-6 shots for 14 points and Jaemyn Brakefield contributed 10 points. For Notre Dame, Dane Goodwin knocked down 10 of his 12 field goals for a game-high 25 points. Prentiss Hubb had 12. Other scorers – Duke: Jordan Goldwire (9), Mark Williams (4), Joey Baker (2), Patrick Tape (2); Notre Dame: Trey Wertz (9), Juwan Durham (7), Nate Laszewski (7), Cormac Ryan (5)
ALSO:
ST. FRANCIS BROOKLYN (2-2) 59
CENTRAL CONNECTICUT STATE (2-5) 78
Nigel Scantlebury (Greece Athena/Central Connecticut State) scored 11 points, dished out three assists, swiped a steal and swatted a shot off the bench. The 6-foot guard converted 3-of-5 field goals and 5-of-5 free throws.
PITTSBURGH (5-1) 70
MIAMI (3-2) 55
OTHER SCORES:
NORTHEASTERN (1-2) 56
SYRACUSE (5-1) 62
Joe Girard III, Quincy Guerrier and Marek Dolezaj combined to score 53 of Syracuse's 62 points as the Orange defeated Northeastern. READ MORE.
UMASS (2-1) 85
LA SALLE (2-4) 66
RICHMOND (5-1) 78
VANDERBILT (2-1) 67
TOLEDO (5-3) 96
MARSHALL (4-1) 87 OT
TCU (6-2) 77
OKLAHOMA STATE (6-1) 76
ORAL ROBERTS (3-4) 65
OKLAHOMA (4-1) 79
UTSA (2-3) 61
OREGON STATE (3-3) 73
NEBRASKA-OMAHA (2-6) 49
COLORADO (4-1) 91
UTEP (3-2) 76
ARIZONA STATE (4-3) 63
MONTANA (2-4) 66
WASHINGTON (1-5) 58
CENTRAL ARKANSAS (0-6) 65
MISSISSIPPI STATE (4-3) 81
OLE MISS (4-0) 70
MIDDLE TENNESSEE (2-4) 51
WILLIAM JEWELL 64
MISSOURI STATE (1-0) 73
SOUTH FLORIDA (5-2) 74
CINCINNATI (2-3) 71
EAST CAROLINA (5-1) 55
SMU (5-0) 70
MEMPHIS (5-3) 80
TULANE (4-1) 74