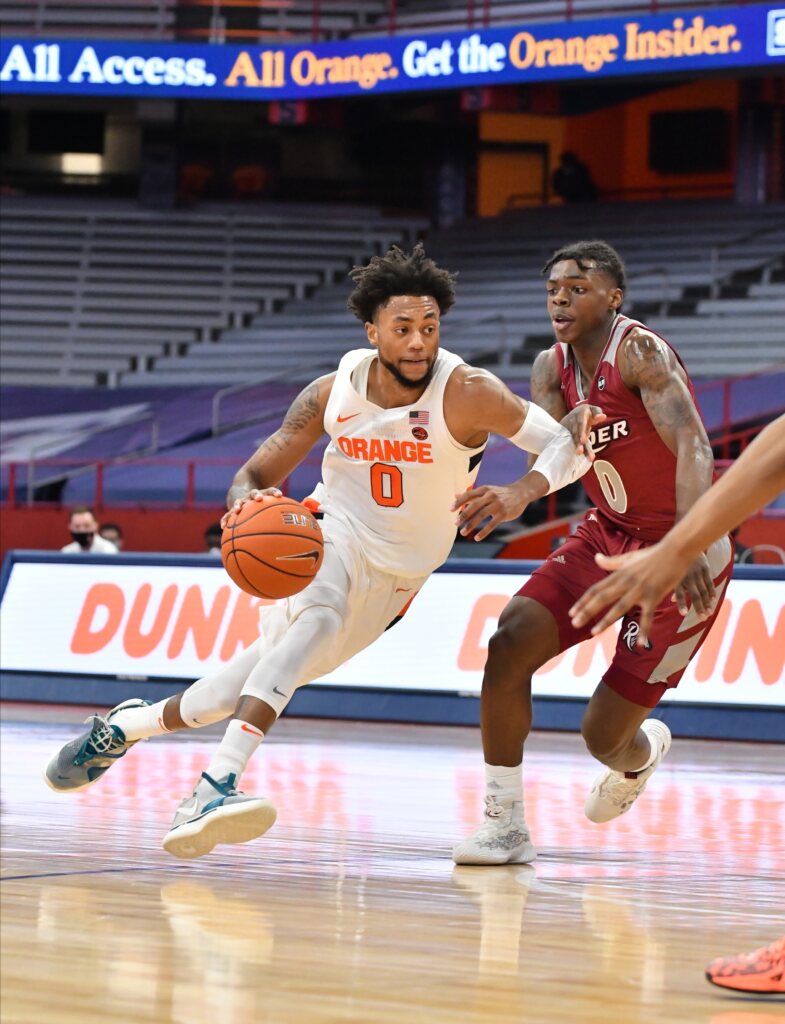 By PAUL CIFONELLI
Syracuse made 12 of its 18 three point attempts in the first half and made 15 in the game to tie its program record in an 87-52 win over Rider. The win gave Syracuse its first 3-0 start since the 2017-18 season, when the Orange won their first six games and made it to the Sweet 16.
Joe Girard III, Alan Griffin and Woody Newton led the way from behind the arc, making 13 of the 15 threes. Girard and Griffin combined for 29 points in the first half, tying Rider's total scoring output over the first 20 minutes. Griffin led all scorers with 23 points on 8/11 from the field, including 4/6 from downtown. Girard added 21 on six made threes and Newton scored nine with three made triples.
15-of-30 behind the arc.

7th time in program history the Orange have hit 15 3s. pic.twitter.com/4tuhA7hdy0

— Syracuse Basketball (@Cuse_MBB) December 6, 2020
Girard's breakout game came after two poor shooting games, where he went a combined 5-of-25 from the field. Syracuse coach Jim Boeheim knew his point guard would come around eventually to produce the type of game he had against Rider.
"Everyone misses shots, it's just a part of the game," Boeheim said. "It was not a concern. He's been making shots since he was in sixth grade."
With Buddy Boeheim and Bourama Sidibe being out the past two games, Boeheim has had to rely on younger players off the bench. Newton, especially has caught the eye of his coach.
"I think Woody's really stepped up," Boeheim said. "I like what he's done, I really do. I think everyone else has a little bit of work to do, but I was actually encouraged with Frank [Anselem's] last five minutes. But we've got a lot of work to do there."
Like last game, the Orange used a big first-half run to put the game out of reach early. This time, Syracuse got right to it, outscoring the Broncs 29-8 over the first 10 minutes. That included the Orange scoring on their first six possessions to get out to a 15-4 lead at the first TV timeout. Griffin scored nine of those 16 points, which didn't go unnoticed by his coach.
"Alan got off to a big start tonight," Boeheim said. "I think he made his first four. That was big. He settled the game early. I don't think [Rider is] as bad as we made them look. We just made all those shots early."
Halftime in the Dome.

Orange shooting 63% overall, 67% from behind the arc. pic.twitter.com/9kijEqARRV

— Syracuse Basketball (@Cuse_MBB) December 6, 2020
Syracuse's ball movement led to a lot of its baskets, as 24 of its 28 field goals were assisted. Kadary Richmond, making his second consecutive start, led the way with six dimes. Griffin and Girard had five apiece and Quincy Guerrier and Marek Dolezaj both had three.
The hosts also outrebounded Rider 38-24. Newton paced the Orange with eight boards, while Guerrier and Richmond added seven.
Guerrier had his third game this season with double digit points, netting 11. Richmond added seven points, Frank Anselem had six and Robert Braswell and Dolezaj had four apiece. John Bol Ajak pitched in two points.
Dwight Murray Jr., a transfer from Incarnate Word, was Rider's only double figure scorer with 20 points. Christian Ings notched nine points and Rodney Henderson Jr. and Allen Powell both had eight. Ajiri Ogemuno-Johnson scored five and Jaelen McGlone had two to round out Rider's scoring.
This was the second time that Syracuse and Rider had squared off. The first time was 70 years to the day, Dec. 5, 1950.
Syracuse's next game is on Tuesday, Dec. 8 at Rutgers in the ACC/Big 10 Challenge. Rider will take on St. John's that same day on the road.