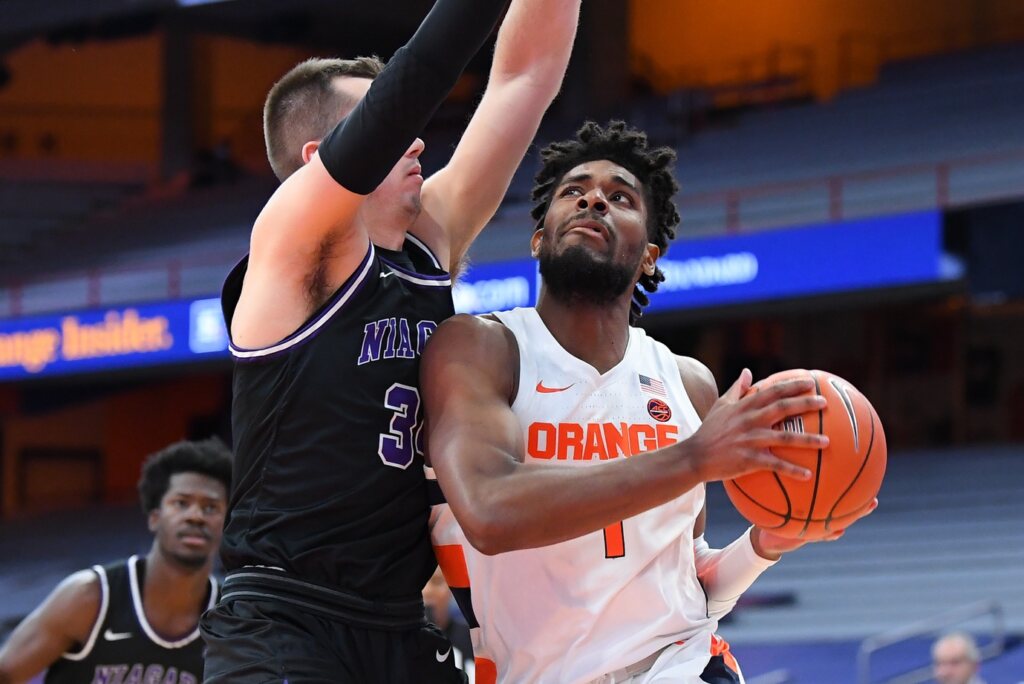 By PAUL CIFONELLI
Alan Griffin and Kadary Richmond were both forced into the starting lineup due to injury and COVID-19-related issues, but the two combined for 26 points in Syracuse's 75-45 victory over Niagara. Quincy Guerrier led the way for the Orange with 23 points and 13 rebounds on 9-of-10 shooting.
Griffin was expected to crack the starting lineup after it was announced earlier this week that Bourama Sidibe would miss time with a torn meniscus. Richmond's inclusion in the starting five was more surprising, as Syracuse University's athletics department announced a little under two hours before the game that there was a positive COVID-19 test within the program and other players would sit out the game due to contract tracing protocol. Buddy Boeheim wasn't in the lineup as a result.
The Orange and Purple Eagles played close for the first nine minutes, with Syracuse holding a 20-16 lead at that point. The host then went on a 20-4 run over the next eight and a half minutes to begin the rout.
Syracuse's height and length advantage was a big factor in the first-half run. The Orange were tipping passes and grabbing nearly every rebound over that span. Niagara is a very small team and coach Greg Paulus played both of his players listed at 6-foot-9 and above. Syracuse, meanwhile, played four players listed at 6-foot-10 or taller.
Syracuse coach Jim Boeheim didn't make a substitution for the first 13 minutes of the first half. He put in Robert Braswell and Woody Newton, who almost immediately made a three pointer in his Syracuse debut.
Guerrier's efficiency led to his career-high 23 points. He made his lone three point attempt, four of his five free throws and nine of his 10 field goals. He also snatched four offensive rebounds to go with nine on the defensive end.
Richmond played with both the starters and bench players after logging nine minutes in the Orange's season-opening win over Bryant. He stuffed the stat sheet with 16 points on 6-of-010 shooting from the field, grabbed seven rebounds, dished out six assists, snagged four steals and blocked three shots from the top of the zone.
Griffin chipped in 10 points, Newton had nine off the bench and Braswell added two. Marek Dolezaj scored seven points and ripped down 10 boards, coming three points from a second consecutive double-double to start the season.
Nicholas Kratholm, Marcus Hammond and Nick MacDonald all scored eight points for Niagara in defeat. Touba Traore contributed five points, Greg Kuakumensah and Shandon Brown had four, Justin Roberts and Raheem Solomon scored three and Kobi Nwandu pitched in two. Tahjae Hill (Hilton) played four minutes but didn't accumulate any stats.
Syracuse's next game is at home on Saturday against Rider. Niagara will face Saint Peter's on Dec. 11 and 12 on the road.