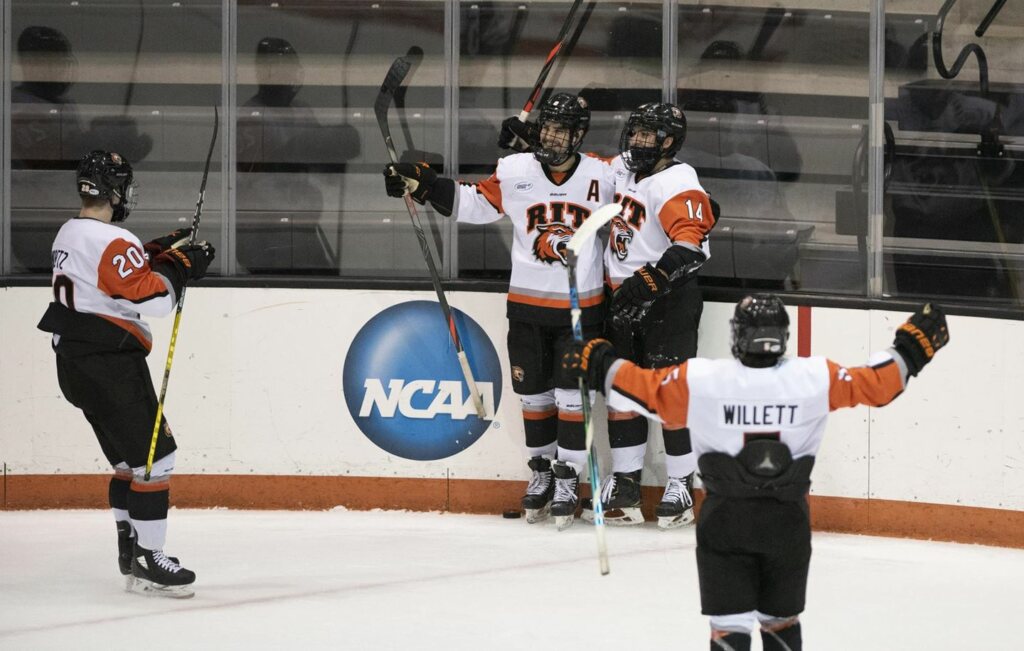 ROCHESTER, N.Y. — Will Calverley posted a hat trick including a pair of tallies during a five-goal third goal period as the Rochester Institute of Technology (RIT) men's hockey team rallied to defeat No. 9 Clarkson University, 8-5 in a wild 2020-21 season opener at the Gene Polisseni Center.
Calverly's second goal within three minutes proved to be the difference, and RIT went on to down Clarkson for the first time in program history.
Alden Dupuis assisted on the go-ahead goal.
Grant Cooper and Noah Beck scored within the first 1:17 of the third period to give Clarkson its first lead of the game at 4-3.

Elijah Gonsalves responded for RIT before the teams exchanged goals with Clarkson's Anthony Romano knotting the game at five with 7:59 remaining in the game.
Clarkson outshot RIT, 32-22.
Logan Drackett made 27 saves in the win.
Jake Hamacher started the scoring for RIT.
With the role @jake_hammy played in this 2020-2021 season for RIT MHKY being saved, it is fitting he scored the very first goal of the saved season as Tigers beat No. 9 Clarkson, 8-5. Such a leader. The program came in 0-7-2 vs. Clarkson all-time. Huge win for the Tech Tigers. https://t.co/6NyDqAzXKt pic.twitter.com/LOMXp8HiS8

— Matt Trabold (@TrabsMatt) November 28, 2020
Dupuis finished with a goal and three assists.
Calverley added an assist to go with his first collegiate hat trick.
Heading into Friday's meeting, RIT was winless (0-7-2) all-time in head-to-head meetings with Clarkson.
The same two teams will meet in Potsdam, New York at the Clarkson University campus on Sunday.
RIT returns home on December 11th to face Long Island University.