By PAUL GOTHAM
Nearly a decade separated their high school careers, but Jori Davis (Greece Athena) and Emma Guy (Penfield) will get the chance to face each other this upcoming season in the Greek Women's Basketball League.
Davis, a former Indiana Hoosier, continues her professional career with Olympiacos of the Greek A1 League while Guy, who recently starred at Boston College, gets her first pro opportunity as a member of Sporting Athens.
"I don't think it will hit me until I'm on the plane and officially going there," Guy said by phone. "Right now, I'm excited more than anything."
Greek A1 play is scheduled to begin on October 17th with Olympiacos opening against Dafni. Sporting meets Eleftheria the following night.
"Basketball has always been my constant," said Davis who is entering her 10th pro season. "Since I was young it's been a part of my story."
A native of New Orleans, Davis later lived in Texas. She went on to attend school and play in England before arriving at Athena.
"For me, I can truthfully say I've always loved the game and I still do. The lifestyle is what I started to enjoy. I started to appreciate the ability basketball gave me to meet new people in different countries."
Guy picked up the game later in life.
"I didn't start until the eighth grade, so everything was kinda new to me," she explained. "When I started out, it was like I'll try basketball. I didn't really necessarily like it.
"I had a great first coach, Mike Grasta (current head coach at Webster Schroeder), while playing AAU at Wayne. We were both brand new to this. He got me into the sport and taught me how to love the game.  It just grew from there."
Guy later played with Finger Lakes Fury and Finger Lakes Elite. Then she landed a spot on the City Rocks EYBL team. She used that platform to showcase her abilities.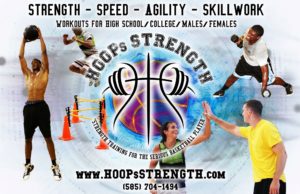 "Boston College wasn't even in my view. I had no idea how high I could go as a college athlete."
A Sixth Team All-State selection as a junior, Guy earned Fifth-Team honors as a senior when she averaged 15.5 points, 9.8 rebounds, 3.0 steals and 2.3 blocks for a Penfield squad which eventually won the 2016 Section V Class AA title.
"She's really done all this on her own," Penfield head coach Mark Vogt said. "When she went to Boston College, her first two years were good. Then she really turned it on. You got to give their coaching staff and their weight training staff a lot of credit. She stayed healthy and she fulfilled her potential."
This past season under second-year head coach Joanna Bernabei-McNamee, Guy helped Boston College (20-12) to its first overall winning record in a decade. The 6-foot-3 forward led the ACC and finished 10th in the nation connecting on 59.4 percent of her shots from the floor.
"She's got really good footwork and quickness," Vogt said of his former player. "That allows her to be successful against taller players. She did that the last two years at BC."
She averaged better than 13 points and six rebounds for a BC squad which won eight of nine including a triumph over Duke in the ACC quarter-finals. The late-season run had Guy and her teammates thinking about the NCAA Tournament. COVID-19, though, prevented the possibility of any post-season run.
"After we played in the ACC championships, we had this new-found hope where can finally make the NCAA Tournament a goal of ours. It would've been like 14 years since the last team made it. Having that stripped away left us distraught. We had no idea what to think, no idea what to do.
"It took me a little bit to get back into it because I was distraught over everything. After I got over that, I just took it more seriously. I knew basketball was in my near future and that it wouldn't be my last game ever.  I had to get that into my head and once it was I was set on my goals going overseas."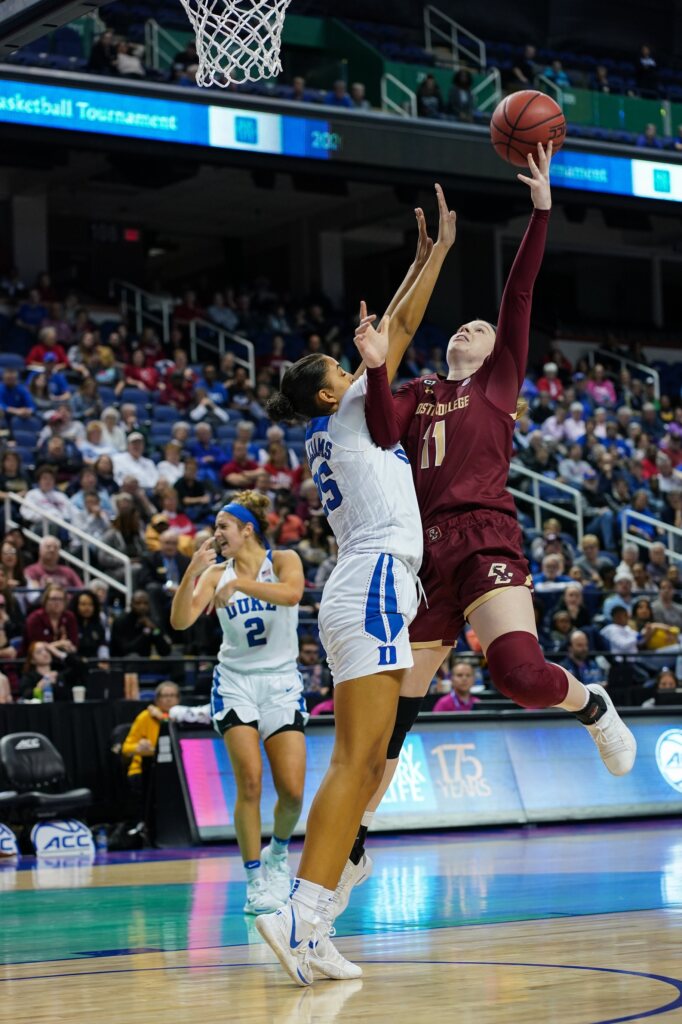 Guy joins a Sporting club that has won 21 championships in Greek Women's basketball, but none since 2004. She has looked to assistant coach Yolanda Griffith for advice.
"I've been talking to he a lot recently about what to expect," Guy said of the 11-year WNBA veteran. "From the little aspects of being alone in our apartment and not having a lot to do, she's been laying out what to expect for me.
"I'll be living with two other Americans, but in a sense, it's going to be on our own. We're not going to have the support systems or our families automatically. We're going to have whoever is in our apartment and then the team. That's something I really have to adjust to."

Selected in the third round (33rd overall) by the Indiana Fever in the 2011 WNBA Draft, Davis has since played in five different countries. A Second-Team All-Big Ten performer as a senior, she started her pro career with Hapoel Rishon Le-Zion in the Israeli Women's Basketball League where she finished top 10 in scoring. She continued a year later with Romania Targoviste and then played two years for Riva Basket in Switzerland before spending a season apiece with San Martino and Turin in Italy.
The 5-foot-9 guard played with Valencia Basket in the top Spanish League during her eighth season. Last year, she suited up for Costa Masnaga in Italy. Now, she becomes part of an Olympiacos team that went undefeated in Greek A1 play a year ago and has won six straight league championships.
"I've learned those that really love to travel and that lifestyle that kinda starts to keep us motivated as we get a little older," Davis noted. "The pro sports world is not the same. It's not the same as when you were in high school and the college camaraderie. It starts to become a business and that business starts to kill your love for the game. It kinda messes up the game.
"I started to enjoy the person I was becoming from those experiences and how it was shaping me. That's what's kept me going on the pro side."
Seeing the world has always been a part of life for Davis. Before she arrived at Athena prior to her sophomore year of high school, she attended the Bishop Hatfield School for Girls in England. While there she averaged 27 points and 12 rebounds per game for the Spelthorne Acers U-18 Junior Women's Basketball.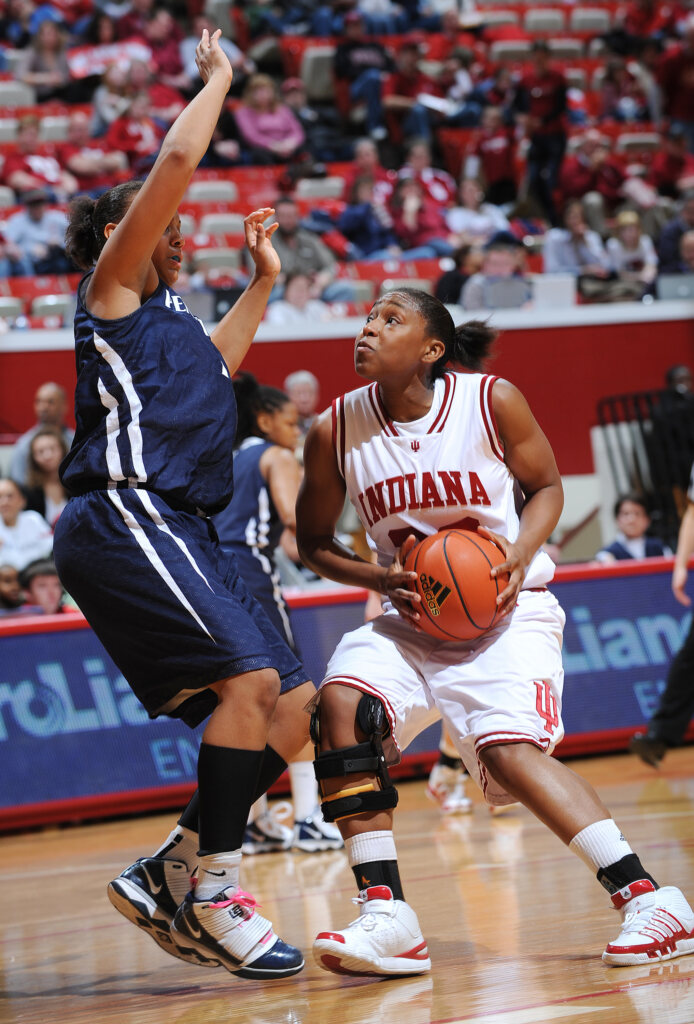 "The minute she dropped the ball on the ground and went in for a layup, I knew that we just got really good in a hurry," then Athena girls' head coach Mike Butler said after first seeing Davis play. "She is a great kid with a nice family. She made a big impact."
Davis teamed with Corinne Keller and Melissa Alwardt to win the 2005 Section V Class AA2 title. It was the first of three straight championships for Athena.
The following year, she set a program record for points in a single-season with 502 and finished her time on Long Pond Road with 1,352 career points. She was Third Team All-State as a junior and Second Team her senior season.
"A lot of kids go overseas, and they just can't deal with it because it's lonely," Butler noted. "She loves it and has made the most of it. She's been everywhere. She was always one of those kids who was able to adapt and meet people. She's done really well because she's been all over the globe her whole life."
Davis's time at Athena ran parallel to the career of seven-year WNBA veteran Shenise Johnson at Rush-Henrietta. The two teams met each year to advance to regionals. Those R-H teams won two of their three straight NYS Class AA titles.
"All three years we would have made state runs," Butler stated. "I don't know how we would have done, but all three years we had to face Shenise and Rush-Henrietta. They were just a little better than us."
Davis went on to average 19.5 points and 5.6 rebounds during her senior season at Indiana University. She finished her career eighth on the Hoosiers all-time scoring list with 1,586 points and became just the sixth player in program history with to amass over 1,500 points, 500 rebounds and 200 assists.

"From the Greece Athena days, I've become a more intelligent player," Davis said. "Not so much just athletic. Now I've become an intelligent player and understanding all the ways to manage myself whether that be on or off the court."
Davis and Guy had the chance to meet recently while both were working out at Hoops Strength.
"I've spoken to her and said I would help her in any way," Davis remarked. "When she's ready, I'm here because that's one of my passions as far as mentorship."
Olympiacos and Sporting are scheduled to face each other on November 28th.
"It makes me happy because we can give hope to the younger generation to always chase their dreams," Guy stated. "As long as you put in the work, you can do whatever you want."