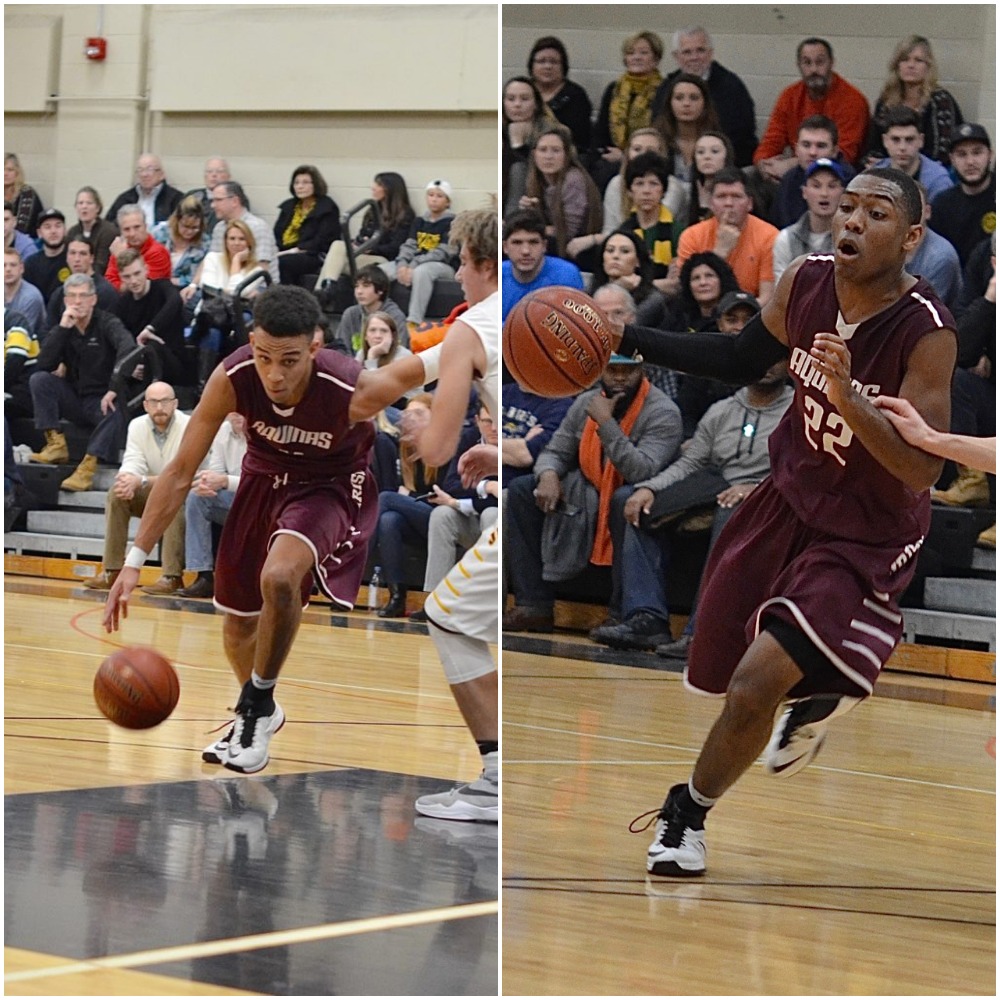 By PAUL GOTHAM
At first glance, the photo appears to be a tangle of hands and arms reaching for a ball. Taken in 2007 during a youth basketball tournament at Monroe Community College, the image represents one of the earliest pictures of Jason Hawkes and Jalen Pickett playing on a basketball court together.
More than a decade later the paths of the former Aquinas duo will converge, this time as members of the Siena Saints.
"Staying close," Hawkes said when asked about the prospect of playing again on the same team with his friend. "It's been a journey, a long journey."
The 6-foot-5 guard is not exaggerating.
From ICC Truth to Primetime Ballers to Aquinas and then as part of separate teams in the City Rocks organization, Hawkes and Pickett have never stopped chasing the orange globe.
One kid grew up on Rochester's northwest side, the other to the northeast. Hawkes started his schooling at Sacred Heart Cathedral in Rochester's Maplewood area. He then attended St. Rita from first grade through sixth before heading to Bishop Kearney for middle school. He enrolled at Aquinas for his freshman year of high school. Pickett attended Corpus Christi from pre-K 3 through third grade before before heading to St. John Neumann (St. Ambrose). His education continued at AQ in middle school.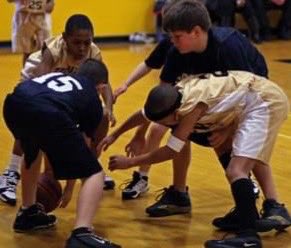 Plenty of practices, games and sleepovers they've shared. But more than three seasons have passed since they last donned the same uniform.
"I'm glad I stuck with him from the jump," Hawkes said. "I'm excited to get back out there with him."
When they graduated from Aquinas in 2017, they went separate ways. Hawkes headed to Buffalo where he attended Daemen College. Pickett left for Ohio where he enrolled at Spire Institute.
Pickett's efforts at the prep school earned him a spot with Siena. Hawkes was intrigued but not sold on the possibility of playing again with his longtime teammate.
"He put the idea in my head," Hawkes recalled. "I didn't really give it that much thought at first."
Eventually, Hawkes warmed to the chance. He transferred to Monroe Community College where he played during the spring semester of 2019 with the hopes of improving his grades.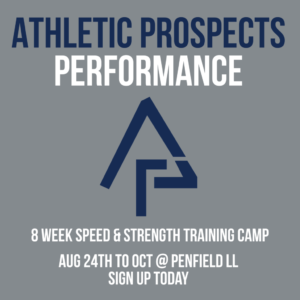 "It was kinda frustrating at the beginning," he explained. "I didn't have the right GPA to transfer from Division II to Division I, so I spent those two semesters (at MCC) working on my grades. After the first semester, I had a 3.0."
By the end of the school year, though, he was one course shy of being eligible to transfer. He spent the fall of 2019 at the junior college before officially enrolling at Siena for the spring semester of 2020. He took classes but did not play for the Saints.
"I was doing some workouts. At the end of the year, I was supposed to start practicing and doing team activities, but then coronavirus happened."

Now they are looking forward to returning to the court, Pickett as the reigning conference player of the year and Hawkes as a walk-on.
"I know the system already pretty well," Pickett said. "Once I get Jason caught up to speed with that, we're going to be unstoppable. I can't get wait to get out there and play with him."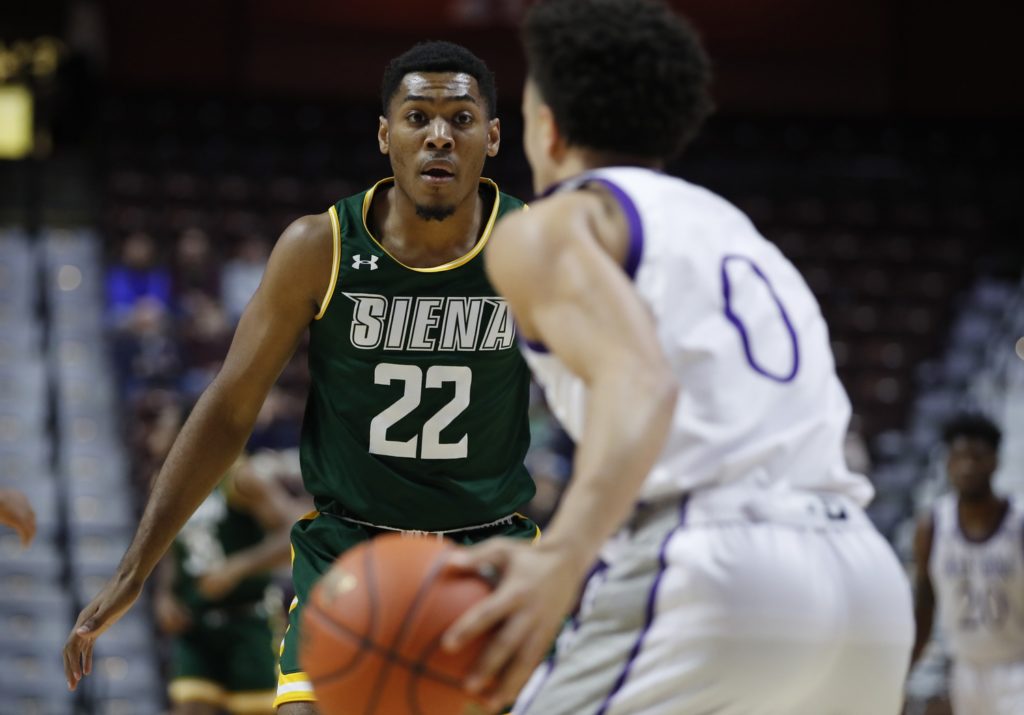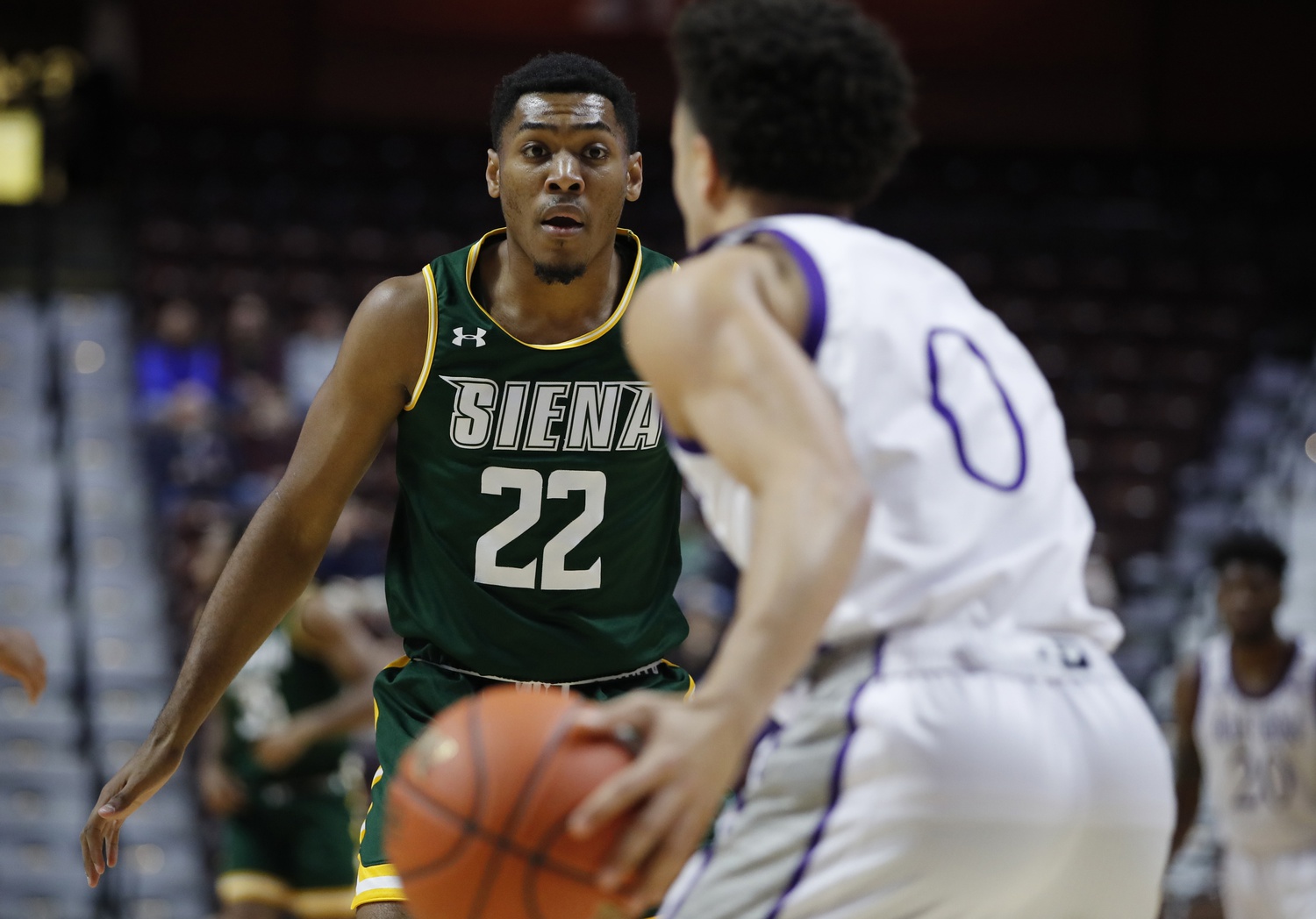 They bring with them a championship mindset that includes a pair of state titles with the Li'l Irish and an AAU national championship. Along the way, they have gotten the better of a couple current NBA players.
"Me and Jason are high-IQ basketball players," Pickett stated. "We're going to find a way to make our teammates better."
As juniors in high school, they helped Aquinas to the New York State Class AA football title in the fall. The following spring they were leading AQ to the state crown on hardwood.
They combined for 42 receptions during their senior season on the gridiron. Hawkes made 26 catches and scored four touchdowns. Pickett finished with 16 receptions, four he carried to the end zone. That Aquinas team beat Saratoga (II) 44-19 in the state final.
Later that school year, they won the basketball program's first state crown with Hawkes averaging 12.5 points and 5.8 rebounds. Pickett added 14.3 points and 7.4 rebounds while handing out 4.5 assists. Both earned Section V All-Tournament Team honors . Pickett garnered MVP honors in a state title run which included a win in the semifinals over Shenendehowa and current Atlanta Hawk, Kevin Huerter.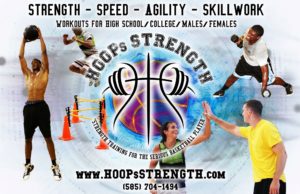 It wasn't the first time a Hawkes and Pickett-led team beat a future NBA player. The summer after their seventh grade year they advanced to the Boo Williams D3 East Coast National AAU championship with a win in the semifinals over eventual Duke star and also current Atlanta Hawk, Cam Reddish. This came one year after winning the title in that showcase. That team, Primetime Ballers, was coached by Gerard Iglesia.
"The success they're enjoying now is no accident because of their attitude, their work ethic," Iglesia said.  "I'm just so proud and happy for them."
Earlier this month, Hawkes and Pickett were on hand to volunteer with Iglesia's annual summer camp.
"That's their character," said Iglesia who started coaching Hawkes and Pickett with ICC Truth before founding the Primetime program. "They've always been good kids and always wanted to give back."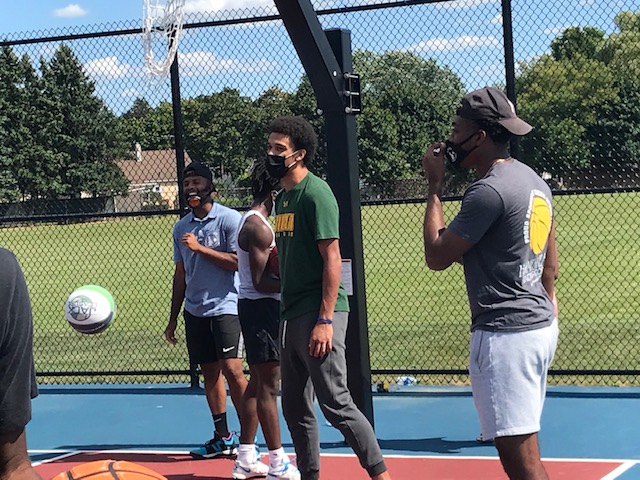 Pickett will return for his junior season at Siena looking to build off the 2019-20 campaign in which Siena finished atop the MAAC regular season standings and was named MAAC champions when COVID-19 cut the season short.
"Basketball is the same game really," Pickett said when asked about how the two can lean on their past successes. " The difference is how much bigger, faster, stronger somebody is and how well you can get along with new people.
"I feel like I know what we need to do. I just need to focus."
Hawkes, who hasn't played competitively in nearly 18 months, has three years of college eligibility remaining.
"That's where the whole patience thing comes in. I didn't play when I went back to MCC, so I could save my eligibility for a greater opportunity. It was a lot of sitting on the sidelines."
During that time Hawkes watched Pickett as well as other former Aquinas teammates Earnest Edwards and Jahmir Jones succeed at the collegiate level. Edwards went on to the University of Maine where he earned All-American honors on the Black Bears football team. Edwards is currently in the Los Angeles Rams training camp. Jones continued his football career at the University of Notre Dame.
"Sitting out and watching my friends get better, it gave me the confidence to keep going at it and never give up,"
"We want to go for it all. I don't think that there's any holding back or any limits. We can defend the championship."
Pickett went further with his expectations for the upcoming season.
"It's all about Pop Smoke," he said referring to the late rapper. "Shoot for the stars, aim for the moon. We're going for it all, going for the national championship."
With their success in the past, who can doubt them.