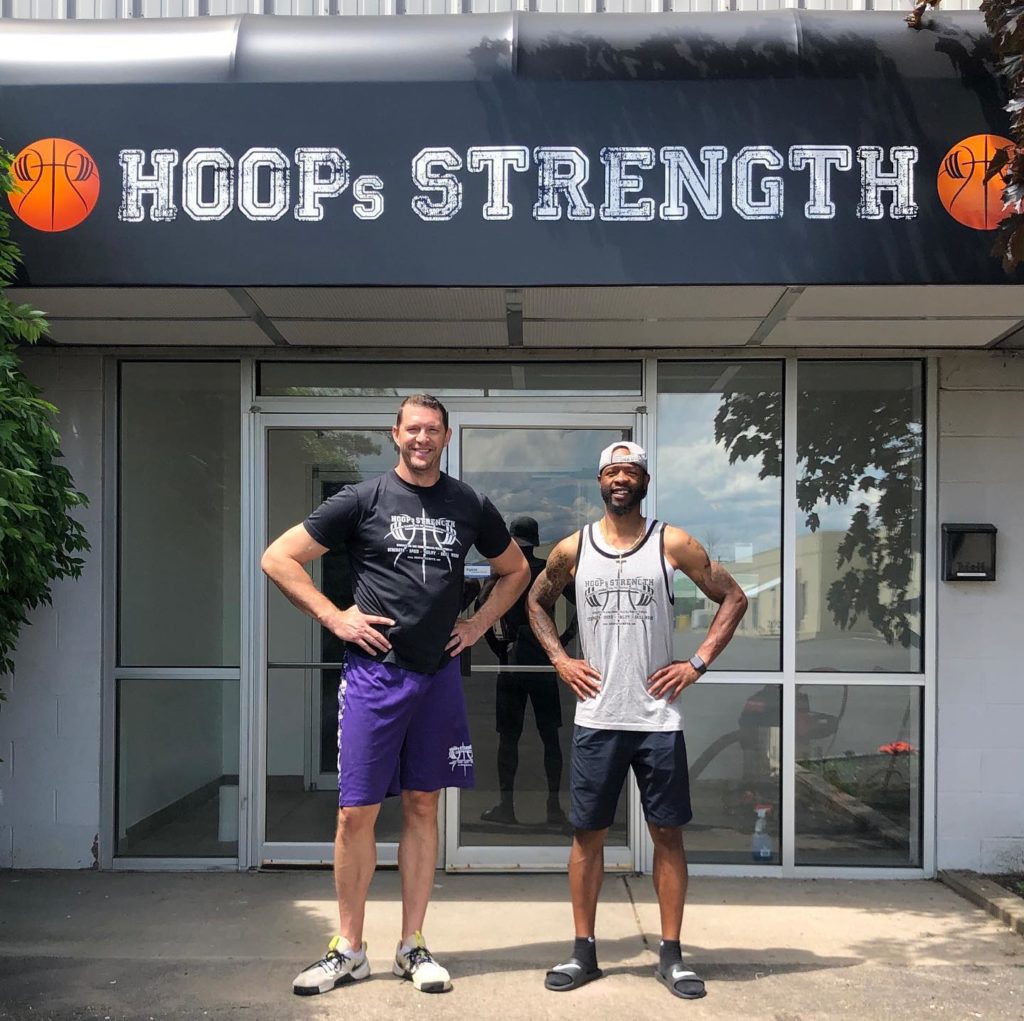 By PAUL GOTHAM
Matt Jones carries five notebooks around with him. Pages covered with rough sketches, diagrams, lists, notes and ideas.
In late June, those pads of paper took the size and shape of a 16,000 square-foot facility in Henrietta, New York.
And Rochester basketball may never be the same again.
"It's extremely exciting, but I'm just glad to get it off paper and make it tangible," Jones said while looking around at the Hoops Strength facility found in Frontier Commons Plaza.  "It's definitely a dream come true, but it's also been so over-planned. It was time to go."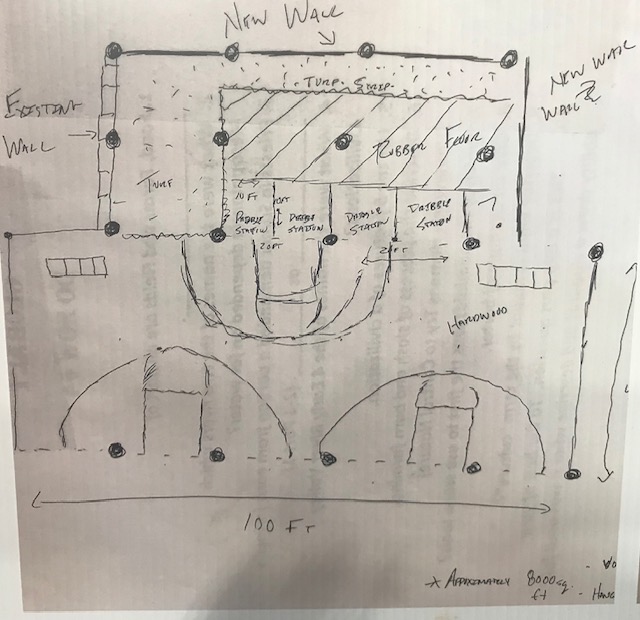 More than a decade in the making, Hoops Strength provides a place for student-athletes to hone skills and develop their games. From individual dribble stations complete with video software to baskets with Dr. Dish Shooting machines to a strength and fitness area along with an experienced staff ready to push young players, Jones has created a facility that will bring people from outside the area looking to train.
"We went a little over the top with this; I think that's what people want," he said. "Are there still some other things I'd like to do? Absolutely. But why can't we have a world-class training facility here."
A hall-of-fame performer at St. John Fisher College during the late 90s, Jones originally started training a few student-athletes 12 years ago. Leading a vagabond existence, he rented space at his alma mater as well as Bishop Kearney High School. The catch was he had to lug training equipment from place to place and understand that the athletic programs of those schools took precedence. That meant a training session could get cut short when inclement weather forced sports teams to come inside for practice.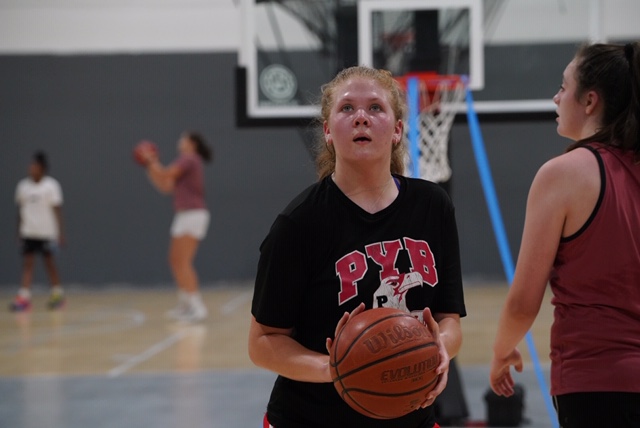 All the while, though, his clientele was growing.
"It wasn't called Hoops Strength at first. It was me, a guy helping some kids train."
Former Our Lady of Mercy and Nazareth College star, Samantha Sorge was the first client of Jones. She told teammate Tylar Guerrieri. Soon after that, former Bishop Kearney coach Jon Boon brought current NBA star Thomas Bryant and eventual Syracuse and St. Bonaventure recruit Chinonso Obokoh.
VIEW MORE CHRISTOPHER WASHINGTON PHOTOS HERE.
Kevin Legrett started bringing his RAP Elite AAU team to Jones. Players like Zac DiSalvo, Deion Hamilton, Anthony Lamb, Rodney Roberts, Jr. and Jay Sarkis all trained with Jones.
"It went from one to four to eight. In one year, we probably grew about 300 to 400 percent."
Success went hand-in-hand with growth.
Bryant starred at Indiana University before being selected in the NBA draft. The 6-foot-10 center is in his second season with the Washington Wizards and third overall. Cierra Dillard, another client, led the Buffalo Bulls to the NCAA tournament before being selected in the WNBA. Lamb, who helped Greece Athena to three straight sectional titles, went on to garner back-to-back America East Player of the Year honors while scoring 1,895 points during his four-year career at Vermont.
"One thing you know going into a Hoops Strength workout is that no matter what you are going to be better by the end of it," Lamb said through text message. "Matt has been able to challenge me all throughout high school, always finding new ways to push me and get the most out of me. Coming back home from college for the summer when I needed to level up, that is the proven system I knew I could trust."
Baylee Teal started attending workouts with Jones while she was in middle school. The Penfield star will continue her career at Fordham University.
"I would talk to Matt and tell him how I wanted to play competitive Division I basketball," the two-time Monroe County Division I Co-Player of the Year said. "Ever since then he's gone hard on me. They're all such great trainers, but they're great people too. They care about you. They'll text us and see how we're doing during our season when we're not training. It's been a very big part of my game.
"Going from ninth grade to tenth grade, that was the year my strength really picked up. I could see a difference when getting to the basket, staying strong and finishing. A lot of that comes from Matt and all the guys. They've helped me with my basketball strength, not just in the weight room but on the court. I owe a lot of it to them and I'm very thankful to them."
With more players interested, Jones started putting together his staff.
Former Palmyra-Macedon star Anthony Hall was added to the staff four years ago.
"A long road but we made it; it feels good," said Hall who earned NYS Tournament MVP honors for the 2005 Class B state champion Pal-Mac squad. "It's been a lot of sweat and hard work."
Hall is the one who developed the software used at the dribble stations. Cinder block walls create individual spaces where a television screen is mounted. Hall's likeness takes players through workouts. Up to four different student-athletes at the same time can get a program designed to fit their abilities.
"This is something that makes us a little bit more flexible," Hall said of the program. A kid may come in and put up 100 jump shots then wants to dribble for 20 minutes. It (the software) definitely gives us a lot more avenues to offer to our clients. Every single drill I've done live with hundreds of kids. Now more kids can get exposure to the workout."
Dribble stations at @HoopsStrength . Software courtesy of Anthony Hall. pic.twitter.com/5MJyCpvwgH

— Paul Gotham (@PickinSplinters) June 29, 2020
Six shooting machines are spread around the court area of the facility. Complete with a wide net to gather rebounds. Each apparatus provides passing and has a program that tracks shooting percentages from different spots on the floor.
"It's cool to see how shooting percentage either goes up, down or stays the same throughout your workout. It's cool to see if your shots are lagging toward the end and you're tired, you got to maintain your form. It's awesome because you can change it to where you want to shoot at all eight spots. You can customize your workout."
All this and more under one roof.
"The facility is really amazing," said East High star Damani Barley who has received offers from Siena and Bryant as well as interest from Hofstra, La Salle, Lehigh and UConn . "They've got everything you really need as a player to develop. They got the shooting machines, Vertimax. TVs on the wall and trainers working you out. It's developed crazy."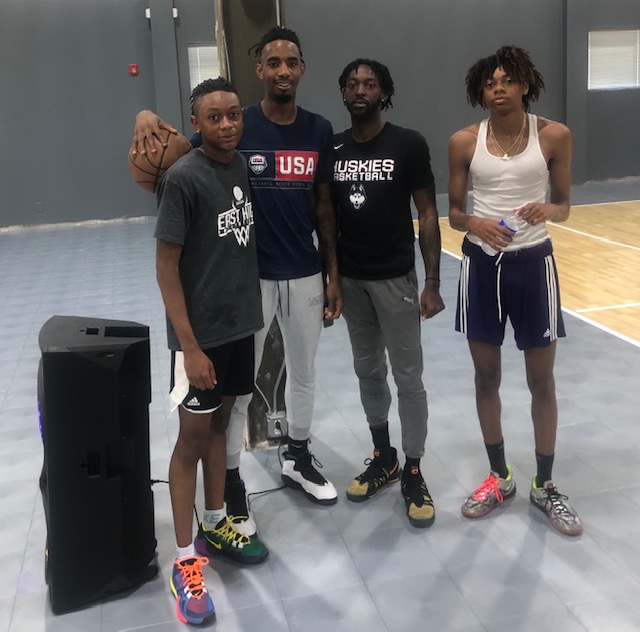 Santino Cinotti and Ray Cunningham, Jr. round out the full-time staff. Former Bishop Kearney star Antwoine Anderson (Fordham and UConn) is working as well during his off-season from professional ball overseas.
"The trainers here are pretty flexible, but when we get clients in we evaluate where they are individually," Cunningham explained. "We look at their weaknesses and cater and adapt work outs to what a player need the most. Everybody's individual workout is not the same. It's all different depending upon weaknesses."
With the facility in place, Jones and his staff are ready for the next generation of local stars.
"Now that Rochester has one place to turn to for Hoops Strength training, I'm looking forward to seeing how high the ceiling will be for the next ones up," Lamb said.
"A lot of players leave to develop their games," Barley noted. "Now since we got Hoops Strength and they got their own gym, it's crazy."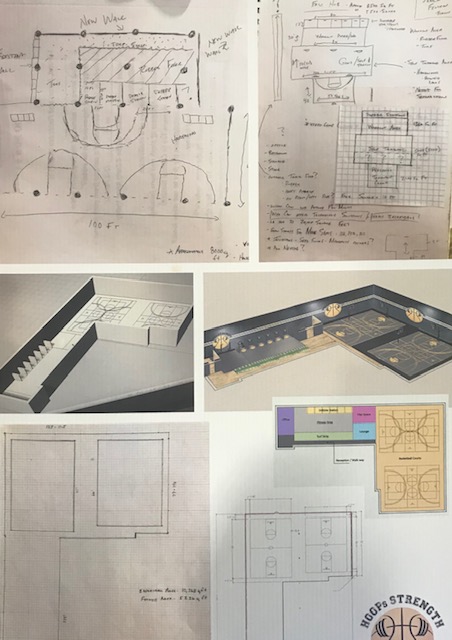 If You Go
Hoops Strength is located in the back of the Frontier Commons Plaza. Find the Bryant and Stratton College building and follow the road to the back of the building. Click here for more information.