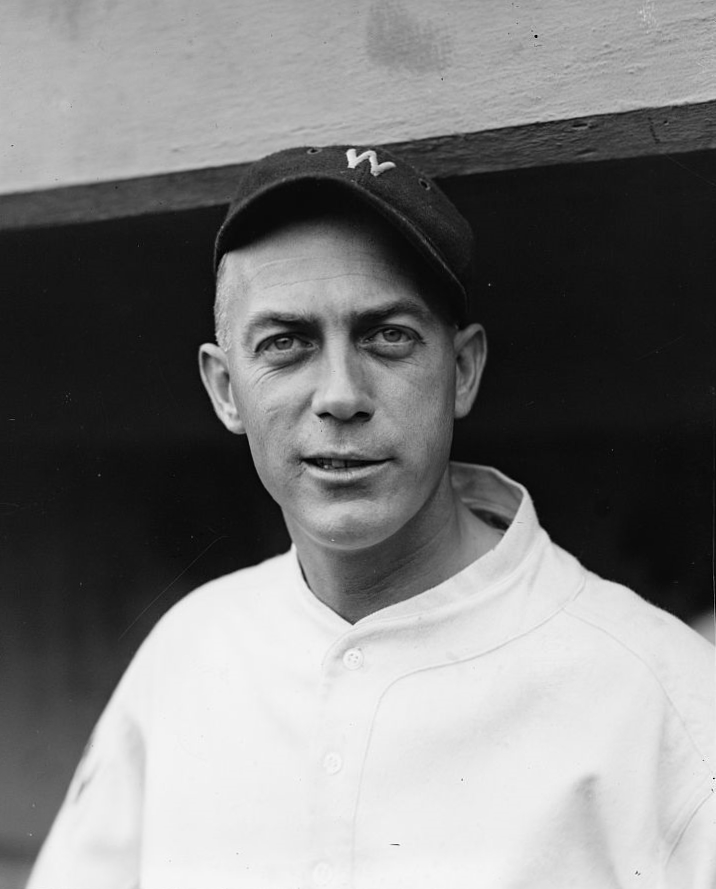 By BILLY HEYEN
Before Ruth and Gehrig, one of the New York Yankees' first standouts was left-handed pitcher George Mogridge, a native of Rochester, N.Y. who attended (and played baseball at) the University of Rochester. Mogridge had many shining moments in his MLB career, including a no-hitter, but it was on June 9th that he had some of his biggest successes.
Griffith Stadium, Washington DC, Apr 12, 1922 – Full house as Senators' George Mogridge is on mound facing New York Yankees on Opening Day. Mogridge beat the Ruth-less Yanks by 6-5 score. The Babe serving a suspension for barnstorming in off-season, a no-no with Mountain Landis pic.twitter.com/CbzQFzXGkP

— Old-Time Baseball Photos (@OTBaseballPhoto) March 19, 2019
Mogridge's first of four starts on the ninth of June came in 1912, pitching for the Chicago White Sox against his eventual team, the New York Yankees. The southpaw threw a complete game that day, allowing five hits and one run while striking out three. Mogridge drove in a run himself that day and kept New York slugger Guy Zinn hitless. Three days later, Mogridge pitched six innings in relief to earn what was retroactively called a save.
Mogridge kept up his June 9th dominance in 1916, now pitching for the Yankees against the St. Louis Browns. Mogridge allowed two runs in 8.1 innings pitched but was a tough-luck loser in a 3-2 ballgame that day. Mogridge held George Sisler, who for many years held MLB's single-season hits record, to a 1-for-5 day.
In 1918, Mogridge again took the mound on the ninth day of June, again against the Browns, and he took another tight loss. Despite allowing only three runs (two earned) in 8.2 innings pitched, Mogridge's Yankees couldn't take an edge in nine innings and lost it in the 12th. Mogridge went 2-for-4 at the plate that day, doubling twice.
The 1918 season may have been Mogridge's best at the big-league level. He pitched in 45 games and compiled a 2.18 earned run average while winning 16 games and saving seven. It was his best MLB ERA in a season that Mogridge pitched in at least 10 games.
The final time Mogridge started on June 9th was his worst. In 1924, starting for the Washington Senators in Cleveland, Mogridge lasted five innings and allowed six runs (five earned) in a loss. Mogridge, at 35 years old, still finished that 1924 season with 16 wins and a 3.76 ERA, that year being his first as an exclusive starting pitcher with no appearances out of the bullpen.
The Senators won the World Series to conclude that 1924 season. Mogridge started Game 4 of the Fall Classic and earned the win in a 7-4 Washington victory, throwing 7.1 innings and allowing two earned runs.
So back to June 9th: In four career MLB starts on the date, Mogridge finished with a 2.90 ERA but didn't get the run support he needed, with his team winning only one of those games.
Mogridge's names might anoint the history books most readily for the no-hitter he threw on April 24, 1917 in Boston. He walked three batters and managed to allow an unearned run in a 2-1 Yankees victory. It was the first no-hitter thrown in New York's storied history.
Mogridge concluded his big-league career in 1927, having thrown in 15 separate major league seasons. His final record finished at 132-133 to go with a 3.23 ERA. In fitting with an earlier style of baseball, Mogridge struck out only 2.7 batters per nine innings during his career.
In addition to the White Sox, Yankees and Senators, Mogridge also pitched for the St. Louis Browns and Boston Braves. He played for minor league clubs in Galesburg, Illinois; Lincoln, Nebraska; Minneapolis, Minnesota; and Des Moines, Iowa.
Mogridge lived to 73 years old before dying on March 4, 1962. He is buried in Holy Sepulchre Cemetery in Rochester. According to the cemetery's website, his tombstone is located in Section 22 East of the cemetery.
George Mogridge MLB stats