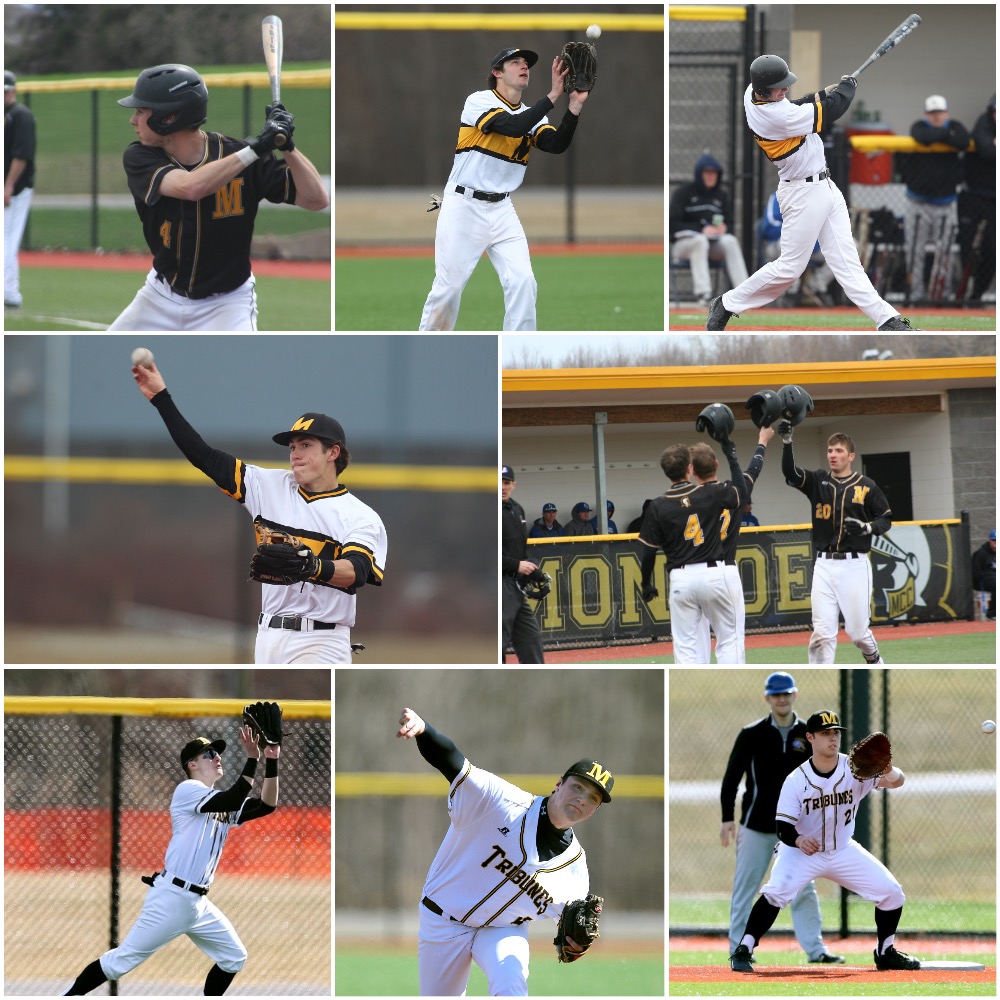 By PAUL GOTHAM
Dave Brust watched a program turn loss into victory. Mike Kelly got to see a former player go on to perform at the highest level. Cory Brownsten made the transition from player to coach, and Tony Fuller had the experience of watching young student-athletes fulfill their dreams.
With the release of the program's All-Decade team, current and former head and assistant coaches of Monroe Community College baseball looked back on the decade of the 2010 to 2019 and reflected upon the success of the Black and Gold.
"The job has done more for me than I've done for the job," said Brust the current head coach. "Certainly an honor, one of the best jobs in the country."
Brust, who played at the University of Maryland, transferred to Monroe for one season in the late 1980s. He finished his college career at Ball State University and went on to play professionally in the Atlanta Braves' system. He returned as an assistant in the 2000s before taking the helm in 2014.
"In seven years (as head coach) I've learned more about baseball and higher education than I ever thought possible.
"It's a great job. Yes, the hours are long. I don't think I've ever worked just 40 hours in a week. It's impossible, but the beauty of it is I'm not counting the hours either."
Brust took over the reins from Kelly who was the head coach from 2008 to 2013.
"We had a chance to go to the World Series every year," said Kelly who guided the 2008 and 2009 squads to the national championship. "Every year that was a reasonable goal. It's easy to say that. It's easy to go into your season thinking it's World Series or bust. We legitimately could have done that. We ran into some good teams, ran into some good pitchers. We had good teams and probably caught a little bit of good luck."
Defining moments
Brust has guided the Tribunes to three NJCAA World Series appearances in the past four years. His 2016 squad took the lessons from 2015 and grew.
"That 2015 team had a lot of flaws, but it had the classic MCC variables," he said recalling the team that went on the road and fell one hit short of ousting host UConn-Avery Point in the East District Championship game. "They were tough. They were competitive. They were motivated. They were big-game players. With a break here or there, we could have had that. Losing is what led to our success. That's what set up 2016, the leadership of those guys, the tenacity."
Injuries caused Brust to use four different shortstops during the course of that season. One of those changes happened that final weekend. Still the Tribunes had a chance to win in their final at bat.
Tribune Tilt: Two squads make up MCC All-Decade
Benchmarks: Rochester-Area All-Decade Team
If you had a Mount Rushmore of MCC baseball, he's one there. Longtime assistant Jack Christensen passes away
"We had a lot of MCC guys on that team," said Fuller a former player who was an assistant with the program from 2010 to 2015. "Guys who have been around the program understand it. Guys with an old-school mentality, didn't care necessarily about where they were transferring to. All they cared about was winning a regional championship and having an opportunity to play for a berth in the World Series.
"Sometimes in junior college, you get guys in the spring of their sophomore year and they're thinking  'where am I going?' It takes a special group to stay focused on winning for our head coach and the program. We had a lot of guys like that. They bled the black and gold. They wanted to win at all costs. We were beat up and one bloop away from a trip to World Series."
One year later, MCC won 33 games and reached the World Series for the first time since 2009.
"The guys who returned into 2016, the Collin Stacks, the Luke Brusts, the Zach Vennaros and Luke Tomczyks started in 2015. Us losing, that hurt. I remember addressing the players and it hurt me to say goodbye to those players. I was sincerely emotional when I was saying goodbye. That rolled right into 2016, and we had a bond. All those guys that were back, we had a bond. You could tell in the fall it was a going to be special."
Early that next season, Brust and Brownsten saw the potential on the team's trip to Arizona. There in late March, Monroe played some of the best junior college teams in the nation. They came away winning just two of 10 games, but their opponents included national finalist Gateway, district finalist Pima and a Cochise team that won 36 games with five players that went on to play at the Division I level.   They opened the trip with a 19-14 loss to Phoenix College. They ended the tour with a 13-11 win over that same Phoenix team. It was a game in which the Tribs erased a six-run deficit.
"When we left Arizona, I knew we were good. I would never tell them that, but I knew we were good. If we were down, there was no lead that was safe. We could come back on anybody."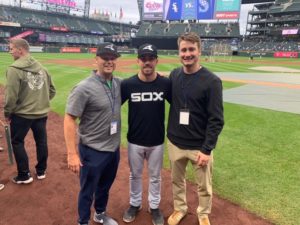 Kelly realized the program's impact on his life in the summer of 2019. Six years after he left coaching, Kelly was on the field at Seattle's T-Mobile Park to watch former player Danny Mendick take batting practice prior to his Chicago White Sox playing the Seattle Mariners.
"To be able to see one of your former players in a big-league uniform, is mind-blowing," Kelly said. "I know there are coaches out there from the bigger DI schools that it's just a normal occurrence to them.
"It's just crazy to me. Tim Anderson starts at short for the White Sox, and Danny fills in for Tim Anderson. That's insane."

Conduit to dreams
Mendick is one of five different Tribunes to play professionally in the past 10 years. Patrick Urckfitz (2007-2008), who signed a free agent deal in 2008, capped an eight-year career in 2015 as a member of the New Orleans Zephyrs (Pacific Coast AAA). Brownsten (2007-2008), a 2010 draft of the Atlanta Braves, played four years in the minors. Matt Brooks (2015-2016), a 2016 pick of the Miami Marlins, played three years in the minors. Zach Vennaro (2015-2016) signed a free agent deal with the Milwaukee Brewers in the summer of 2019.
More than that, Monroe is a place where high school players reach their potential and find spots at four-year schools. Mendick was lightly recruited out of high school. He eventually went on to earn All-Conference honors at UMass-Lowell where he was coached by Ken Harring, Brust's former teammate when the two played in the Braves' system.
"I see the pictures of Danny," Kelly said referring to those photos of Mendick during his MCC career. "They're the funniest thing in the world. He looks like the bat boy. He's put in the work and the time and look where he is."
Mendick was part of class which included Spencer Scorza who went on to Cornell, Brad Kazcka who finished his college at Winthrop, Jimmy Gutowski (Eckerd College) and Vinny Bomasuto (SUNY Cortland).
"MCC is a launching pad," said Fuller who has since gone on to McQuaid Jesuit High School where he has led the Knights to the 2017 Section V Class AA crown and the 2019 NYS Class AA title . "Coming out of high school, Spencer wasn't recruited by anyone. Danny was recruited by Allegheny. It was either us or St. John Fisher for Brad. You're talking about three guys that went Division I, Division I, Division I, Ivy League, pro guy, Big South.
"The wins happen at MCC. They're going to win, and they're going to win championships. The cool part is watching everybody move on to places when some of these kids had so few options out of high school. It's remarkable year after year."
It's a trend that has existed since the program's inception in the 1960s under hall-of-fame coach Dave Chamberlain.
"From a coaching standpoint, it's fun to watch our guys grow from their first year to the second and some cases third year," said Brownsten who went on to earn Big East All-Conference honors at Pittsburgh after two years in Black and Gold. "You take a kid like Luke Brust. His first year he watched the game. Second year he improved. Third year he was dominant."
Rewriting the record books
Five different Tribunes combined to break or establish seven records during the decade. Johnny Ricotta (2016-2017) broke the record for home runs in a single season (15) and career (20). Cas Sobaszek (2018-2019) set program career marks for runs (122) and stolen bases (63). Phil Ferranti (2018-2019) set the career doubles mark at 40.
Bomasuto finished with 18 triples in the 2013 season and 20 for his career both MCC program records. During 2013, the left fielder averaged a triple in every 10.9 plate appearances.
"Obviously, he was one of the more gifted athletes we had," Kelly stated." He took to heart running out of the box. When he split the gap, he wasn't thinking two. He wanted to get third.
"One of the things we used to do at practice was I wanted guys to test outfielders' arms, and I wanted guys to know how quickly they could get around the bases. Vinny proved to himself that he could hit a triple every time it went into the gap."
Kevin Johnson established a program mark with 11 saves. On a team that won 29 games, Johnson also notched one victory. He struck out 20 and walked five in 18.1 innings of work.
"The thing about Kevin is he worked so fast," Kelly said. "He'd get three outs in four minutes, if that. Just put a quarter in him and he kept going. He got the ball, and he went."
Brust's 2018 club made a run at history, an unlikely one at that. In late April, the Tribunes had a record of 12 wins and 19 losses. Twenty-nine days later, they were the hottest team in the country riding an 18-game winning streak (third longest in program history) into the World Series .
"The cool thing that happened in '18 was that nobody expected us to come back from the depths of hell," Brust recalled. "Go on an 18-game winning streak and roll on the road right into Mercyhurst and absolutely roll them. They did not see that coming. Then to go to Avery Point and keep it going. That was cool to just sneak up on everybody."
A doubleheader split at Onondaga Community College in early April 18 embodied that season for Brust.
"We could not play any worse after Florida," Brust said of the team's spring break trip. "We found every way to lose.
"Right when the first game of the doubleheader (at Onondaga) ends we get a lake effect storm for something like 20 minutes. I'm sitting in the dugout getting snowed on. I'm numb. I'm letting the snow land on me. Thinking 'what are we doing?'
"The umps come over to me and ask 'coach, the snow's pretty bad. What do you want to do?' I'm like 'what do you mean? We're here! We might as well play. We're going to wait 30 minutes. The sun's going to come out, and we're going to play.' And that's what happened."
Less than two weeks later, MCC started its streak.
"I put my hands in my pockets for the next 18 games. Making the game simple and aggressive was what those guys needed. When someone got on base, it didn't matter it was green light."

Fathers and Sons 
When father and son combination Dave and Luke Brust reached the World Series together in 2016, they continued an MCC tradition that started with Dave and Mike Chamberlain reaching the 1976 series. Tom Chamberlain and his father went to the 1980 World Series. Two decades later Shawn Bailey joined his father Skip as part of the 2007 team to reach the NJCAA's biggest stage.
Looking ahead
The 2020 squad had a chance to get Monroe to the World Series for the third straight year, a feat only done once in the past (2007-2009). That is until COVID-19 short-circuited a promising season.
"It would have been disappointing had the players not gotten the opportunity to come back," Brust noted. "I look at it as just a pause. We'll try it again in '21.
"The thing that is hard to swallow is you put in the September through February. It's a grind. We saw some really good things in Myrtle Beach. You could tell that this team was talented. There was enough there to make it interesting for a regional title and for a chance to go back to the World Series. They were talented enough to take a shot at it. The good thing is 18 of them are coming back. They get another opportunity. It's like being in a four-year program. They get to grow with us more. It's a great opportunity."
Those returning players will get a another chance along with an impressive recruiting class that includes SUNY Albany transfer and former McQuaid Jesuit star Ben Beauchamp along with Pat Sherron (Rush-Henrietta), Frankie Fernandes (Irondequoit), Griffin Dietrich (Orchard Park), Dylan Wanat (Williamsville North), Ethan Pollard (Brampton, Ont.) and Hayden Wesseling (Ontario Royals).