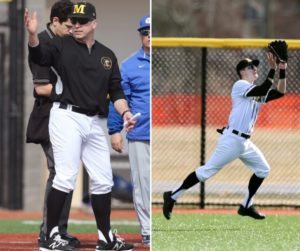 By PAUL GOTHAM
ENID, OK — Blood lines run thick in the Monroe Community College baseball program. One doesn't need to look any further than the current Tribunes for proof.
When MCC takes the field Sunday at David Allen Memorial Ballpark in Enid, Oklahoma, Dave and Luke Brust will be the third father and son duo to represent the Black and Gold on the NJCAA's biggest stage.
Following in the footsteps of the Chamberlains (Dave with sons Mike and Tom) and Baileys (Skip and Shawn), the Brusts will get their chance to prove themselves against the nation's best.
"Ultimately in a selfish way it's something that Luke and I will share forever, said Dave Brust. "Not many dads are as fortunate, so we're blessed to have this experience."
Brust's Tribunes swept their way to the 2016 East District Championship last weekend in convincing fashion going 3-0 against Westchester Community College and Dean College. Winning the three games by a combined score of 32-10.
The championship is the eighth in program history and fourth in the last ten years with Dave Brust guiding the Tribunes to the title in his third year at the helm. Accomplishing the feat with his son playing a prominent role only adds to the significance.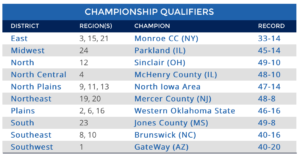 "We're blessed that we have this special connection of MCC baseball," Brust added. "It's an additional layer of success."
After redshirting his first year on campus, Luke Brust spent his freshman campaign as a two-way player. An injury last fall opened the door for the sophomore to step into the role as the team's centerfielder – a position he had not played at any point prior in his career. The younger Brust made a smooth transition.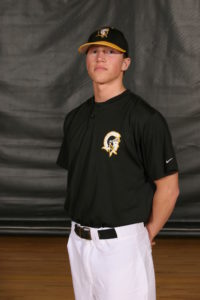 "The first game he played in center he looked so natural at it," Dave Brust said. "That's where he belongs."
Luke Brust is hitting .338 with 21 extra-base hits including three home runs playing in all 47 games thus far for the Tribunes this season.
"He not only was a day-to-day guy," Dave Brust said. "He's played every inning of every game. There's a lot to be said for that mental toughness that grind of performing on a daily consistent basis. He quietly led by example."
Luke Brust joins Mike Chamberlain, Tom Chamberlain and Shawn Bailey with the distinction of playing on World Series with their fathers for a head coach.
Mike Chamberlain was the first son to play for his father at Monroe. Mike was the starting right fielder for Monroe's World Series team in 1976.
Tom Chamberlain led the 1980 Tribunes to a 28-4 record. Earning All-Conference, All-Region and All-District honors, Chamberlain hit .443 with 47 hits and 45 runs scored. He finished the season with a slugging percentage of .623. The '80 Tribunes reached the World Series in Grand Junction, Colorado.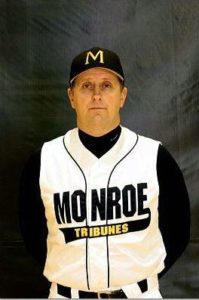 "Being the coach's kid goes beyond words," Dave Brust said. "It's day-to-day proving yourself. It's day-to-day trying to overcome your teammates wondering 'geez is this a fair deal?' I don't care who. It exists."
Dave Chamberlain finished his career at MCC, 735-232. He coached two other Tribune squads to the World Series in 1978 and '89. Skip Bailey played on the 1976 team.
Tom Chamberlain continued his career with the USA National team as they competed against Korea later that year. The elder Chamberlain also was an assistant coach with the national team.
Skip Bailey, the current MCC Athletic Director, took over for Chamberlain and compiled a record of 451-204 during his tenure. He guided the Tribs to the World Series in his final year as head coach. Shawn Bailey hit .312 for that 2007 club. The shortstop drove in 27 and scored 27 runs.
"Being a coach's kid is not an easy road," Dave Brust added. "That's all I can tell you."
Skip Bailey's 2007 team was the first of three straight Tribune trips to the World Series. Monroe won the East District Championship 2008 and 2009 and advanced to the World Series under then head coach Mike Kelly.
Current assistant coach Mark Perlo played on the 1978 Monroe World Series team. His oldest son, Adam, played on the 2007 team for Skip Bailey. Mark's youngest son, Mike, will attend Monroe in the fall.
Fellow assistant coaches, Cory Brownsten and Adam Curysnki also played on the 2007 Tribunes. Brownsten was the starting catcher on the 2008 team.
Monroe opens the World Series against Sinclair Community College. A 1 p.m. (EST) first pitch on Sunday is scheduled.
Sinclair CC took the Region 12 championship as the eight-seed to earn the spot as the North District representative. Sinclair CC is 50-10 and has won nine straight entering Sunday's game.