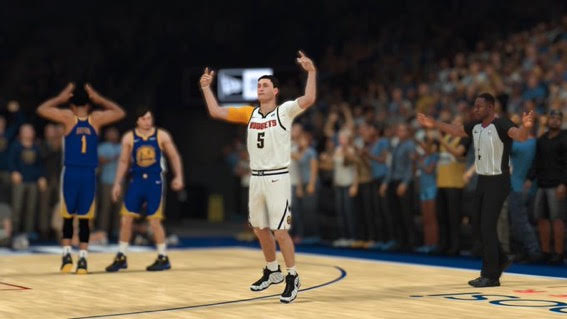 By BILLY HEYEN
Section V's top seeds in both Class AA and Class A1 boys basketball held control of that position well before the final days of the regular season. But Victor and Irondequoit didn't play this year, so how they compared on the court will remain a mystery. Pickin' Splinters looked to solve that on a virtual court Saturday night.
To do so, Pickin' Splinters simulated an NBA 2K19 game between the Blue Devils and Eagles. Victor won, 69-64, in a game that was back and forth right from the outset. CJ James' 19 led the Blue Devils, and Keenan Robertson had 17 for the Eagles.
MORE: Heyen: Sports have proven to us not to lose hope
Before we get into what we learned from the simulation, here's a quick look at the parameters:
The simulation took place on a Playstation 4 version of the video game NBA 2K19
Each team was given the game's minimum eight-man rotation
Ratings were created by Pickin' Splinters to best replicate each player's real-life impact on the floor
The game was simulated live with high-school length eight-minute quarters but NBA shot clock and fouling rules
Substitutions and timeouts were controlled by the in-game computer
Players were placed onto NBA teams due solely to color scheme; Victor played as the Denver Nuggets, while Irondequoit suited up as the Golden State Warriors
Senior leadership
This year's Victor team spent the majority of the regular season undefeated despite having just one senior starter, point guard Matt Caggiano. In the Blue Devils' final win of the season, a sectional quarterfinal victory over Fairport, Caggiano was the one who ensured Victor wouldn't go home early.
"We didn't want it to be our last one," Caggiano said Feb. 28. "I really love playing with these guys, and we wanted to go to the Blue Cross. So we had to get it done."
The same was true on the virtual hardwood Saturday night. Victor fell behind 58-51 early in the fourth, but Caggiano proceeded to score twice and assist twice more to go on an 8-2 run.
After the teams traded baskets, Caggiano hit a baseline jumper as the shot clock expired with less than a minute left to play. It put Victor up three, and Irondequoit wouldn't score again.
#NBA2K19 @victorboysbball ???? @ITownHoops sim:@mattcagg puts @victorbldevils up 67-64 with less than a minute to play as he beats the shot clock. @PickinSplinters pic.twitter.com/1sa1Ujieva

— Billy Heyen (@BillyHeyen) March 29, 2020
Victor scored 20 points overall in the fourth quarter, and Caggiano scored or assisted on 16 of them. He finished with 17 points and eight assists, responsible for a game-high 33 points in the win.
MORE: NBA 2K19 simulation of East vs. UPrep
Secondary size
Much of the story surrounding Victor's season was size, and that narrative normally started with the 7-footer Connor Williams inside. That meant that 6-foot-4 Greece Olympia-transfer CJ James flew under the radar for most of the season despite consistently putting up numbers.
James was the one going off early in Saturday night's virtual contest, scoring eight quick points by running the floor and finishing inside.
#NBA2K19 @victorboysbball ???? @ITownHoops sim:

Virtual @victorbldevils can pass, too. @Collinjames24 has 8 points already. 13-7 Blue Devils. pic.twitter.com/VcRBoYwbZa

— Billy Heyen (@BillyHeyen) March 29, 2020
Victor was also aided with 10 points from sophomore forward Phil Nwugwo, who was used by the virtual coach to spell both James and Williams. Nwugwo was one of only three Victor players in double figures, along with James and Caggiano.
Williams was quiet for much of the evening, with the ball in his hands frequently without him showing much desire to shoot. But when Victor needed buckets late, Williams turned to an up-and-under move inside before hitting a long 2. He followed that up with a block to hold onto a slim advantage. Victor's size, like it did most of the season, made a huge difference.
#NBA2K19 @victorboysbball ???? @ITownHoops sim:@CWilliams_50 uses the pump fake to good effect to give @victorbldevils the lead back, 63-62, with 2:35 to play. @PickinSplinters pic.twitter.com/sDBoxYzp4O

— Billy Heyen (@BillyHeyen) March 29, 2020
More than a defender
Irondequoit's Amauri Smith usually knew what his assignment would be this season: Guard the opponent's best offensive player. That meant matchups with the likes of Hilton's Tahjae Hill and Eastridge's Tony Arnold. Using a mix of strength and quickness, Smith made Section V's top scorers work for every point.
That's what his ratings reflected in NBA 2K19, a defensive stopper without a huge nose for scoring. But his biggest impact Saturday came on the offensive end and the glass.
Smith scored the game's first field goal after following up his own miss and finishing with his right hand. He scored again in the first quarter on his own second-chance bucket, too.
Later in the game, Smith scored three times on cuts to the basket with good feeds from his teammates, and he also made it to the foul line on a couple of occasions.
#NBA2K19 @victorboysbball ???? @ITownHoops sim:@amauri2_ cuts and scores. He's got 13 and @wieagles takes a 50-49 lead to the fourth. @PickinSplinters

Robertson leads Irondequoit with 14. James has a game-high 15 for Victor. pic.twitter.com/97h9TXPVVM

— Billy Heyen (@BillyHeyen) March 29, 2020
It wouldn't be enough in the end, but Smith finished with 13 points and seven rebounds for the Eagles in Saturday's simulation.
Not deterred by height
Irondequoit did something that almost no team even attempted against Victor during the season: The Eagles went inside again and again. Irondequoit finished with 42 of its 64 points in the paint while making only three 3s.
Maybe there's some game mechanic that led to such success on the interior, but it showed up most shockingly in the output of Nick Leonardo. The 5-foot-10 senior roamed the court all season as a 3-point sniper for the Eagles, but after scoring first on a triple in the simulation, he scored 10 of his final 11 points in the paint (and the other on a free throw to complete an inside three-point play).
Then Leonardo lefty on the break pic.twitter.com/WDYQQjTgug

— Billy Heyen (@BillyHeyen) March 29, 2020
After being blocked once early, Eagles star junior Keenan Robertson went to work inside as well to finish with his 17 points overall. The computer-controlled Eagles were hesitant at time to shoot relatively open 3s with Leonardo or Connor Shafer; in real life, those shots might've gone up and this game could've swung the other way.
Victor-Irondequoit NBA 2K19 simulation highlights
Below are all the video highlights, in order, taken from Saturday night's simulation of a hypothetical Victor-Irondequoit matchup.
#NBA2K19 @victorboysbball ???? @ITownHoops sim:

Dickens free throw for Victor, then @amauri2_ gets the first field goal for Irondequoit after a James block. @PickinSplinters pic.twitter.com/XRnPkDEraX

— Billy Heyen (@BillyHeyen) March 29, 2020
Then @mattcagg finds Williams for two more pic.twitter.com/yFGj9GvKYV

— Billy Heyen (@BillyHeyen) March 29, 2020
#NBA2K19 @victorboysbball ???? @ITownHoops sim:

Buckets on two-straight possessions for @Collinjames24 forces an Irondequoit timeout. 9-2 @VictorBLDevils early. @PickinSplinters pic.twitter.com/OLO6lkRCvi

— Billy Heyen (@BillyHeyen) March 29, 2020
#NBA2K19 @victorboysbball ???? @ITownHoops sim:

Virtual Nick Leonardo can shoot, too. @WIEagles within 9-5. @PickinSplinters pic.twitter.com/53mmuDVWTG

— Billy Heyen (@BillyHeyen) March 29, 2020
#NBA2K19 @victorboysbball ???? @ITownHoops sim:

Virtual @victorbldevils can pass, too. @Collinjames24 has 8 points already. 13-7 Blue Devils. pic.twitter.com/VcRBoYwbZa

— Billy Heyen (@BillyHeyen) March 29, 2020
Shafer to @officialjason05 and it's tied at 13 pic.twitter.com/T3A9wMwCZB

— Billy Heyen (@BillyHeyen) March 29, 2020
#NBA2K19 @victorboysbball ???? @ITownHoops sim:

Final make of the first is @mattcagg for 3. @VictorBLDevils lead @WIEagles 16-13 after one. @PickinSplinters pic.twitter.com/vZBU8iKwAK

— Billy Heyen (@BillyHeyen) March 29, 2020
Inside finish @wstone27_ and 20-18 Victor. pic.twitter.com/LZpk1pHBsJ

— Billy Heyen (@BillyHeyen) March 29, 2020
#NBA2K19 @victorboysbball ???? @ITownHoops sim:@Keenanr01 post move ties it at 20. @PickinSplinters pic.twitter.com/k6LWNhsz2m

— Billy Heyen (@BillyHeyen) March 29, 2020
#NBA2K19 @victorboysbball ???? @ITownHoops sim:@Keenanr01 dunks on the break and @wieagles lead 22-20. @PickinSplinters pic.twitter.com/YoFuNAoOQ6

— Billy Heyen (@BillyHeyen) March 29, 2020
#NBA2K19 @victorboysbball ???? @ITownHoops sim:

Strong drive from @officialjason05 knots it at 24 as we approach halftime. @PickinSplinters pic.twitter.com/RqyKi0FRsH

— Billy Heyen (@BillyHeyen) March 29, 2020
Irondequoit answer on a good cut from @amauri2_ and find by Leonardo. pic.twitter.com/FN2liNJI4Q

— Billy Heyen (@BillyHeyen) March 29, 2020
#NBA2K19 @victorboysbball ???? @ITownHoops sim:@dickens_chase spins and shoots from the foul line and 30-26 Victor late in the first half. @PickinSplinters pic.twitter.com/Luo8LoGUEU

— Billy Heyen (@BillyHeyen) March 29, 2020
#NBA2K19 @victorboysbball ???? @ITownHoops sim:@CWilliams_50 scores on the offensive glass to polish off the first half. Victor leads Irondequoit 32-28. @PickinSplinters pic.twitter.com/PkZIPEQ7p6

— Billy Heyen (@BillyHeyen) March 29, 2020
#NBA2K19 @victorboysbball ???? @ITownHoops sim:

Leonardo to Shafer to open the third. 32-30 Victor. @PickinSplinters pic.twitter.com/dwObG092eB

— Billy Heyen (@BillyHeyen) March 29, 2020
Robertson finds Melidona. Tied at 34 pic.twitter.com/RF89Ix5TMs

— Billy Heyen (@BillyHeyen) March 29, 2020
Answer for @mattcagg ties it at 36 pic.twitter.com/14mOW5fUe4

— Billy Heyen (@BillyHeyen) March 29, 2020
#NBA2K19 @victorboysbball ???? @ITownHoops sim:@Keenanr01 putback makes it 40-36 Irondequoit with 3:45 left in the third. @PickinSplinters pic.twitter.com/G46eVZ0OhS

— Billy Heyen (@BillyHeyen) March 29, 2020
#NBA2K19 @victorboysbball ???? @ITownHoops sim:

Bucket for @dickens_chase has Victor back within 41-40 late third. @PickinSplinters pic.twitter.com/iW03xLaGCx

— Billy Heyen (@BillyHeyen) March 29, 2020
#NBA2K19 @victorboysbball ???? @ITownHoops sim: @mattcagg to Nwugwo dunk and it's 46-45 Irondequoit. @PickinSplinters pic.twitter.com/9wIxxW5WUs

— Billy Heyen (@BillyHeyen) March 29, 2020
The State Farm Assist of the Game goes to Keenan Robertson on his find of Leonardo. pic.twitter.com/BFNryEYlTi

— Billy Heyen (@BillyHeyen) March 29, 2020
#NBA2K19 @victorboysbball ???? @ITownHoops sim:@VictorBLDevils lead to start the fourth as @mattcagg finds Phil Nwugwo. 51-50. @PickinSplinters pic.twitter.com/vXvjV0Uyy6

— Billy Heyen (@BillyHeyen) March 29, 2020
Then Leonardo lefty on the break pic.twitter.com/WDYQQjTgug

— Billy Heyen (@BillyHeyen) March 29, 2020
#NBA2K19 @victorboysbball ???? @ITownHoops sim:

Luke Melidona caps an 8-0 @WIEagles run with a wide open 3. Irondequoit leads Victor 58-51 with 5:56 to play. @PickinSplinters pic.twitter.com/WVvXxQqhH9

— Billy Heyen (@BillyHeyen) March 29, 2020
Pull for @mattcagg. 60-55 IHS pic.twitter.com/gAK3VCVmmB

— Billy Heyen (@BillyHeyen) March 29, 2020
#NBA2K19 @victorboysbball ???? @ITownHoops sim:@mattcagg has scored or assisted on all of Victor's fourth quarter points. Blue Devils back within one after two buckets by @Collinjames24. @PickinSplinters pic.twitter.com/IsF2xuKUjM

— Billy Heyen (@BillyHeyen) March 29, 2020
Melidona responds to take the lead right back. pic.twitter.com/Bc6muMcGrc

— Billy Heyen (@BillyHeyen) March 29, 2020
Leonardo amongst the trees. 64-63 IHS pic.twitter.com/CI16NOV0M1

— Billy Heyen (@BillyHeyen) March 29, 2020
Then a big block by Williams pic.twitter.com/trpCKkMnJC

— Billy Heyen (@BillyHeyen) March 29, 2020
#NBA2K19 @victorboysbball ???? @ITownHoops sim:@mattcagg puts @victorbldevils up 67-64 with less than a minute to play as he beats the shot clock. @PickinSplinters pic.twitter.com/1sa1Ujieva

— Billy Heyen (@BillyHeyen) March 29, 2020
Final scoring totals:
Victor: CJ James (19), Matt Caggiano (17), Phil Nwugwo (10), Chase Dickens (9), Connor Williams (8), Will Stone (4), Will Tehan (2)
Irondequoit: Keenan Robertson (17), Nick Leonardo (14), Amauri Smith (13), Luke Melidona (9), Connor Shafer (4), Jason Jacobs Jr. (4), Jaleel Davis (3)