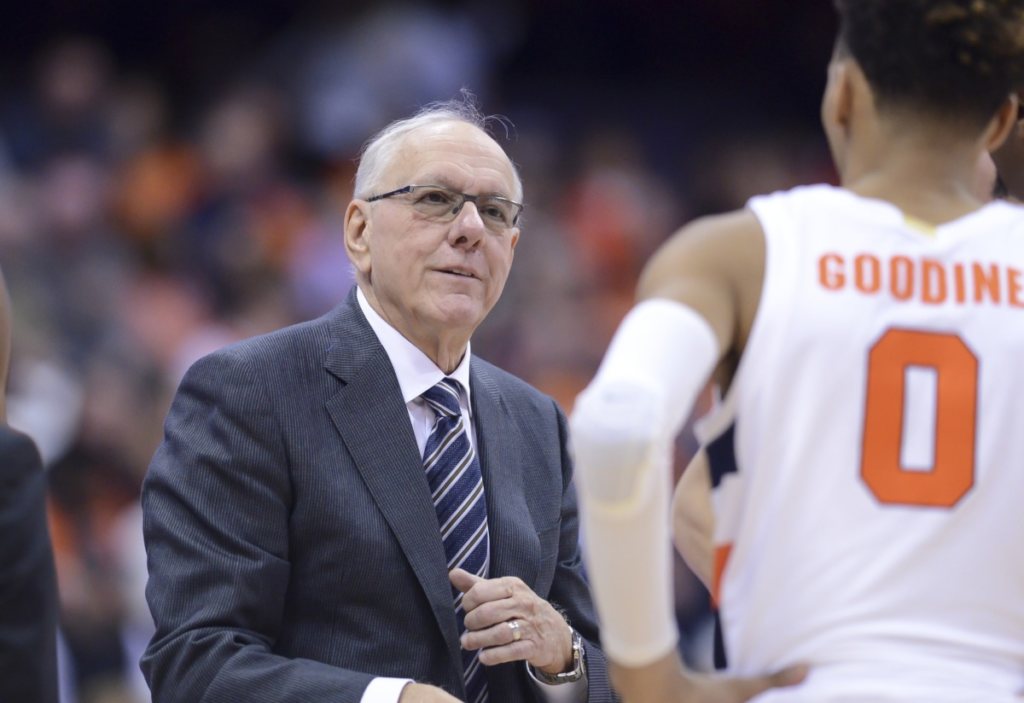 By BILLY HEYEN
A season ago, Syracuse found itself in an undesirable spot in the NCAA Tournament's Round of 64. Starting point guard Frank Howard was suspended, but his backup, Jalen Carey, hadn't played double-digit minutes since Jan. 12, more than two months earlier.
SU's season ended that day as Jim Boeheim played Carey three minutes. Boeheim likes to keep his rotation short, which works just fine when things go well, but piles on to itself when they don't. Once players are out of the rotation, they don't get the playing time that might have them ready to play when called upon.
Syracuse (7-5, 1-1 Atlantic Coast) plays its final nonconference game Saturday against Niagara (2-8) in the Carrier Dome. The Orange are projected to win by 21 points, according to KenPom. It could be the final opportunity for a few of SU's deeper bench pieces to get game minutes with ACC play resuming after the New Year.
This is a look at the players that Syracuse has on its bench, what they've shown so far and how they could impact the season if needed down the line.
Howard Washington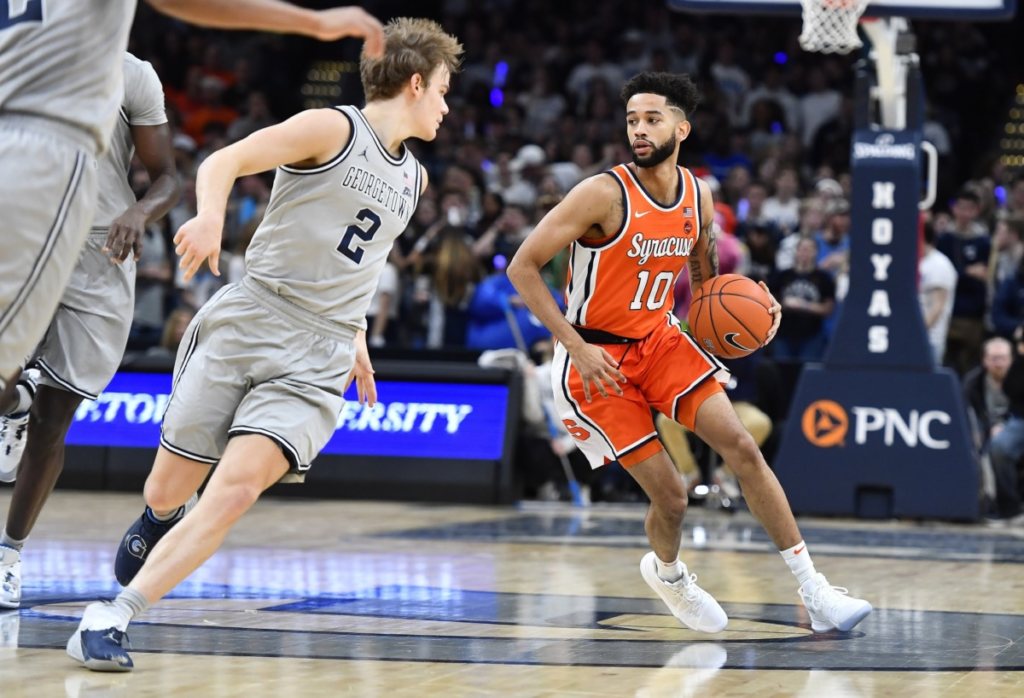 Washington's recovery from a stroke to play college basketball again is a great story. In Syracuse's games against Georgia Tech, Georgetown and Oakland, Boeheim entrusted Washington with the backup point guard duties ahead of Brycen Goodine. Washington's never going to be a prolific scorer, instead providing occasional spot-up shooting to go with good distribution to the Orange shooters, which led to a career-high eight assists against Georgia Tech.
The role for Washington going forward is most likely as the stabilizer. If freshman starting point guard Joe Girard III ever falls off the rails, Washington can enter the game and calm things down.
A scenario that would push Washington into SU's starting point guard role would force him to make more plays off the bounce as a secondary shotmaker to Elijah Hughes. It's not a role Washington has shown heavily in his repertoire at Syracuse, but the final nonconference game against Niagara would be a chance to attack the basket in game action before ACC play.
Washington is dealing with an injured knee, according to syracuse.com, so his availability going forward could be in doubt.
Brycen Goodine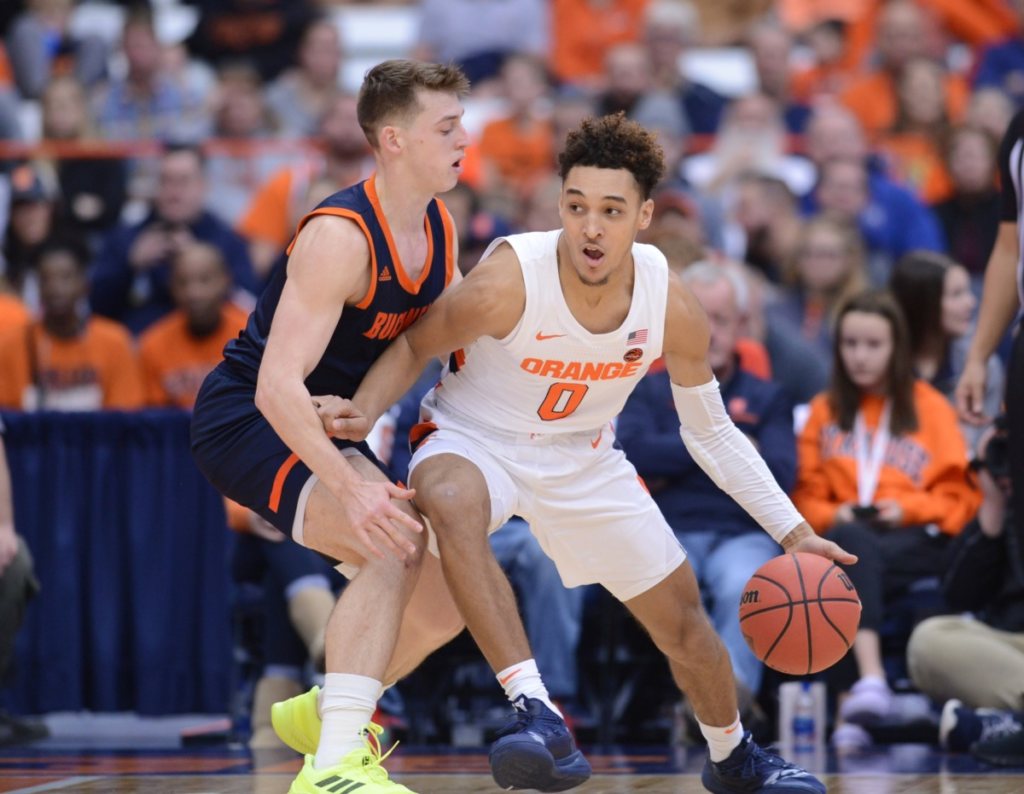 Goodine runs the risk of following Carey's path of a year ago. Boeheim hasn't used him in the Orange's last three games, the loss to Georgetown and the wins over Oakland and North Florida. Goodine came to Syracuse with a strong mix of shooting and athleticism, and while some preseason predictions had him as the backup point guard, Goodine has been used more in a combo guard role the last few times he's played.
Turnovers have been the undoing of Goodine so far, as he's coughed the ball up more than once a game despite playing fewer than 12 minutes a contest. His shots haven't fallen either, as Goodine has yet to hit a 3-pointer in 10 attempts.
Goodine provides the most guard upside on Syracuse's bench (especially if Jalen Carey's thumb injury keeps him out for most or all of conference play). If the freshman were to figure it out, protect the ball and knock down a few shots, his athleticism would add a different element to the Orange backcourt. Heavy run against Niagara for Goodine would give him a chance to rediscover his scoring touch in the hopes of finding a dynamic bench guard for conference play.
Quincy Guerrier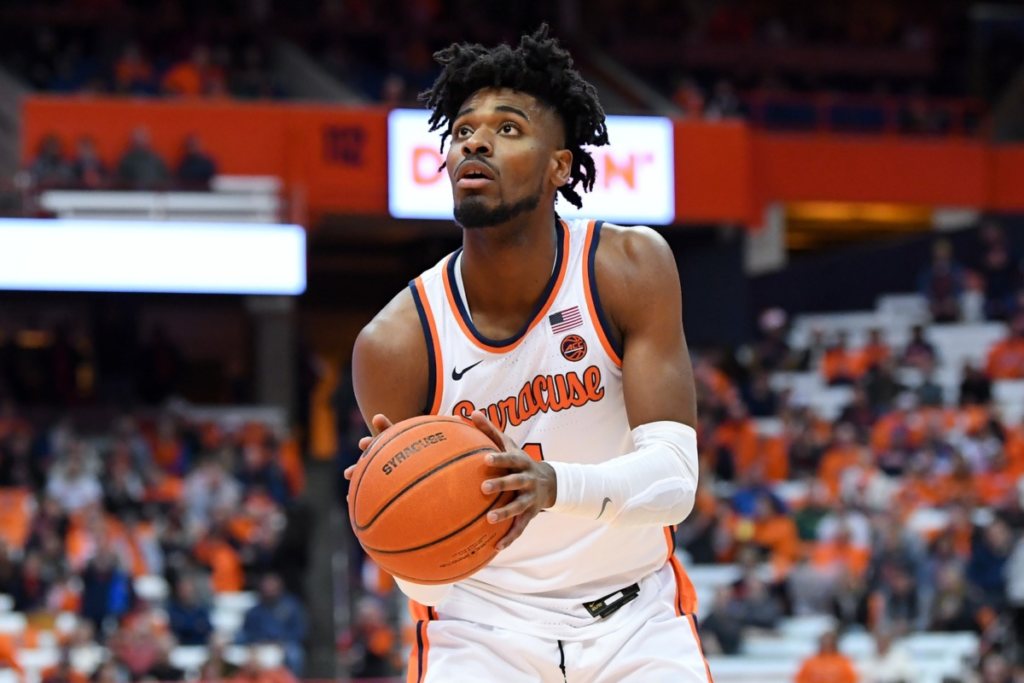 Guerrier seems most likely to maintain a prominent bench role heading into conference play after his performances against Oakland and North Florida. The Canadian freshman scored 10 points against UNF after also scoring in double figures against Seattle, Cornell and Penn State.
Physically, Guerrier provides a bulk in the frontcourt that SU starters Bourama Sidibe and Marek Dolezaj don't offer. The Orange haven't used him at the 5, instead sending Dolezaj to the middle of the zone when Guerrier comes in, but he still can assist in defending stronger centers in conference play.
Guerrier also provides the Orange a better transition offense than Sidibe when he pairs with Dolezaj and Hughes in the frontcourt. If the Orange finds itself falling behind in ACC games, Guerrier could be an important part of comeback charges. He'll also get more playing time if Sidibe's tendency to foul keeps up.
Robert Braswell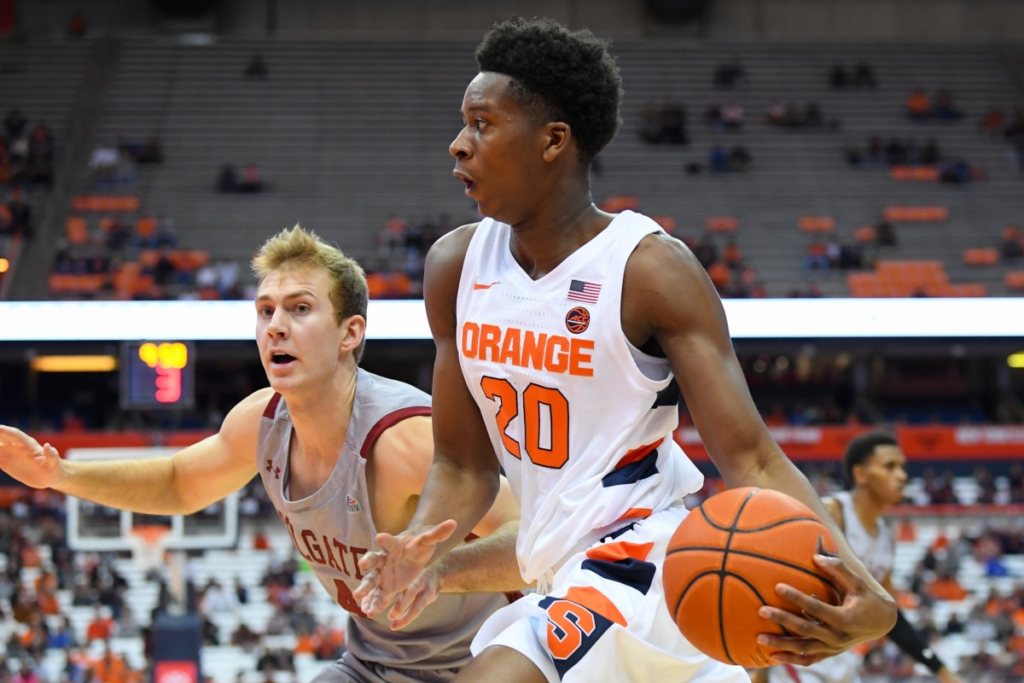 Braswell is a favorite of Syracuse Twitter but hasn't found the court much in his first year and a half at SU. He's displayed both good shooting touch and great leaping ability (as a two-time S.C. state champ in the high jump), but his lanky 6-foot-7 frame may provide the Orange coaching staff some hesitancy toward using him more as a big guy.
One place Syracuse has utilized Braswell in the early goingthis season is when it pulls out its full-court pressure. Braswell would need a lot to happen ahead of him on the depth chart to find big playing time, but the Orange could use the Niagara game to boost Braswell's offensive confidence so that when he comes in to press, the offense doesn't lag.
Jesse Edwards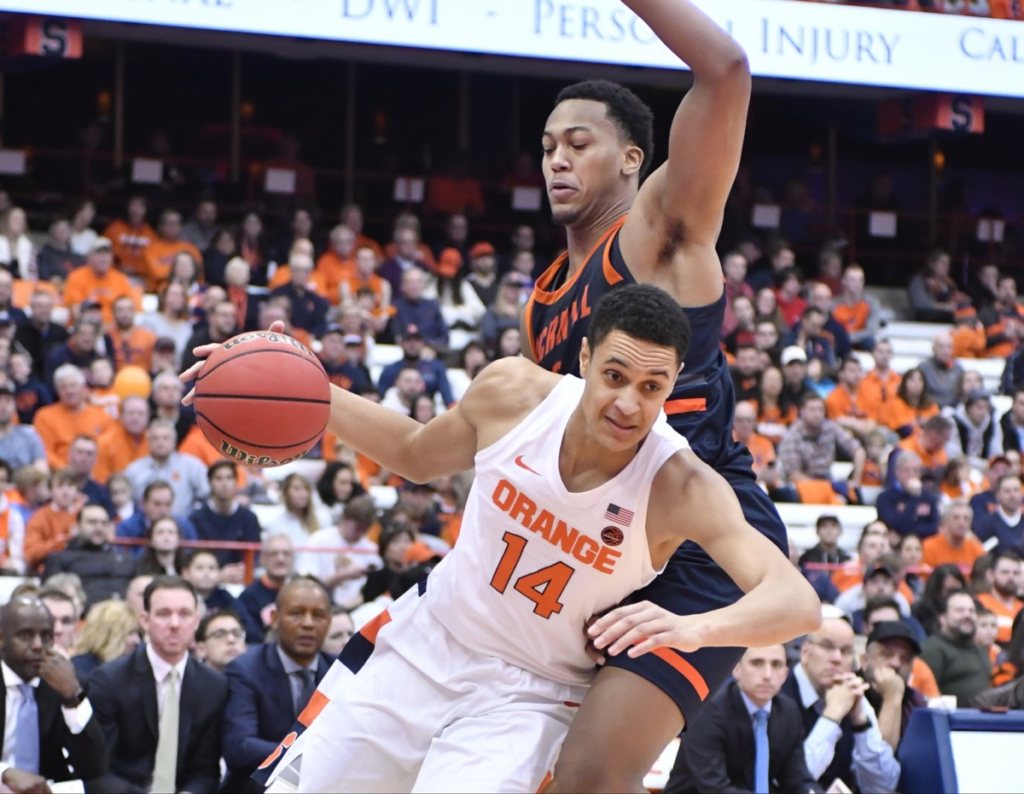 Edwards may be the rawest of Syracuse's bench pieces but also shows occasionally high upside with his length and offensive skill. The 6-foot-11 freshman from the Netherlands fouls frequently and can be pushed around a bit inside but is also a powerful finisher of alley-oop passes off of SU drives.
With Sidibe's foul trouble an ongoing issue and Dolezaj not a stranger to silly fouls, either, Edwards could play unexpectedly important roles in ACC games. Maybe he'll have sat the whole game and have to come in with four minutes left after both starters foul out. The Niagara game could be a vital opportunity to run Edwards with the starters for a few minutes to see how he fits in with that group, rather than with the walk-ons he's finished a few SU games with already this season.