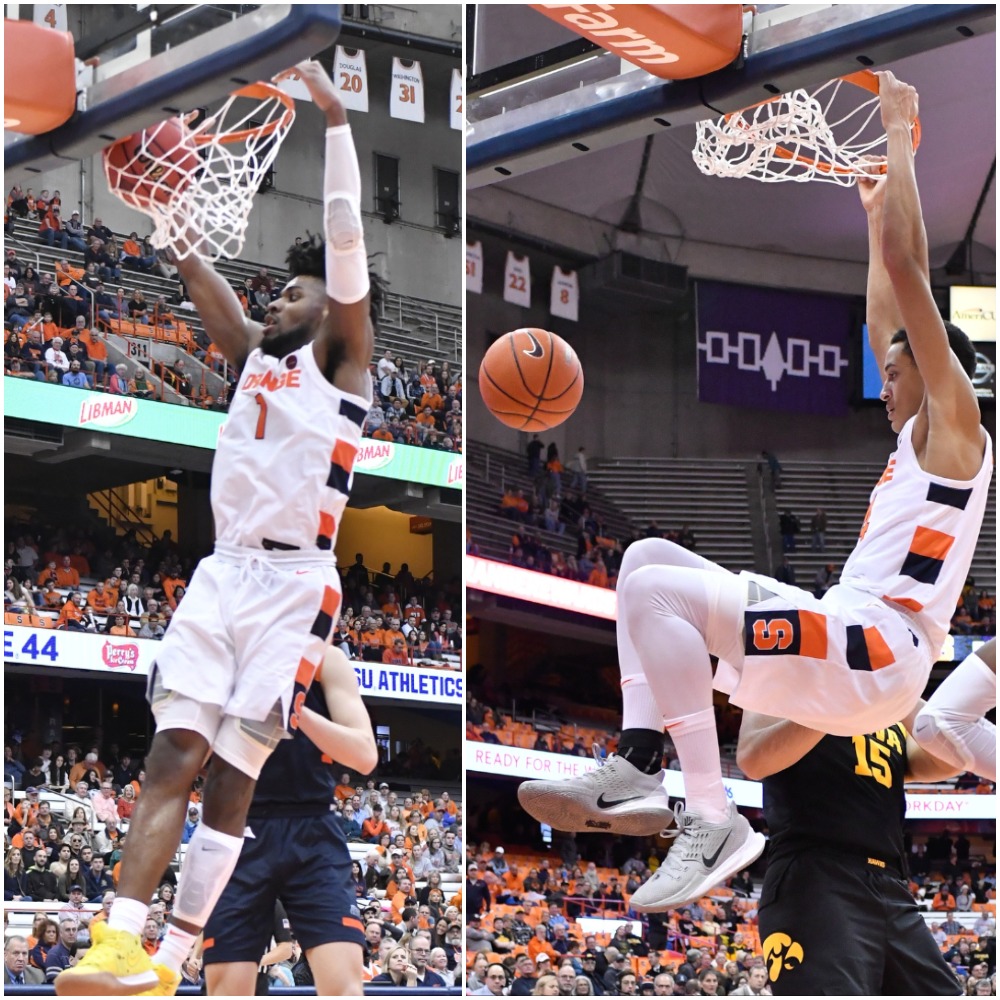 By BILLY HEYEN
Three Syracuse freshmen played Wednesday night in the Orange's (6-5, 1-1 Atlantic Coast) 74-62 win over Oakland (5-7). Joe Girard III led the first-year players with 20 points. Quincy Guerrier played 12 minutes, while Jesse Edwards played seven.
In those minutes, Guerrier and Edwards each had a moment that presented the upside that could make them huge weapons for SU either this year or in the future. Here's a look at each of those plays and why they provide so much promise.
Quincy Guerrier drive and dunk
(Embed via WatchESPN)
Guerrier's been limited in his playing time this year due to fouling problems, but it was Bourama Sidibe's foul trouble that kept the Canadian freshman in the game during the second half despite a few fouls himself. Midway through the second half, Guerrier caught in the left corner and hoisted a 3-pointer. It clanged off the rim.
That miss made Guerrier 2-of-17 from 3-point range on the season. He rises up and shoots with consistent form, but the shots haven't fallen yet, and that's often led to limited playing time. But before Guerrier could be sent back to the bench, he showed an adjustment a few minutes later.
Catching in a similar left-corner position, Guerrier was wide open, but he didn't settle. Instead, he recognized a hard close out and used a pump fake before driving past his defender. Having left that Oakland player on his back, Guerrier had a relatively clear path to fly to the rim and finish with two hands.
"Quincy got to the basket, he made a couple good plays," Jim Boeheim said postgame Wednesday.
Guerrier's ability to play to his strengths and recognize when he has an advantage on a defender will be crucial in the minutes he plays in place of Sidibe or Marek Dolezaj this season.
Jesse Edwards spin in the post
(Embed via WatchESPN)
Late in the first half, Edwards received minutes as Sidibe sat out with three fouls. Jim Boeheim hadn't pulled Sidibe with two fouls, but he had less choice when Sidibe fouled again.
Edwards is a relatively raw basketball player from the Netherlands. He didn't play basketball until he was 13, according to syracuse.com. So it'd be fair for his game's polish to not be caught up to his length and athleticism. But on one late-first half play, Edwards showed off a pivoting spin move off a post dribble to draw a foul. It's a move that requires precise footwork and coordination to pull off, not a combination that all freshmen centers possess. In that split second, Edwards showed he had it.
"I thought Jesse did good things in there," Jim Boeheim said postgame Wednesday. "He got overpowered a couple times, but I thought he did a couple good things."
Just before the spin move, Edwards showed good balance to finish off a lob pass from Marek Dolezaj, and just after the spin, Edwards stole a pass in the center of SU's 2-3 zone. His minutes will probably be limited except when Sidibe gets into foul trouble, but if Edwards can contribute in those basic ways while displaying the occasional flash of offensive gifts, it'll help the Orange.