By CHUCKIE MAGGIO
Editor's note: As this calendar year comes to a close and 2020 fast approaches, the St. Bonaventure men's basketball program is wrapping up one of its most memorable decades. The "Bonnies Basketball Decade In Review" series takes a look back at the players, games and moments that defined the 2010s.
There's a common thread between each player who appeared on a St. Bonaventure men's basketball roster in the 2010s and that, of course, is Mark Schmidt. While pundits blustered about how difficult it was to recruit to Olean, N.Y., which outsiders who have never been liken to Antarctica, Schmidt and his assistants were finding some of the best players in the Atlantic 10 Conference.
"There's never been a good coach with bad players," Schmidt likes to say when he receives a modicum of credit for revitalizing the Bona program. No team this decade was prolifically bad, so there was no shortage of talent in the past 10 years.
Knowing full well that these lists invariably lead to well-deserving people not receiving the recognition they deserve, here is one version of a Bonaventure All-Decade team. Players are ranked, 1-10, without consideration to positional fit; those who have followed along know Schmidt finds a way to play his best regardless. Unsurprisingly, each of the 10 players went on to play pro ball.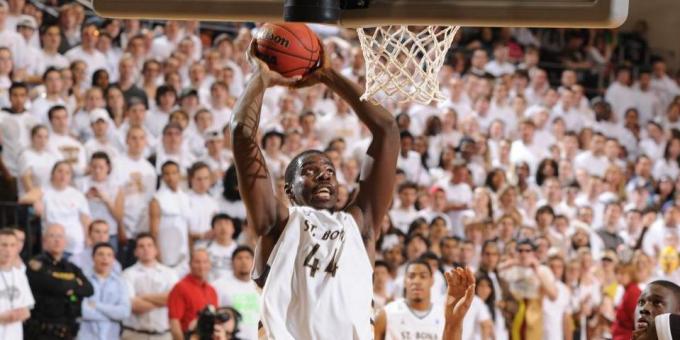 1. Andrew Nicholson, 2008-12
Notable stats in decade: 1,533 points, 621 rebounds, 143 blocks in 81 games
No one else would do in this spot. Nicholson was one of the best offensive players in the country his junior and senior seasons, as his expansive range and peerless post moves were his ticket to a first round selection in the 2012 NBA Draft. The 6-foot-9 Mississauga native's crowning moment was an iconic weekend in Atlantic City, when he averaged 23 points and 10 rebounds and shot 55 percent from the floor to lead the Bonnies to the 2012 Atlantic 10 championship.

Nicholson is the only player this decade to have his number retired. He earned the distinction after completing Bonaventure's revival from the dark ages.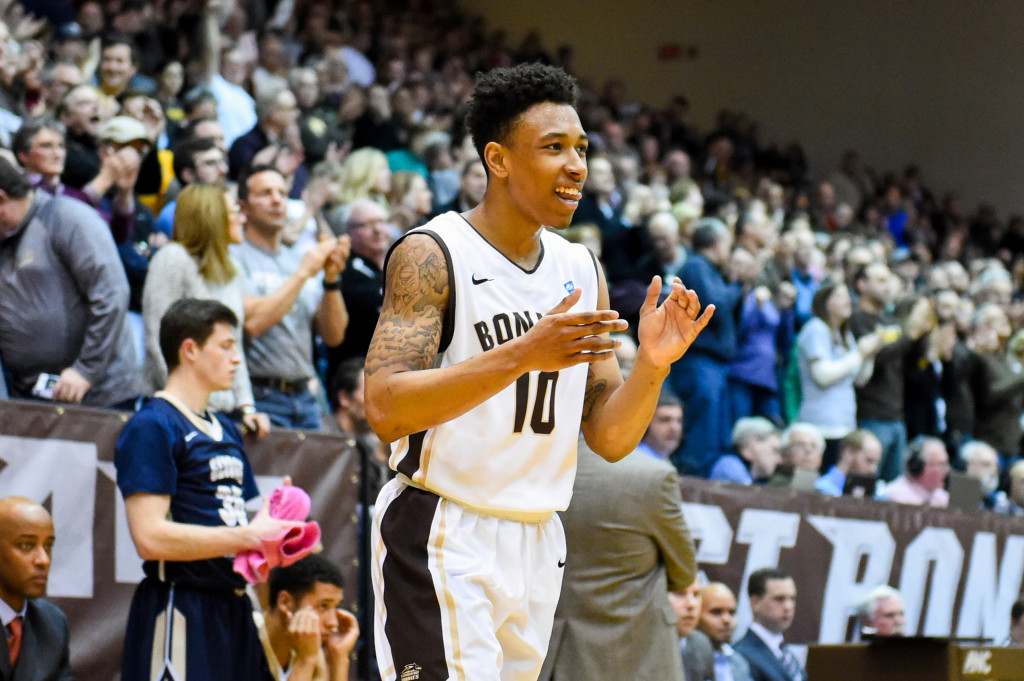 2. Jaylen Adams, 2014-18
Notable stats: 1,912 points, 590 assists, 170 steals in 110 games
Adams's journey from Jacksonville University commit to NBA player was made possible by his intent to explore and push his limits.
The idea of a true freshman starting on a Schmidt-coached team, especially at the most important position, was not commonplace; Adams started immediately, present at tip for all 22 games his freshman year until a season-ending finger injury. After Player Efficiency Rating (PER) became a measurable stat in 2009-10, Adams's 2015-16 shattered the mold when he notched a PER of 22 while still attempting over six three-pointers a game. The only other Bona guard to achieve a 20-plus PER since 2009 is Jonathan Hall, who didn't even average a three-pointer a game; Adams did it three times.
The Baltimore product's brilliance paid off in 2018, when he had back-to-back 40-point games that February (40 against Duquesne, 44 against Saint Louis) before pacing Bonaventure to an at-large bid and its first NCAA Tournament victory since 1970 in the First Four, where he swished the go-ahead shot.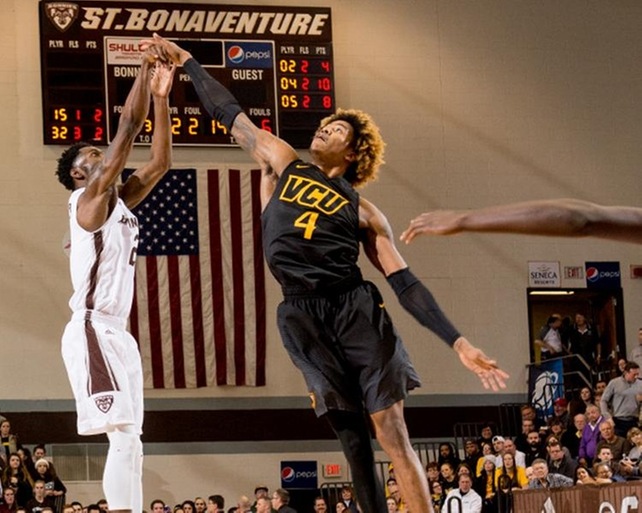 3. Matt Mobley, 2016-18
Notable stats: 1,209 points, 356 rebounds, 165 assists in 66 games
This is where the fun begins. Unlike Nicholson and Adams, whose places in the story of this decade are well-established, the rest of the list is very subjective and Nos. 3 and 4 are virtually a dead heat.
Mobley, a transfer after two years at Central Connecticut State, was equal parts three-point marksman and lane driver. He set a single-season program record with 105 threes in the 2017-18 season, including an A-10 Tournament record nine treys against Richmond. Meanwhile, the only A-10 player to attempt more free throws over Mobley's two seasons in a brown and white uniform than his 339 was Adams (432).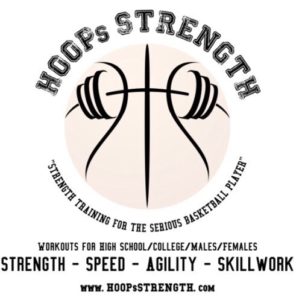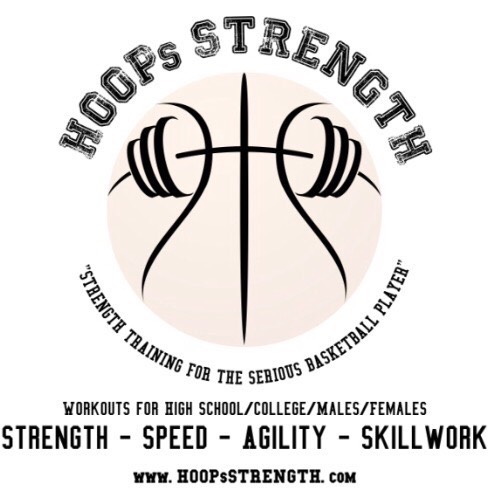 The biggest shot of the Worcester, Mass. native's career was his buzzer-beating three to defeat Vermont at Rochester's Blue Cross Arena. The win was crucial to Bonaventure's NCAA at-large bid chances.
4. Marcus Posley, 2014-16
Notable stats: 1,126 points, 197 rebounds, 179 assists in 62 games
Posley, who transferred from Indian Hills Community College after a freshman year at Ball State, was Adams's first backcourt running mate. The duo meshed impeccably well, partly due to Posley's shotmaking and penchant for the dramatic.
Posley became a Bonaventure icon when his back-to-back buzzer-beaters downed Davidson and No. 18 VCU in the same week in 2015. He almost single-handedly stole a win at Duquesne a couple weeks before, scoring 12 points in the last 2:46 as the Bonnies erased an 11-point deficit to force overtime and ultimately won 100-97.
The Rockford, Ill. native followed up a memorable junior year with an unforgettable senior campaign, averaging a shade under 20 points a game and dropping 47 against St. Joe's in Rochester. He was the captain as SBU compiled a 22-win season, which infamously ended in the NIT rather than the NCAA Tournament.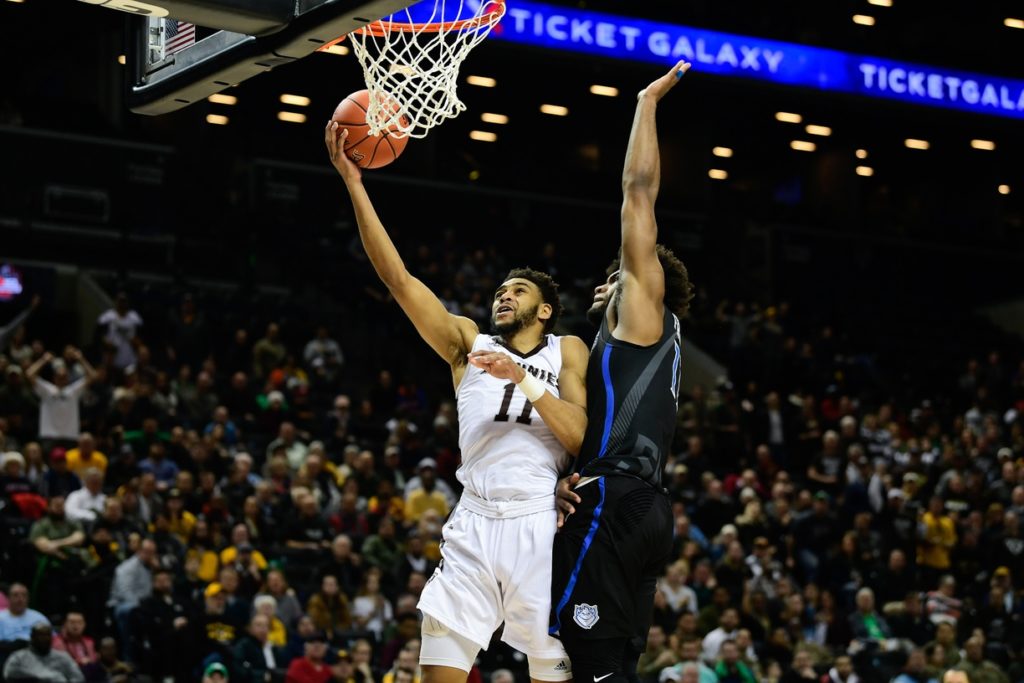 5. Courtney Stockard, 2017-19
Notable stats: 840 points, 351 rebounds, 170 assists in 59 games
After his first two seasons on campus were foiled before they even began due to foot injuries, Stockard was a walking bucket. The St. Louis native happily played the part of the most dangerous third option in the A-10 and created indelible moments along the way: the game-winning layup against Maryland, the key charge in the Carrier Dome against Syracuse, the first 17 points of the triple-overtime classic against Davidson and 26 points to lead all scorers in the NCAA First Four win over UCLA.
A bid for back-to-back NCAA Tournaments was thrashed in the second half of the A-10 title game against Saint Louis, but Stockard was the group's leader. He carried a 29.2 percent usage rate and led the team in scoring (15.3 points per game) while ranking second in assists (3.6 apg) and third in rebounding (5.6 rpg).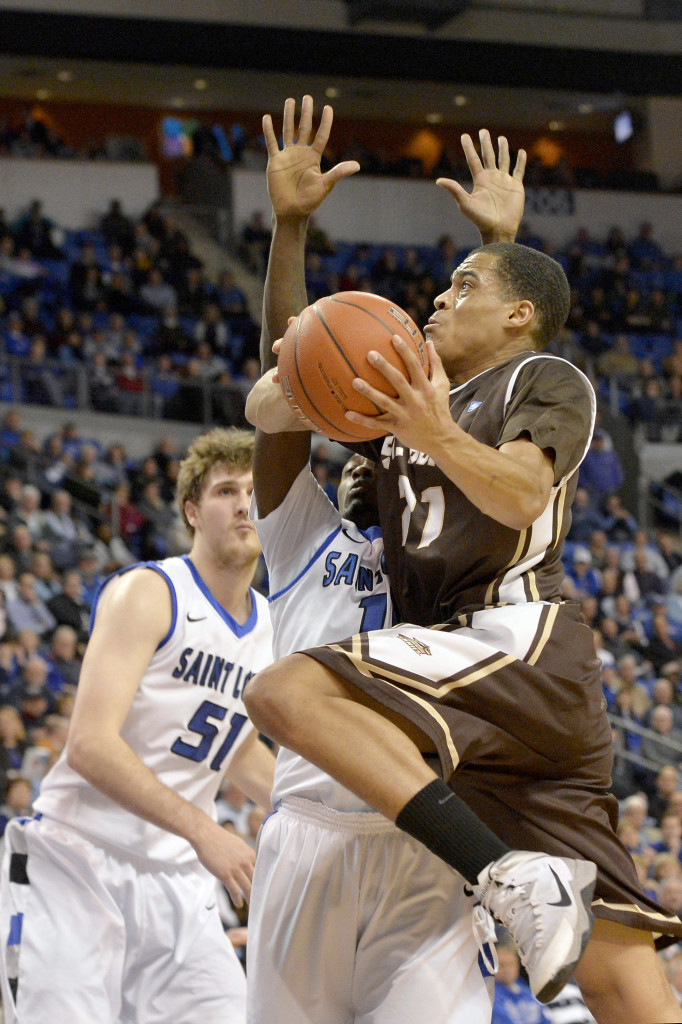 6. Dion Wright, 2012-16
Notable stats: 1,263 points, 683 rebounds, 102 assists in 108 games
One of the most underappreciated players of the Schmidt Era, Wright was never selected to an all-conference team, even after averaging 16.7 points and 9.1 rebounds a game for an A-10 regular season champion.

Wright was a unique four-man, from the unorthodox way he maneuvered to the basket to the stunning reveal of his three-point prowess in the 2015 A-10 quarterfinal loss to Dayton. The poster child for Schmidt's knack of development, he evolved from a seldom-used freshman to the predominant post player on a tournament-caliber squad.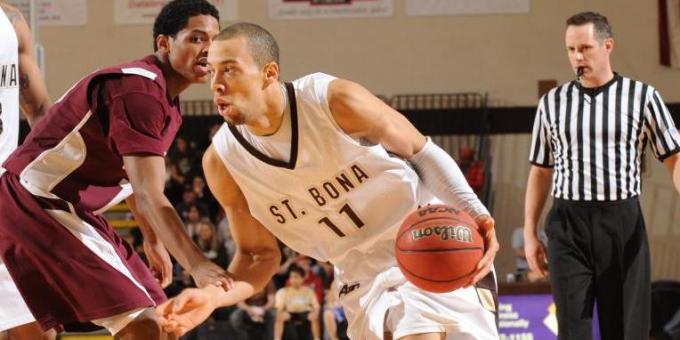 7. Demitrius Conger, 2009-13
Notable stats in decade: 1,170 points, 621 rebounds, 244 assists in 109 games
The Robin to Nicholson's Batman, Conger had the length and jump-out-your-seat athleticism to serve as a constant presence when Nicholson was in foul trouble or the Bonnies weren't hitting shots.
The Brooklyn native logged the most minutes on the team and shot 50 percent in 2011-12, averaging 12.1 points and four field goals a contest. After coming off the bench his freshman season, he started the remaining 92 contests of his career.
Conger recorded 12 career double-doubles. The Bonnies won all but one of those games.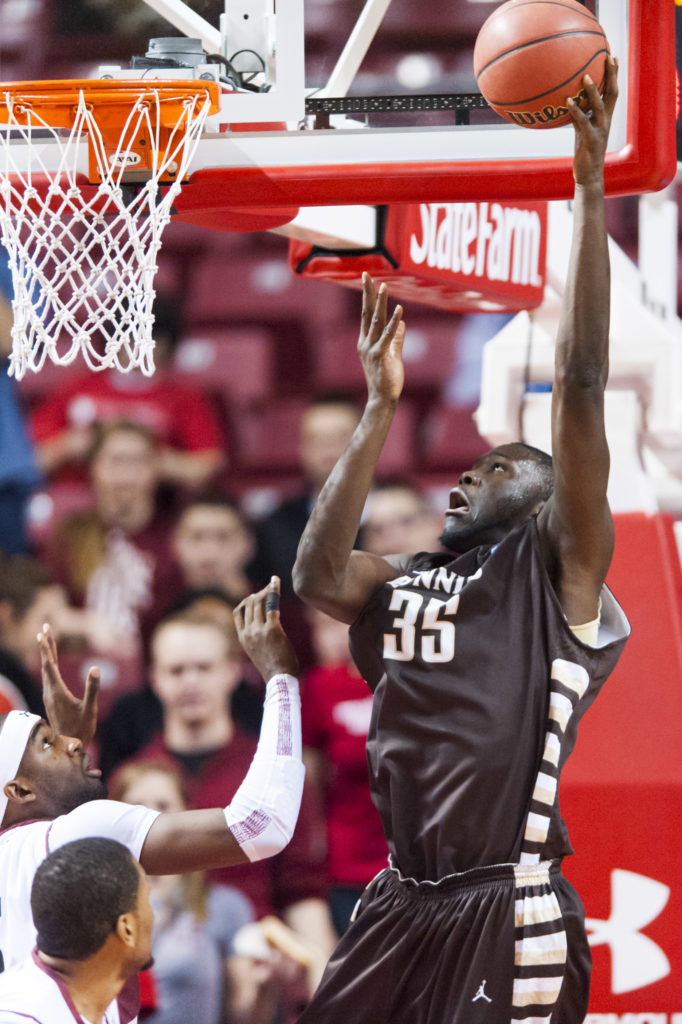 8. Youssou Ndoye, 2011-15
Notable stats: 971 points, 705 rebounds, 209 blocks
Ndoye learned from one of the best in Nicholson, beginning his career with a trip to the big dance and graduating as an NBA prospect.
Despite playing soccer growing up in Senegal and only beginning a serious basketball life when he was noticed by an American program, Ndoye developed into a double-double center his senior year (11.8 ppg, 10.1 rpg), one of two players in the conference to achieve that mark. The rewards were spots on the A-10 Third Team and All-Defensive Team.
Ndoye ranks 11th in program history in rebounds and third in blocked shots.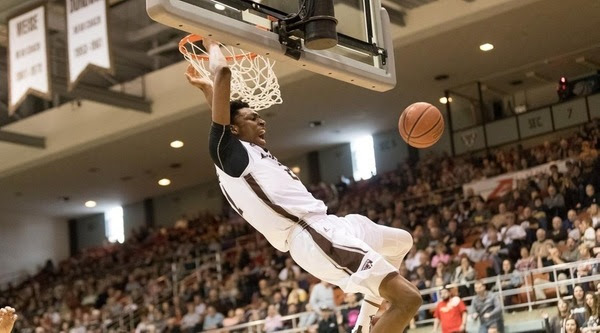 9. Osun Osunniyi, 2018-present
Notable stats: 311 points, 308 rebounds, 109 blocks in 40 games
Never mind that he hasn't even completed two seasons yet; Osunniyi is the second most gifted big man of the Schmidt Era. He's already sixth on the program's all-time blocks list with 109 swats, made the A-10 All-Defensive team as a freshman and is 16-8 as a starter.
Osunniyi alters games on the defensive end like no Bonnie has since Nicholson. He already has career-highs of 22 rebounds and seven blocks and a burgeoning offensive game, with two 15-point outings this season. The Bonnies are undefeated since he returned from a bone bruise in his knee.
The Putnam Science Academy product will almost certainly appear on an All-Decade list for the 2020s. But he also deserves to be on this one.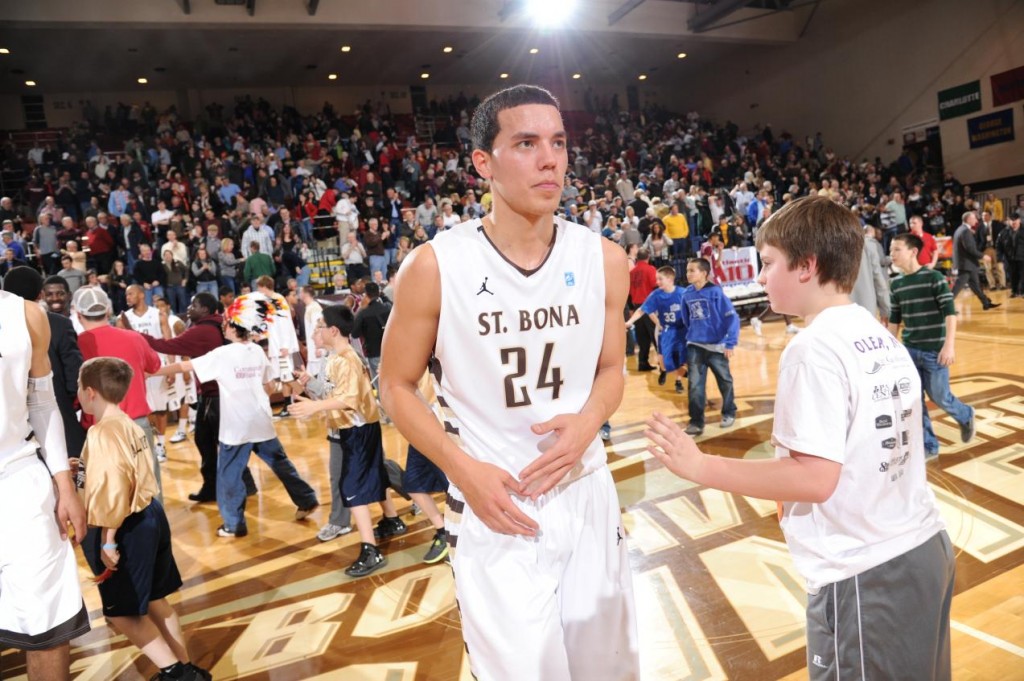 10. Matthew Wright, 2011-14
Notable stats: 1,073 points, 292 assists, 280 rebounds in 121 games
Before Wright was one of the most popular players in the Philippines, he was a complementary player on the Nicholson teams and struggled through a torn plantar fascia during the bridge year before truly breaking out in 2013-14. He averaged 16.3 points and made two three-pointers a game that season, dropping 20-plus points 12 times.
Wright was especially locked in during a 22-point, 8-of-13 afternoon in the Bonnies' upset of No. 1 seed Saint Louis in the A-10 quarterfinals, drilling five threes to answer Jordair Jett's onslaught before Jordan Gathers made the buzzer-beater to advance SBU. The Toronto native made clutch shots before that game, none bigger than his three three-balls in the second half or overtime of the 2012 win over St. Joseph's.
Biggest omissions: Charlon Kloof, Michael Davenport, Eric Mosley, Denzel Gregg, Idris Taqqee, LaDarien Griffin, Ogo Adegboye