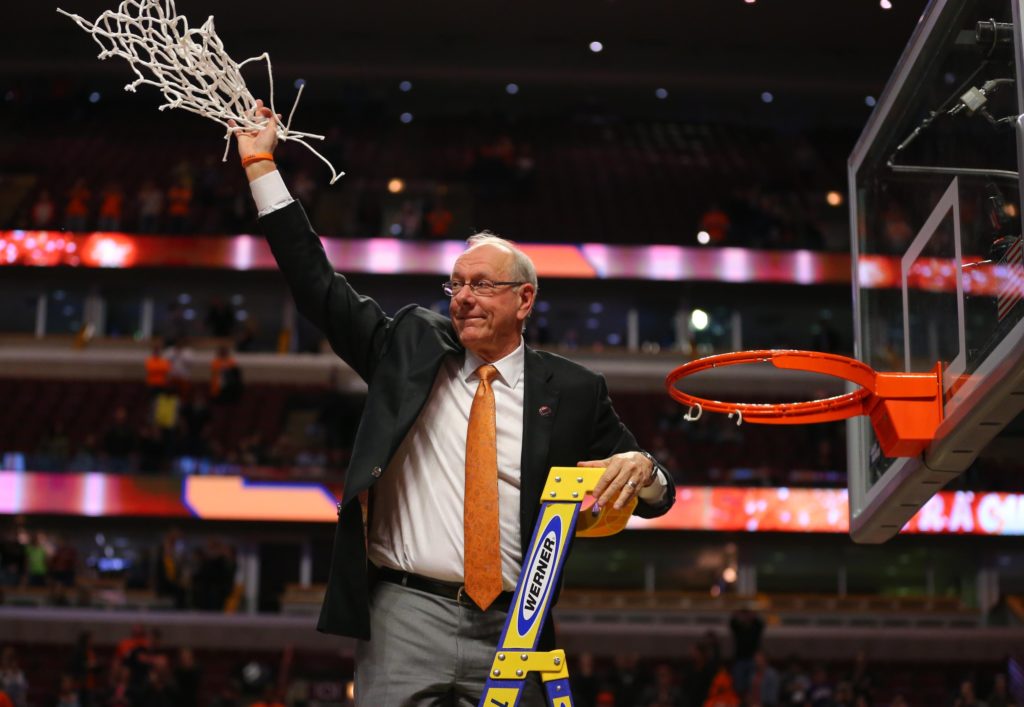 By BILLY HEYEN
As the 2010s come to a close, Jim Boeheim and his 2-3 zone remain the constants in Syracuse basketball. There's been plenty of excitement and change, too, and this "Syracuse Basketball Decade In Review" will take a look back at all the teams, players and games worth remembering from the past 10 years.
The first installment of the series will rank the 10 teams that completed a season in this decade, with the pool ranging from 2009-10 to 2018-19. In a decade of two Final Four appearances, a conference switch, multiple undefeated starts to seasons and a number of crazy shots, there are arguments to be made up and down the list. You won't all agree with the order, but that's fine. Just take a walk down memory lane of SU hoops.
10. 2014-15
Record, final result: 18-13, banned from postseason play
Best win: Feb. 18 vs. No. 12 Louisville. The Cardinals brought future NBA players Terry Rozier and Montrezl Harrell to the Dome four days after the Orange had fallen to No. 4 Duke. But an unranked Syracuse team held the Cardinals to four made field goals in the final 10 minutes of action as Rakeem Christmas scored 18 of his 29 points in the second half. Combined with a win over No. 9 Notre Dame in South Bend, Ind. less than a week later, late February provided the bright spots in an otherwise lost season for SU. 
Worst loss: Nov. 20 vs. Cal at Madison Square Garden. Syracuse lost 13 times this season, but none fell in the category of awful defeats. So let's go with the one in retrospect that doesn't look great, a 14-point defeat at the hands of a Golden Bears team that eventually went 7-11 in the Pac-12. The Orange trailed by 12 at halftime and couldn't shoot their way back in it.
Best player: Rakeem Christmas. It was a shame Christmas didn't get a chance to shine in the NCAA Tournament as a senior. He averaged 5.8 points and 5.1 rebounds as a junior the year prior, but he was the center of SU's offense in 2014-15. That meant lots of post touches and dominance from the inside, leading to final averages of 17.5 points and 9.1 rebounds per game. He earned First Team All-ACC and Third Team AP All-American honors.
Most iconic moment: Michael Gbinije hit a game-winning jumper to beat Virginia Tech, 72-70, after the Orange trailed by 13 points with 6:29 to play. Full-court pressure got Syracuse back into the game and set Gbinije up for the winner. Despite still to come Louisville and Notre Dame upsets, Syracuse University announced 24 hours after Gbinije's game-winner that it was banning the team from all postseason action. 
9. 2016-17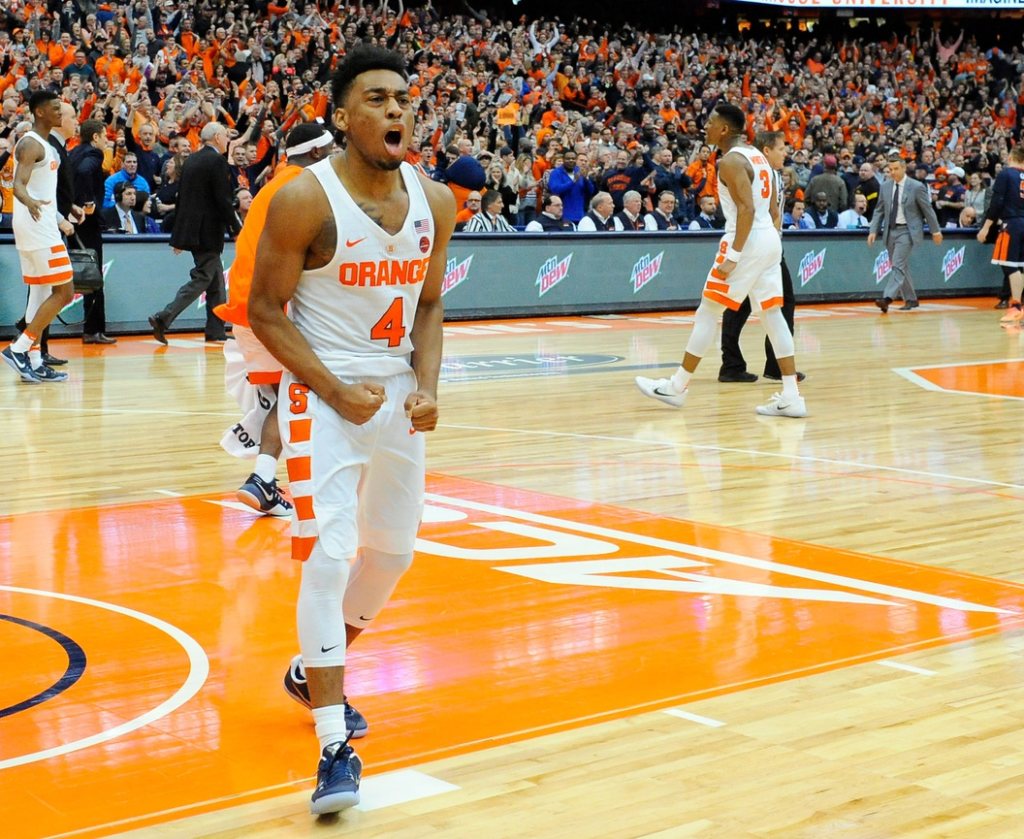 Record, final result: 19-15, lost in NIT second round to Ole Miss
Best win: Feb. 22 vs No. 10 Duke. This season also featured top-10 upsets of Florida State and Virginia (which was Jim Boeheim's win No. 1000*). But if you remember one game, it's probably this one. Duke featured Jayson Tatum, Grayson Allen and Luke Kennard. The Orange trailed by nine early in the second half. But then John Gillon willed Syracuse back, finishing with 26 points and the banked game-winning 3-pointer from straight on that sent the Dome into pandemonium.
Worst loss: Dec. 21 vs. St. John's. Syracuse was run off the floor by the Red Storm just before Christmas. The Orange already had four nonconference losses and couldn't afford another, let alone one by the final margin of 93-60. A Jim Boeheim-led SU team had never lost five nonconference games in a season until dropping this one.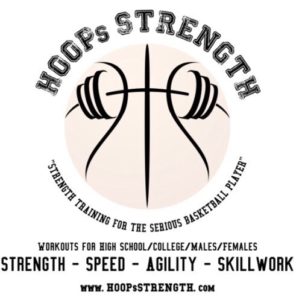 Best player: John Gillon. His overall season numbers don't show it, but after the Duke shot, Jim Boeheim said, "We go as John Gillon goes." Seems like a good source to trust on this one. Gillon was at the heart of all three of Syracuse's top-10 upsets at home, along with scoring a career-high 43 points (including the shot to send it to overtime) in a win at North Carolina State. The grad transfer Gillon (joined by grad transfer Andrew White III) only played one season at Syracuse but gave the Orange a bunch of memorable moments. 
Most iconic moment: Gillon's banked-in buzzer beater against Duke. It ranks among the greatest shots in the history of Syracuse basketball.
8. 2018-19
Record, final result: 20-14, NCAA Tournament first round loss to Baylor
Best win: Jan. 14 at No. 1 Duke. Two days prior to this, Syracuse was beaten handily by unranked Georgia Tech in the Carrier Dome. The Orange were heading to Durham to face Zion Williamson and company. This wasn't supposed to end well, and the Blue Devils jumped out to a 14-2 lead. But then Tre Jones got hurt, Tyus Battle got hot and Syracuse stayed in the game enough to force overtime, where SU made enough plays to escape with the biggest individual win of the 2018-19 college basketball regular season. 
Worst loss: Dec. 15 vs. Old Dominion. Syracuse was supposed to win this game and set up a ranked matchup with Buffalo. The Orange led by 10 at halftime, and it looked like the Monarchs wouldn't be an issue. But SU collapsed in the second half, allowing ODU to come back and win, 68-62. 
Best player: Tyus Battle. There was never any doubt who the alpha was for Syracuse in his junior and final season with the Orange. Battle hit a game-winner against rival Georgetown, dropped 32 points at Duke and was always the player taking the last shot. An SU team that battled ineffectiveness and regression at other positions knew it could count on Battle. 
Most iconic moment: Everything about the upset at No. 1 Duke. Maybe it was Marek Dolezaj taking a charge on Williamson, or Paschal Chukwu playing his best game of the season, or Frank Howard's steal and bucket in overtime. But probably, it was the 75-foot heave Elijah Hughes hit to end the first half. When you consider a game that went to overtime, what felt like a prayer turned out to have an answer.
7. 2017-18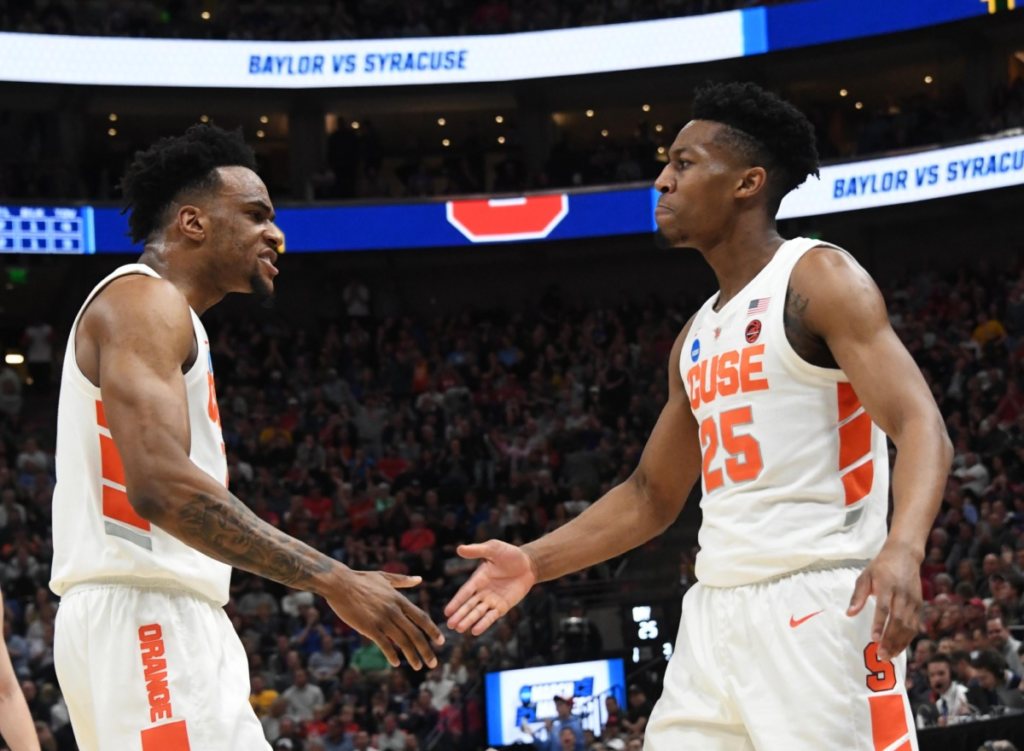 Record, final result: 23-14, Sweet 16 loss to Duke
Best win: March 18, 2018 vs. 3-seed Michigan State. The Orange rattled off three wins in five days, culminating in this win against Miles Bridges and Michigan State, to advance to the NCAA Tournament Sweet 16. Syracuse played a slow-it-down, defense-centric game to hang with a more talented Spartans team, allowing Battle to hit some clutch shots down the stretch. SU was also forced to use walk-on Braedon Bayer at the end of the game due to foul trouble.
Worst loss: Dec. 22 vs. St. Bonaventure. This was a good St. Bonaventure team, so maybe the choice here should be an ACC loss to Wake Forest or Boston College. But the Orange had a chance to get through conference play only beaten by an obviously better Kansas team. Instead, Syracuse went to overtime against the Bonnies before losing on a night SU shot 18-of-60 from the floor.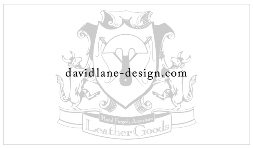 Best player: Tyus Battle. This was the first of two seasons where Battle was Syracuse's go-to guy. His defining moment as a sophomore was a go-ahead 3-pointer at home against Maryland inside of a minute remaining. He also scored a career-high 37 points in a double-overtime loss at Florida State. 
Most iconic moment: The walk-on Bayer diving on the floor for a loose ball against Michigan State made it into CBS' "One Shining Moment" video, so maybe that gets the vote. But more broadly, it was the three wins in five days, starting in the First Four, that came to redefine what could've been an underwhelming season for Syracuse.
6. 2010-11
Record, final result: 27-8, lost in NCAA Tournament second round to Marquette in a 3-seed vs. 11-seed upset
Best win: Feb. 2 at No. 6 UConn. The Orange entered this matchup against a Kemba Walker and Shabazz Napier-led Huskies team on a four-game losing streak, so it wouldn't have been shocking for SU to fall on the road. But instead Syracuse pulled out a 66-58 win. Rick Jackson double-doubled with 13 points and 13 rebounds, while Brandon Triche led the Orange with 16 points.
Worst loss: March 21 vs. 11-seed Marquette. After a first round win in the NCAA Tournament as a 3-seed, Syracuse couldn't continue through its bracket path as a favorite against Marquette. The Orange had actually lost to the Golden Eagles in the regular season already, and SU met the same fate here, losing 66-62. The game was tied at 59 before Marquette closed strong. The Golden Eagles were led by 17 points from Darius Johnson-Odom.
Best player: Rick Jackson. Kris Joseph, Brandon Triche and Scoop Jardine all had an argument for this spot, too, but Jackson's Big East Defensive Player of the Year pushes him to the top. He averaged 13.1 points and 10.3 rebounds per game in his senior year, adding 2.5 blocks and 1.3 steals per contest. Jackson finished his Syracuse career with 143 games played, tied for second in program history with Derrick Coleman.
Most iconic moment: There really wasn't any crazy moment or buzzer beater to fit here, so how about Scoop Jardine dropping 20 in front of a hometown crowd as Syracuse beat No. 15 Villanova in February.
5. 2009-10
Record, final result: 30-5, Sweet 16 loss to 5-seed Butler
Best win: Nov. 20 vs. No. 6 North Carolina at Madison Square Garden. This win gets a bonus since Syracuse beat No. 13 Cal the day prior, and that pair of victories vaulted the Orange from unranked to No. 10 in the country. The Orange were led to the win over UNC via 25 points from Wesley Johnson and seven steals from Andy Rautins. 
Worst loss: Jan. 2 vs. Pittsburgh. The Orange began the season with 13-straight wins but dropped this one at home to unranked Pitt. The Panthers were led by 24 points from Ashton Gibbs. If exhibition games count, the Orange lost to Division II Le Moyne on Nov. 3, 82-79.
Best player: Wesley Johnson. In Johnson's lone season at Syracuse after transferring from Iowa State, he displayed enough talent to go as the No. 4 pick in the subsequent NBA Draft. Johnson averaged 16.5 points and 8.5 rebounds per game to earn Big East Player of the Year and First Team All-American honors.
Most iconic moment: Syracuse hosted No. 8 Villanova on Feb. 27 in front of a then-NCAA record 34,616 fans and won the game handily, 95-77. The Orange also had a huge home win against Georgetown after falling behind 14-0 to the Hoyas.
4. 2013-14
Record, final result: 28-6, NCAA Tournament Round of 32 loss to 11-seed Dayton
Best win: Feb. 12 at No. 25 Pittsburgh. Syracuse entered this game 23-0 and No. 1 in the country, but with four seconds remaining, the Orange trailed by a point. Tyler Ennis received the inbounds pass, dribbled up the floor and pulled up from 35 feet away, and the rest was history as Syracuse won, 58-56. 
Tyler Ennis hit this buzzer beater against Pitt to keep their undefeated season alive. #collegebasketball #Syracuse pic.twitter.com/CF21FT4Udx

— Forgotten Plays (@forgotten_plays) November 29, 2016
Worst loss: Feb. 19 vs. Boston College. Syracuse won its next game after beating Pitt, but then the Orange were handed their first loss at home by unranked BC. It sent SU's season into a spiral that makes it one of the weirder Syracuse seasons in recent memory, featuring the hot start but a 3-6 record to finish the campaign. 
Best player: Tyler Ennis. You can make a case for Syracuse's leading scorer, C.J. Fair, but Ennis was SU's leader in assists and steals while averaging 12.9 points per game. He made the legendary shot at Pitt, and he parlayed a strong freshman season into an NBA Draft first-round selection. 
Most iconic moment: Ennis' game-winner at Pittsburgh. It rivals Gillon's shot against Duke as the greatest context-included Syracuse shot of the decade, and probably takes the top spot thanks to the stakes and the fact that the Orange were trailing when he took it. 
3. 2011-12
Record, final result: 34-3, Elite Eight loss to 2-seed Ohio State
Best win: Feb. 8 vs. No. 12 Georgetown. The long-time rivals went to overtime in the Carrier Dome in this one. The game featured 15 ties and 18 lead changes, and it required a career-high 29 points from Kris Joseph. Scoop Jardine's 3-pointer with 29 seconds remaining in overtime proved to be decisive in a 64-61 win. 
Worst loss: Jan. 21 at Notre Dame. The Orange went into this game ranked No. 1 and undefeated at 20-0, while the Fighting Irish entered the game at 11-8. SU fell behind by 18 points in the first half and couldn't make it back, eventually losing 67-58. 
Best player: Kris Joseph. As a senior, Joseph averaged 13.4 points per game to lead the Orange, but this was a well-rounded roster. A senior Scoop Jardine ran the point with dynamic Dion Waiters coming off the bench. Then of course there was Fab Melo defending the center of the 2-3 zone, although eligibility issues led to his suspension from the NCAA Tournament.
Most iconic moment: Joseph's career-high 29 points and Jardine's 3-pointer to beat Georgetown in overtime at the Dome. 
2. 2015-16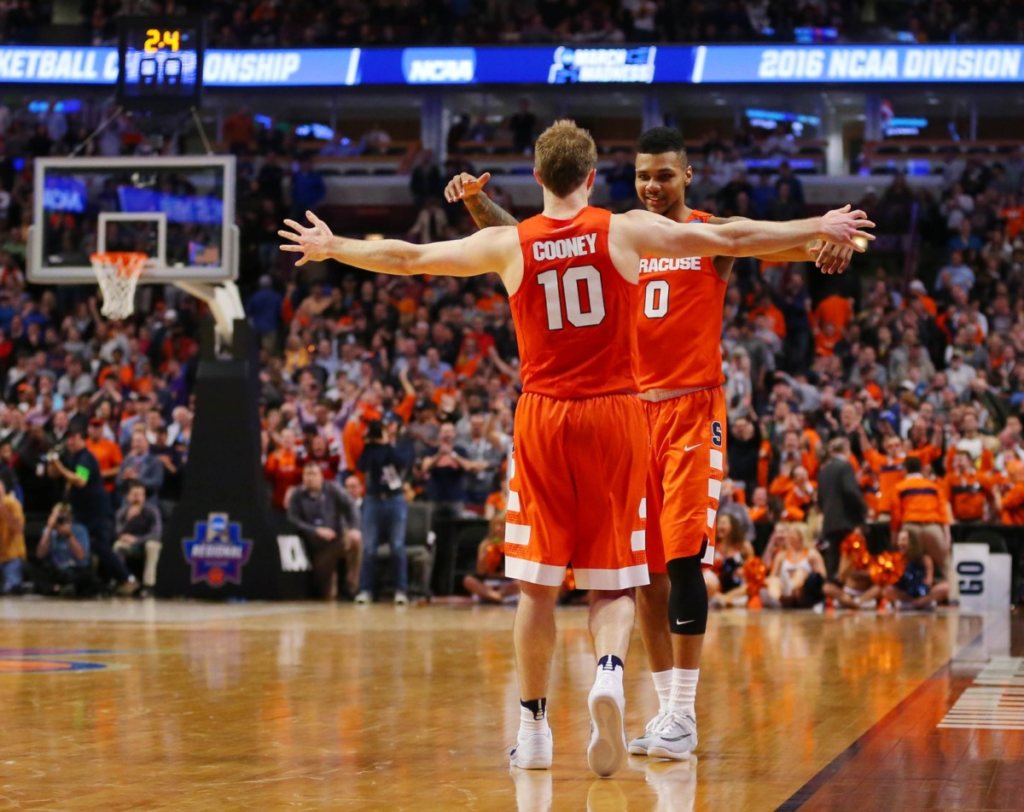 Record, final result: 23-14, Final Four loss to 1-seed North Carolina
Best win: March 27 against 1-seed Virginia. Syracuse's Final Four dreams looked cooked when the Orange trailed a defensive powerhouse like UVA by 16 in the second half. It'd already been a magical run by 10-seed SU to get to that point. But then came the full-court press, and the Malachi Richardson onslaught, and a 25-4 second-half run. By the time Virginia knew what hit it, Syracuse was cutting down the regional nets.
Worst loss: March 5 vs. Pittsburgh in ACC tournament. The Orange's resume was borderline for making the NCAA Tournament heading into the ACC tourney, so SU's first round game against Pitt took on extra importance. Syracuse trailed by 12 with 4:08 remaining before closing to within one and losing, 72-71, when Trevor Cooney's final shot couldn't fall. As it turns out, the loss didn't keep the Orange from dancing.
Best player: Michael Gbinije. There was no doubt about this team's top player, even as Richardson caught fire in March. Gbinije finished his senior year averaging 17.5 points, 4.1 assists and 4.1 rebounds per game. He was named to Second Team All-ACC.
Most iconic moment: The comeback against Virginia. Maybe the most memorable scene from that 25-4 run was Richardson holding up the 3-point symbol over his eye, but the whole stretch was an overwhelming display from a team that had seemed finished.
1. 2012-13
Record, final result: 30-10, Final Four loss to 4-seed Michigan
Best win: Jan. 19 at No. 1 Louisville. Syracuse hadn't played a ranked opponent since its season opener, and the Orange would need to start to define a postseason resume. Louisville featured Russ Smith and Gorgui Dieng. But it was Brandon Triche carrying SU with 23 points in a 70-68 win. The game was closed out by four points in the final minute from Michael Carter-Williams. 
Worst loss: March 9 at No. 5 Georgetown. This was a Hoyas team ranked No. 5 in the country, so there was no shame in No. 17 Syracuse losing. It was how the Orange lost that was so rough. SU fell, 61-39, with its lowest point total of the decade (prior to the 2019-20 season). It closed out Syracuse's regular season on a particularly low mark.
Best player: Michael Carter-Williams. MCW's length at the top of Syracuse's zone combined with a dynamic offensive game to lead Syracuse all the way to the Final Four. He led Syracuse with 7.3 assists per game to go with nearly three steals per contest. Carter-Williams and his backcourt mate, senior Brandon Triche, partnered with C.J. Fair to form a big three for the Orange.
Most iconic moment: Syracuse and Carter-Williams' finish at No. 1 Louisville. The guard dunked to put the Orange up one, then had a late diving steal to ice the ballgame and secure the upset.