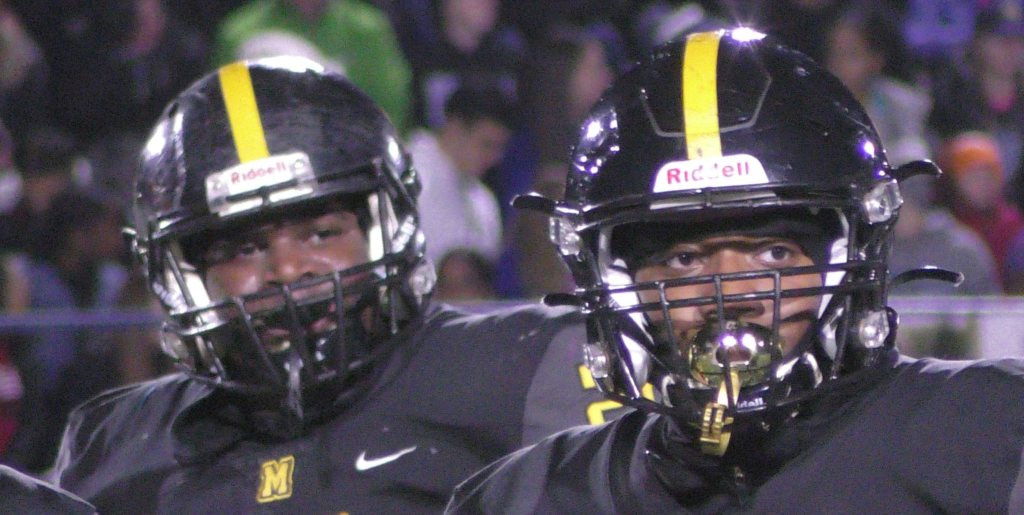 By JOHN LIKANJE
Defense can be easy to overlook when a team is producing 35.2 points per game, including 36.2 in the postseason, but the McQuaid defensive corps has made key second-half stops to help clinch a spot in Saturday's NYSPHSAA Class AA championship game.
If the Jesuit Knights (No. 4 NYSSWA) are to claim their program's first state title when they face Section I champion New Rochelle (No. 2 NYSSWA), head coach Bobby Bates and his squad will need to continue what it has done throughout the postseason: make adjustments throughout the game.
"We don't have the answers when the game starts," Bates said last Saturday after McQuaid's win over Cicero-North Syracuse in the NYS semifinals. "We got to figure them out throughout the game. That's the most important thing and that's a tribute to our coaches adjusting and our players adjusting with what the coaches need them to do."
Entering last Saturday's Class AA NYS semifinal, the Knights had held opposing teams to one total touchdown in the second half of their four previous postseason contests.
Despite allowing a pair of second-half touchdowns to the Northstars, McQuaid's defense made a pair of critical red-zone stops, including one in the second half.
"Defense plays hard week in and week out," Bates said. "Those coaches do a good job of putting together a heck of a game plan."
Xander Rita spearheaded the defense with six tackles. Junior defensive backs James Doerr and Sam Perozzi had four apiece. Aldrin Wilson provided one of the Knights' two red zone stops with a tackle on an attempted reversal play on fourth down.
.@NYSPHSAA AA semifinal – @CNSAthletics vs. @FootballMcquaid: Knights stop Northstars on 4th-And-15 from the 22-yard line. @PickinSplinters pic.twitter.com/ytwm96Jq8s

— John Mitchell Likanje Junior (@jml5798) November 23, 2019
In the second half, the Knights' defense stopped C-NS tailback Mike Washington on back-to-back plays inside the 20-yard line. On fourth down, the Northstars elected to throw the ball. Knights defensive back Tim Oberlies maneuvered around the line and with his outstretched left arm, forced a rushed throw that was batted down in the end zone.
"It was the same as with the offensive side of the ball," Bates explained. "We just needed to figure out what was going to work, what stunts we needed to run, what coverages we needed to be in."
Against New Rochelle, McQuaid will face an offense that rallied to defeat Shenendehowa (II), 24-17, last Saturday with two fourth-quarter touchdown passes from sophomore quarterback Tariq Benjamin: a 49-yard pass to Gary Phillips III and a 28-yarder to Raymond Dixon.
For the season, New Rochelle averages 37.7 points per game including scoring 35 points or more in their first 10 contests.
Defensive coordinator Cory Parker pointed to his squad's strength in numbers.
"There are eleven guys on the sideline that are ready to go when their number's called. I think the more and more you go through the games and the more you go into playoffs, that depth is so key. 25 guys that are ready to play at the drop of a hat is huge. I think that's been a big reason for our success."
"We knew that we had depth and we could continue to give new looks. Teams can scout us and we'll still have a new look because we have the right guys and we're going to keep putting ourselves in the right decision to make plays."
Kickoff is scheduled for Saturday 8 PM at the Syracuse University Carrier Dome.
WHAT: NEW ROCHELLE HUGUENOTS (12-0) vs. MCQUAID JESUIT KNIGHTS (12-0)
How they arrived here: New Rochelle defeated Arlington (42-7), John Jay (38-14) and Carmel (42-14) to win the Section I title. The Huguenots took down Utica-Proctor (III), 21-7 and rallied past Section II champion Shenendehowa, 24-17, in the state semifinals.
McQuaid defeated Monroe (57-0), Pittsford (20-7) and Aquinas (30-27) to win its second sectional title in program history and first since 1978. The Knights took down Lancaster (VI), 32-28, and held off Section III champion Cicero-North Syracuse, 42-28, in the state semifinals.
Points scored per game: New Rochelle (37.7), McQuaid (35.2)
Points allowed per game: New Rochelle (8.8), McQuaid (14.8)
Players to watch: New Rochelle – Tariq Benjamin So. QB; Calvin Jackson Sr. TE, DE; Jessie Parson III Sr. RB, DB; Kayshaun Thomas Sr. TE, LB
McQuaid – Joe Cairns Jr. QB 1,120 passing yards; Andrew Passero Sr. RB, DB 914 rushing yards, 13 touchdowns
History 101: McQuaid is seeking its first state title in program history. New Rochelle has won five straight sectional titles and advanced to the state final for the second straight year. The Huguenots fell to Aquinas last season and are looking for their third state title in program history and first since 2012.
How the game will be decided: This game will be dictated by the defensive tempo. Whichever team's defense limits scoring opportunities and provides more stops in the red zone will have a great chance to come out on top. Both squads' offense has not slowed down in the postseason (McQuaid is averaging 36.2 points and New Rochelle scores 33.4). The Knights were able to find the end zone at will last weekend, scoring in every quarter, including 14 points in both the second and third. The Huguenots have scored 45 points combined in their last two games.