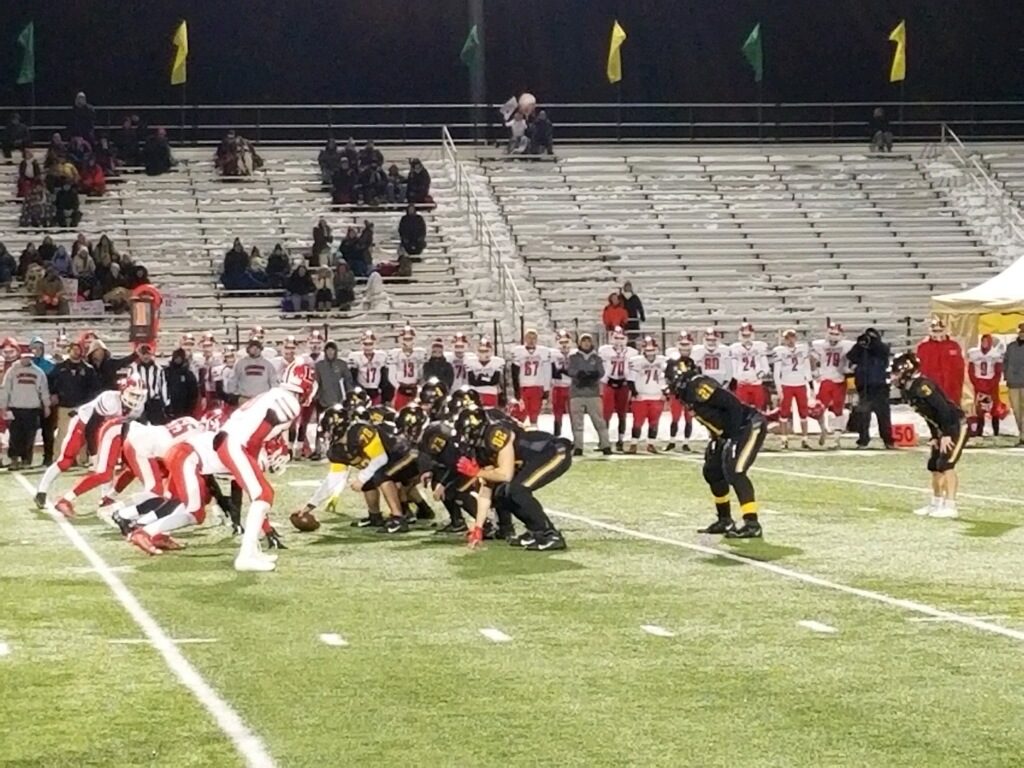 By JOHN LIKANJE
BROCKPORT, N.Y. – Defeating archrival Aquinas for the first time in 13 years and 15 matchups. Winning the second sectional title in program history and first since 1978. And now, a regional title. These are just some of the moments from McQuaid's undefeated season which will last one more week.
Coming into this season, the Knights had question marks in their lineup after losing key seniors such as Ben Beauchamp, Hunter Walsh and Mark Passero. However, Bobby Bates and his squad assumed a next-man-up mentality and showed grit against every obstacle they've encountered throughout the campaign.
"Just a never-give-up attitude," Bates said after Saturday's game. "Kids that just battle. They're resilient. Just keep playing our game and keep fighting back."
As a result, Andrew Passero has embraced the spotlight left by his cousin. Joe Cairns has adjusted to his first year of varsity football seamlessly. And the rest of the Knights have contributed in various roles to keep this well-oiled machine marching to Syracuse for the New York State Class AA semifinals.
"We set the goal to get to the state championship game at the beginning of the season and we've had a lot of roadblocks in the way," Passero said after Saturday's game. "We've had to take them one week at a time and beat very good opponents."
After Saturday's game, the Knights are averaging 34.5 points per game. Bates's squad has scored at least 20 points in every contest this season, including 57 in a sectional quarterfinal victory over Monroe. The Knights have won 26 of their last 30 games over the last three years as well.
"I've got a tremendous staff around us that knows how to work," Bates said when referring to him and the coaching staff being part of McQuaid's recent success. "Goes to work every day. But we got a group of kids that are just really fun to be around.
"They love the game. They love being around each other. I will say that I think this is one of the most connected teams that I've ever had. When you have connectivity on a team, that's everything. It's a special group for sure."
McQuaid will face host Cicero-North Syracuse (III), which defeated Corning-Painted Post (IV), 24-22, in regionals. Kickoff is scheduled for next Saturday at 6 p.m. at Cicero-North Syracuse High School.