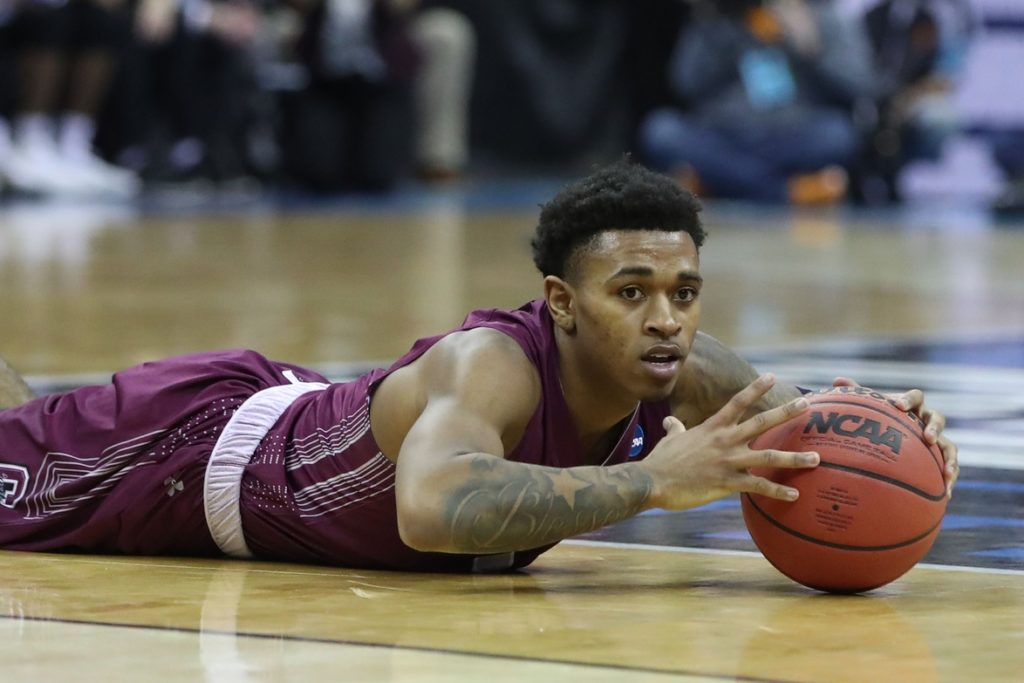 By BILLY HEYEN
When Colgate played Syracuse in the Carrier Dome last season, the second half's first bucket came courtesy of Jordan Burns, who pulled up and nailed a 3-pointer from the top of the key. It tied the game. He hit another 3 shortly after that brought the Raiders within one again. 
If not for Tyus Battle, the Orange may have suffered a crippling early-season defeat at the hands of Burns. Instead, Battle saved the day and extended SU's winning streak against Colgate to 53-straight games.
Syracuse (0-1) doesn't have Battle anymore heading into Wednesday night's meeting with Colgate (1-1), but the Raiders still have Burns. He teams with center Rapolas Ivanauskas to form one of the best mid-major guard-big combinations in the country. Colgate hasn't beaten Syracuse since 1962, but that duo — combined with a matchup against an inexperienced SU roster — gives the Raiders their best shot at defeating the Orange in decades. 
If Burns' name doesn't sound familiar from last November, it might from March: He put up 32 points against the 2-seed Tennessee Volunteers in the first round of the NCAA Tournament, what finished as a seven-point loss for Colgate. 
"(Burns) was a star today, he really was," Vols head coach Rick Barnes said in March. "He's got a quick release. We were switching on some ball screens and he took advantage of driving guys down the lane. I'd like to have him on our team tomorrow."
Former @Marshall_Hoops standout Jordan Burns (@JkBurns23) goes off for 32 points! Colgate takes Tennessee the distance, but falls 77-70 in the 1st round. pic.twitter.com/PSMalG2kWn

— John Elizondo (@johndelizondo) March 22, 2019
Burns hasn't lit up Syracuse in either of his first two meetings with the Orange, scoring a combined 13 points on 3-of-8 shooting from the floor. A year ago, he most often led the Raiders' offense from the top of SU's 2-3 zone but was hesitant to shoot that deep 3. The player type that exploited Syracuse most often in 2018-19 was guards like Burns, though, who can make plays off the bounce and via the long-range shot. In retrospect, it feels ironic that Burns didn't take advantage, too.
Think about Cornell's Matt Morgan putting up 26 in the Dome last season. Burns isn't that different a player from him. Georgia Tech's Jose Alvarado controlled the whole game in a GT upset in January from the same positions Burns will surely find himself Wednesday. Some of the Syracuse faces are different, but the zone's vulnerabilities won't change that much. 
If anything, Burns is due to dominate a game against Syracuse, even if it's less in scoring and more in the way Kihei Clark did with his near triple-double on opening night for Virginia. Clark wasn't the Orange's biggest problem on opening night — scoring was — but he showed the influence a good guard can have against the zone.
"Our defense was respectable," Jim Boeheim said after SU's opener via Syracuse Orange Youtube, "Actually, a little better than that."
Burns can be a distributor if Ivanauskas is up to the task. A year ago, the 6-foot-10 center struggled in the Dome, scoring five points on 2-of-9 shooting and picking up four fouls. That was a blip on the radar of a season Ivanauskas averaged 15.9 points and 7.8 rebounds per game after transferring from Northwestern. 
In last year's SU win, Bourama Sidibe stifled Ivanauskas at the foul line by making the catch difficult. Eventually, Ivanauskas mostly settled for distributing from the elbow area. That'll be the same matchup that might determine Wednesday's outcome.
"Offensively, I don't have much," Sidibe said after beating Colgate last year. "But defensively I try to make a play for other people."
Ivanauskas has taken nearly a third of Colgate's field goal attempts this season when he's on the floor, and Burns has taken more than a quarter, per KenPom.com. The Raiders' offense is bolstered by the shooting of Will Rayman and Tucker Richardson, along with the distribution of Bowling Green-transfer Nelly Cummings. 
Wednesday's game probably won't be won or lost by Rayman, Richardson and Cummings, though. It'll be decided by Ivanauskas and Burns, the duo taking about half of Colgate's shots. 
The factoid that circulated after Syracuse scored 34 points on opening night against Virginia centered around it being the lowest SU point total since 1945. February 1962, the last time Colgate beat the Orange, was just before Boeheim's time at Syracuse, too. If SU wants to avoid two pre-Boeheim negatives in two games to open the season, its best bet is slowing down Burns and Ivanauskas.