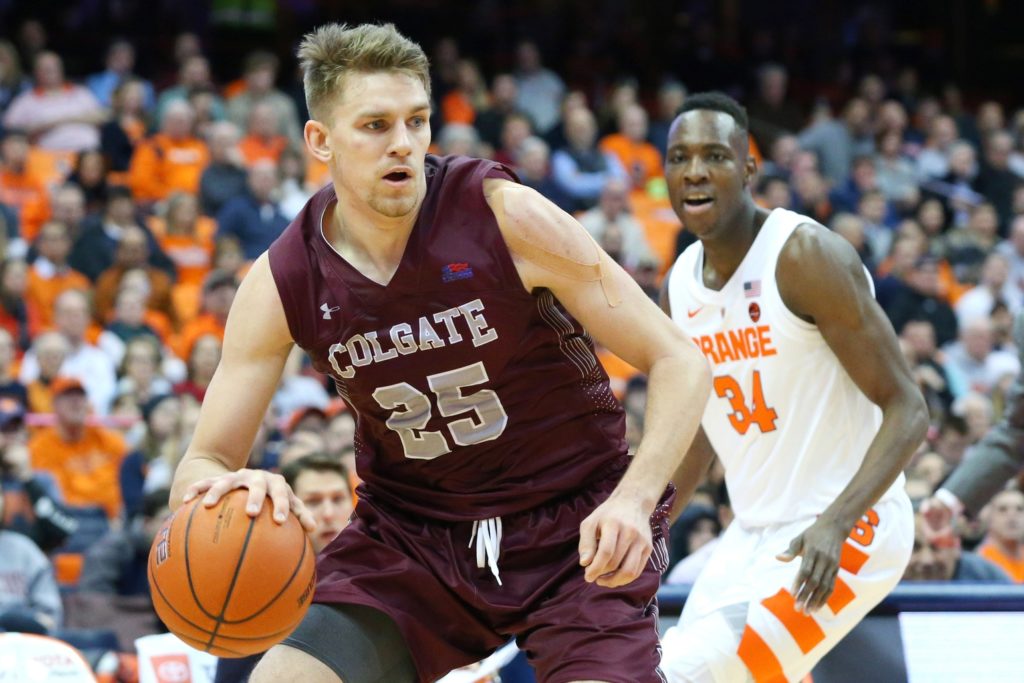 By BILLY HEYEN
Syracuse (0-1) hosts Colgate (1-1) on Wednesday night in the Carrier Dome. The Orange are coming off a season-opening, 48-34 loss to Virginia last Wednesday, while Colgate opened the season with a win over NJIT before losing by 13 points to Clemson on Sunday. Colgate is the most-played opponent in Syracuse program history — Wednesday will mark the 172nd all-time meeting.
Here's a preview of the battle between New York state foes.
How to watch Syracuse vs. Colgate
Syracuse and Colgate tip off at 7 p.m. on Wednesday, Nov. 13, and the game can be streamed on ACC Network Extra.
All-time record
Syracuse leads the all-time series with Colgate, 126-45. The last time the Red Raiders beat SU was on Feb. 24, 1962.
Last time they played
On Nov. 21, 2018, the Red Raiders kept the game close in the first half and went into the break trailing by three. The Orange broke it open in the second half and eventually won, 77-56. Bourama Sidibe was forced into heavy action after Paschal Chukwu left with an injury and finished with 11 points and 10 rebounds. Elijah Hughes scored 17 points on 7-of-11 shooting for Syracuse, including 3-of-5 from 3-point range. 
Colgate returns four of its five starters from that matchup, including Jordan Burns and Will Rayman, who both scored 13 points for the Red Raiders. Colgate's star center, Rapolas Ivanauskas, was held to five points in last year's meeting.
How Syracuse beats Colgate
Coming off a game that Syracuse scored 34 points, it feels silly to worry about anything but offense, but the Orange's first priority must be stopping Burns. He almost led the Red Raiders to an upset of 2-seed Tennessee in the NCAA Tournament a year ago and is one of the best mid-major players in the country. Burns has struggled shooting it in the early going, making 8-of-24 shots through two games, but don't be fooled: He's Colgate's offensive heartbeat.
The Orange will also have to defend against Rayman beyond the arc, as he's burned SU from distance each of the past two seasons. And as Syracuse works out its center rotation, it'll be tasked with a repeat effort against Ivanauskas, a center who can shoot from anywhere on the floor. Ivanauskas struggled in the foul line area a year ago for the Red Raiders, but he's the most likely option to plant himself there again this season.
Expect Syracuse to find more offensive success against a non-Virginia defense, but the biggest key at that end will be to avoid settling. SU's better offensive possessions against UVA still showed promise via movement, but sometimes lacked the finishing touches. If the Orange can get Hughes help in the scoring department, they should beat Colgate, but it'll be a closer game than the history of the matchup suggests. 
Syracuse X-Factor
Bourama Sidibe: After double-doubling a year ago against Colgate, Sidibe will be pressed into bigger duty right from the opening tip as SU's starting center this year. Ivanauskas presents even more offensive versatility than Mamadi Diakite did for Virginia, and Sidibe didn't defend Diakite well. Moreso than Sidibe's scoring, his defense could decide this game.
Colgate X-factor
Jordan Burns: Burns is exactly the type of guard that burned Syracuse a year ago, which is ironic because he himself didn't follow suit. Ivanauskas could go for 20 points and 10 rebounds, Rayman and Tucker Richardson could each hit three triples, but unless Burns has a big night, Colgate won't pull off an upset. 
Predictions: Syracuse vs. Colgate
Charlie DiSturco: Syracuse 71, Colgate 64
A lot of overreaction has stemmed from Syracuse's blunder of a season opener. The offense needs a lot of work and couldn't match the intensity of Virginia's defense — arguably the best in the country. Colgate will be an interesting matchup based purely on the Red Raiders' 3-point shooting ability. But SU won't lose two in a row, especially at home. Expect a big game from Hughes as this inexperienced team looks to gain its footing early in the year.
Billy Heyen: Syracuse 68, Colgate 65
Syracuse fans might show up at the Carrier Dome expecting a blowout, but that's probably not what they'll get. SU could get off to a slow start as a lot of new pieces still try to gel, and Burns and Ivanauskas should help the Red Raiders hang around. In the end, the Orange will need Hughes to be big down the stretch, just as Tyus Battle was a year ago, to get Syracuse its first win of the season.