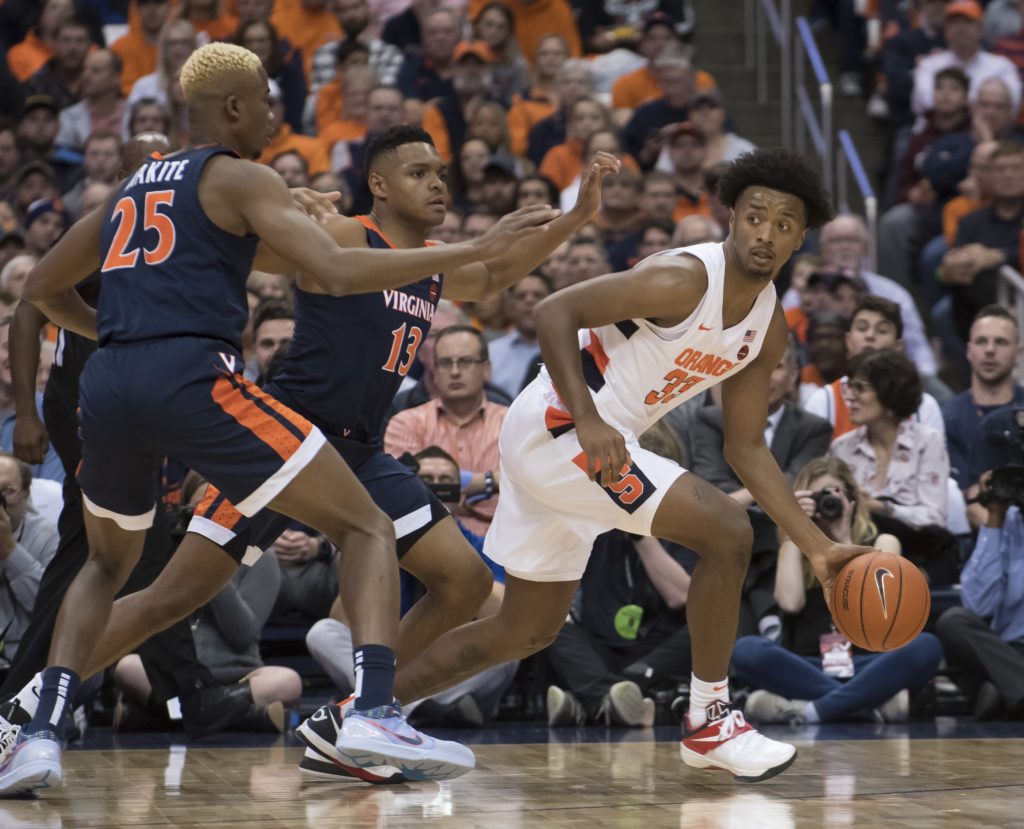 By BILLY HEYEN
The numbers behind Syracuse's offensive performance Wednesday have been listed all over the place, but they're still pretty glaring: 34 points on 23.6 percent shooting from the field, the lowest point total for the Orange since Jim Boeheim was three months old in February 1945. No. 11 Virginia beat SU, 48-34, in the Carrier Dome.
For a Syracuse team with five freshmen and trying to replace four starters from a year ago, opening against the defending national champion's pack-line defense wasn't an ideal match. In a lot of ways, the game could be considered an aberration before the Orange take on their usual nonconference slate. But with such a low point total, it's worth revisiting some plays to find out whether the culprit was bad SU offense or good UVA defense.
This is a look at seven Syracuse offensive plays throughout the game (plus a bonus), where I'll break down the film and then reach some sort of conclusion on who's to blame for a particular outcome.
(Embeds via WatchESPN)
Settling for a jumper
Let's start with Syracuse's first offensive possession of the game. Bourama Sidibe comes to set an initial screen for Jalen Carey, but a hard hedge from Virginia's Mamadi Diakite causes Carey to get rid of the basketball to Marek Dolezaj.
Dolezaj was often SU's most underrated playmaker a season ago, so there was potential for dynamic action when he caught and had Elijah Hughes flashing toward him on the right wing. Dolezaj runs to set a screen but slips to the basket, and Hughes has no passing lane because the two UVA defenders on the right side of the floor are bolstered by Diakite in help position under the basket to thwart any lob attempt from Hughes.
At that point, Hughes takes a shot that isn't necessarily a bad shot for himself but isn't putting any further pressure on the defense. The Cavaliers defense is designed in part to allow shots like this one, and Hughes settled.
Verdict: Virginia's defense stifled the limited attempt at action by Dolezaj and Hughes, but in the end, SU's offense settled for a jumper, an offensive tendency that won't work in the long run.
Kihei Clark's great transition defense
Kihei Clark makes the most underrated play of the game here. Carey gets a rebound with a half transition opportunity, but Clark is having none of it and picks Carey up near halfcourt. As Syracuse doesn't have a numbers advantage, that stops an immediate chance at the rim.
But Carey, who hadn't taken many forays into the lane, decides to take on Clark. He doesn't do a bad job of it, either. Most defenders SU faces this year probably will get beat by one of the dribble moves Carey uses against Clark.
Not only does Clark keep Carey in front, though, he knows he has a great shot blocker in Diakite protecting the basket. That means as Carey makes his final move to the right, Clark doesn't need to keep him out of the lane entirely. He just wanted to force him to take a shot not heading toward the rim, because Clark knew Diakite would be sliding over. The volleyball-like spike made the highlight reels, but Diakite doesn't get that block without Clark.
Verdict: This is great Virginia defense. Syracuse needs Carey to be aggressive at times, and against worse guard defense or a worse rim protector, Carey at least gets a short floater up toward the rim here. UVA's team defense made this play.
Shot clock violation
Spoiler alert: This play ends in a shot clock violation for Syracuse. Let's go through how it got there.
Hughes passes up a 3 right away that wouldn't have been a terrible look in transition, as it's a shot he generally likes and can knock down. Especially against UVA's defense, patience may not pay off. SU eventually pulls the ball out to Carey and runs a decent set.
It's designed for Sidibe to pick out either Buddy Boeheim or Carey wrapping around screens, but Diakite defends Sidibe tightly and prevents an easy pass. At that point, Carey is forced to go into low shot clock mode, where Clark and Diakite stop his drive and force a kick out. At that point, the Cavaliers had won the possession regardless of whether Hughes' heave went in.
Verdict: Syracuse's play was set back by Sidibe's inability to create space from Diakite and make a pass to either Buddy or Carey off their screen action, although neither was wide open. This was a bit of both good defense and poor offense.
Good set, missing the final pass
This had the potential to be one of Syracuse's better offensive plays. Virginia sends a double to Hughes in the post on his catch, but he does a good job of pulling it out to escape that trap. With Diakite continuing to pursue the double team, Hughes protects the ball and bounces a pass to Sidibe near the block. At that point, two defenders are on Hughes and Clark is forced to defend Dolezaj and Carey.
Dolezaj flashes to the free throw line, and Clark initially goes with him. As Sidibe turns, Carey begins to cut near the basket. Clark began to recover but a good pass would've given Carey a chance.
Verdict: This was good work by Syracuse after the double team on Hughes, which won't be uncommon this season. Clark defended it better than most, but it could've still been a layup if Sidibe's pass had been better. Good offensive work until the final pass from SU.
Poor spacing
Virginia begins the possession by defending some screens effectively. Their big guys hedge and prevent the Syracuse guards from driving, and the Orange don't look to find a roller to the basket.
By the time Joe Girard III looks to penetrate late in the possession, SU's spacing is all wrong and their other players aren't moving. Quincy Guerrier and Hughes are within feet of each other on the left wing, which means that Girard's kick out pass to that spot just creates more offensive confusion. Eventually Hughes is forced to make something out of nothing.
Verdict: Once the possession broke down, Syracuse needed more off-ball movement or at least better spacing to have a chance at a decent shot.
A play that only Virginia stops
This was a solid, simple set by Syracuse. It's possible because of Dolezaj's willingness to flash up high and make things happen. As Girard takes a dribble or two to the center of the court, Diakite is distracted as the help defender so Dolezaj's flash to the left wing is open. 
Girard continues through to the corner, which creates spacing in the middle of the floor as Dolezaj flips it to Hughes and sets a screen. Diakite stays to help on Hughes, as Virginia had done all game, so the pass out to Dolezaj at the top was free. Diakite just makes an impressive recovery, and Dolezaj lowers his shoulder to be called for a charge.
Verdict: Against most teams, this results in a layup for Dolezaj or a dump-off pass to Sidibe for a finish. Only a defender as good as Diakite recovers on Dolezaj in time to defend the basket here. It's a set that should work all season for the Orange, because it forces the defense to decide between options that all have a downside.
UVA team defense
Syracuse doesn't do anything terribly wrong here. It's an outstanding team defense possession by the Cavaliers. The Orange start with their double wing screen action, but Diakite again makes it tough on Sidibe to get the pass off.
Eventually, Syracuse gets Diakite to switch onto Hughes, who starts to swing the ball to the other side of the perimeter. Brycen Goodine gets an edge, uses a pump-fake well and then still is recovered to and blocked.
Verdict: This was just some of the best defending you'll see all season.
A bonus
There have been a lot of Syracuse possessions ending in no basket here, so this is just a bonus.
The tap pass by Buddy to Hughes in the corner here was just lovely, and Hughes ensured his teammate would get an assist. It all started because Dolezaj pushed the pace off a rebound, a great luxury for Syracuse to have a 6-foot-10 player who can do that.
Conclusion: There's work for Syracuse's offense to do, but like SU head coach Jim Boeheim said: "We won't play anybody better defensively this year, except when we have to play them again."