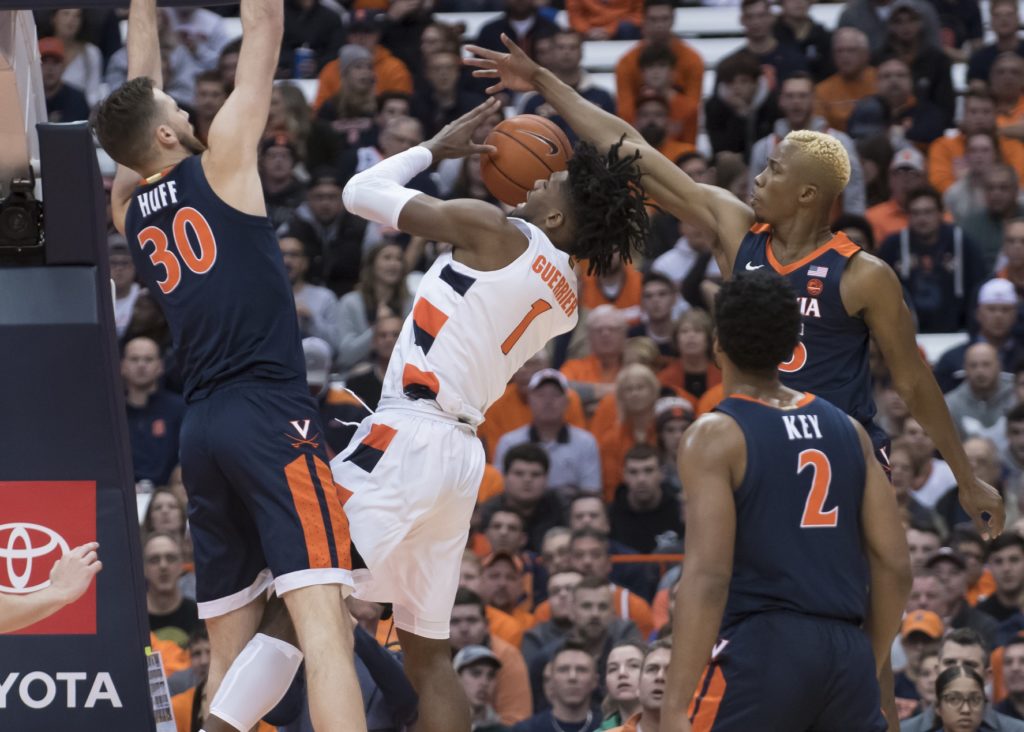 By BILLY HEYEN
Jim Boeheim shook Tony Bennett's hand before the final buzzer had even sounded. Elijah Hughes untucked his jersey. Marek Dolezaj hung his head. Syracuse wouldn't want to stay on the Carrier Dome court any longer after how its meeting with Virginia had gone to open the season.
Syracuse (0-1, 0-1 Atlantic Coast) shot 23.6 percent in a 48-34 loss to No. 11 Virginia (1-0, 1-0) in SU's season opener in the Carrier Dome on Wednesday night. The 34 points is the fewest total the Orange have scored under Boeheim, and the lowest in fact since 1945. No matter the lineups Boeheim turned to, SU had no answer for UVA's usual defensive dominance.
"We just are not ready to play against that defense," Boeheim said postgame via the Syracuse Orange Youtube channel. "I thought we were gonna be a little better, but we really just didn't do the things offensively."
Never before has Syracuse opened the season against the defending national champions. Only once before have they played a team ranked higher than UVA's No. 11 in the season opener. The ACC's new scheduling approach came at a time when SU probably could've used an opponent like last season's Eastern Washington. Syracuse's starting lineup featured four players who weren't regular starters in 2018-19. The roster features five freshmen. 
So really, Wednesday's game could only mean so much. It was a chance to make a statement, sure, but college basketball statements are only worth so much in November. 
Virginia was in a similar boat, too, forced to replace four starters from the team that cut down the nets last spring. But if there was one thing sure to show up on Wednesday night, it was Tony Bennett's patented packline defense. And for an Orange team that was never going to be a finished product this early in the season, that was too much to handle.
"You don't want to play them the first game," Boeheim said. "Offenses take a little bit more time."
Syracuse scored two points in the game's first 11 minutes. Thankfully for the Orange, Virginia wasn't a ton better, only holding a 10-2 lead at that point. SU put Joe Girard III in at that point, the Orange debut for the freshman from Glens Falls, N.Y., and he made an immediate impact.
It was mostly quiet things, like controlling the offense by initiating effectively against Kihei Clark's ball pressure. But that created looks for Buddy Boeheim and Elijah Hughes and eventually Girard himself, who knocked down his first bucket on a 3 that bounced up and then back in off the back rim. By the half, SU had made a game of it and trailed, 25-19.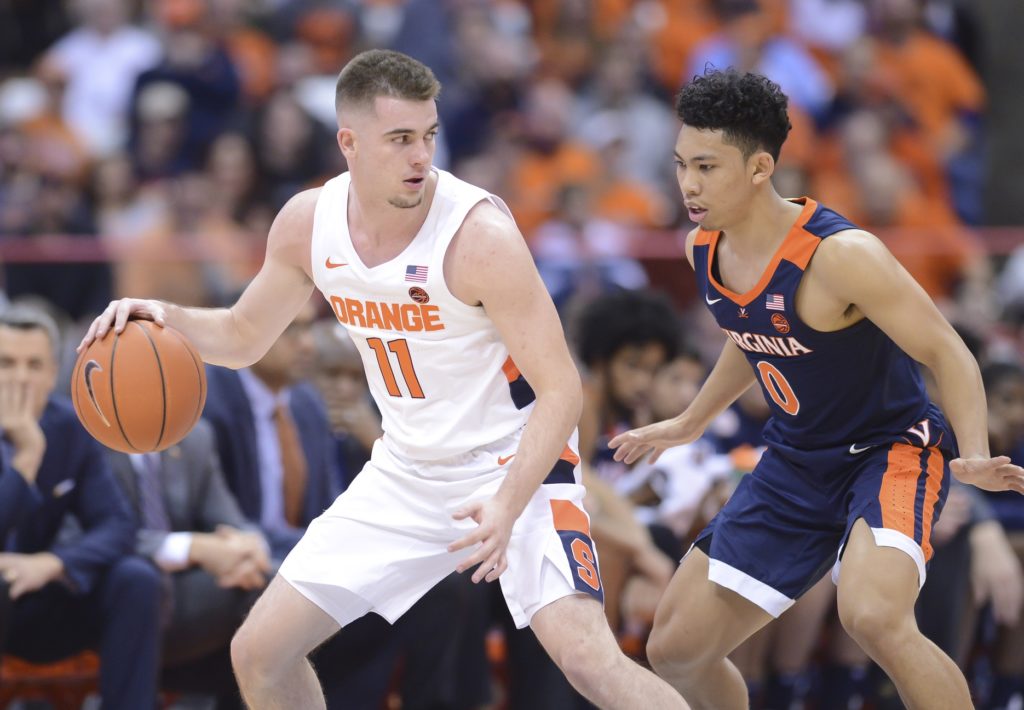 If offense was what Syracuse needed to start the second half, though, it wasn't very forthcoming. Marek Dolezaj airballed on the Orange's first shot of the half. Jalen Carey was swatted by Mamadi Diakite on a drive, causing him to be pulled for Girard, who lost the ball attempting to penetrate moments later. It didn't get better after an SU timeout, as Buddy Boeheim airballed a right-wing 3 before the under-16 media break.
"It's gonna be tough against them, but it can't be that tough," Boeheim said.
The Virginia defense was too good at every level. Whenever Syracuse had a half fastbreak, Clark picked up the guard early and slowed it down. If the Orange gained any edge off the dribble, wing defenders slid over to help. And if ball movement found the final edge, one of the country's best rim defenders in Diakite awaited. 
"You can't get by (Clark)," Boeheim said. "And (Braxton) Key's a tremendous defender. I think they're maybe better defensively (than last year)."
Whenever it seemed like Syracuse's offense found some life, it was followed by empty possessions. A couple of Hughes 3-pointers midway through the second half could've ignited a run, but both were soon answered by a Cavaliers' bucket and then defensive stop. 
Starting point guard Jalen Carey struggled and played less than half the game. Expected power forward Quincy Guerrier didn't get the start and played even less than Carey. Syracuse's rotation is unfinished. Its offense is unpolished. Its roster is inexperienced.
There will be presumably be easier days ahead, when the usual nonconference joys against easy opponents take center stage in the Carrier Dome. At least when it comes to the Syracuse total on the scoreboard, it probably can't get worse.
"We won't play anybody better defensively this year," Boeheim said, "except when we have to play them again."