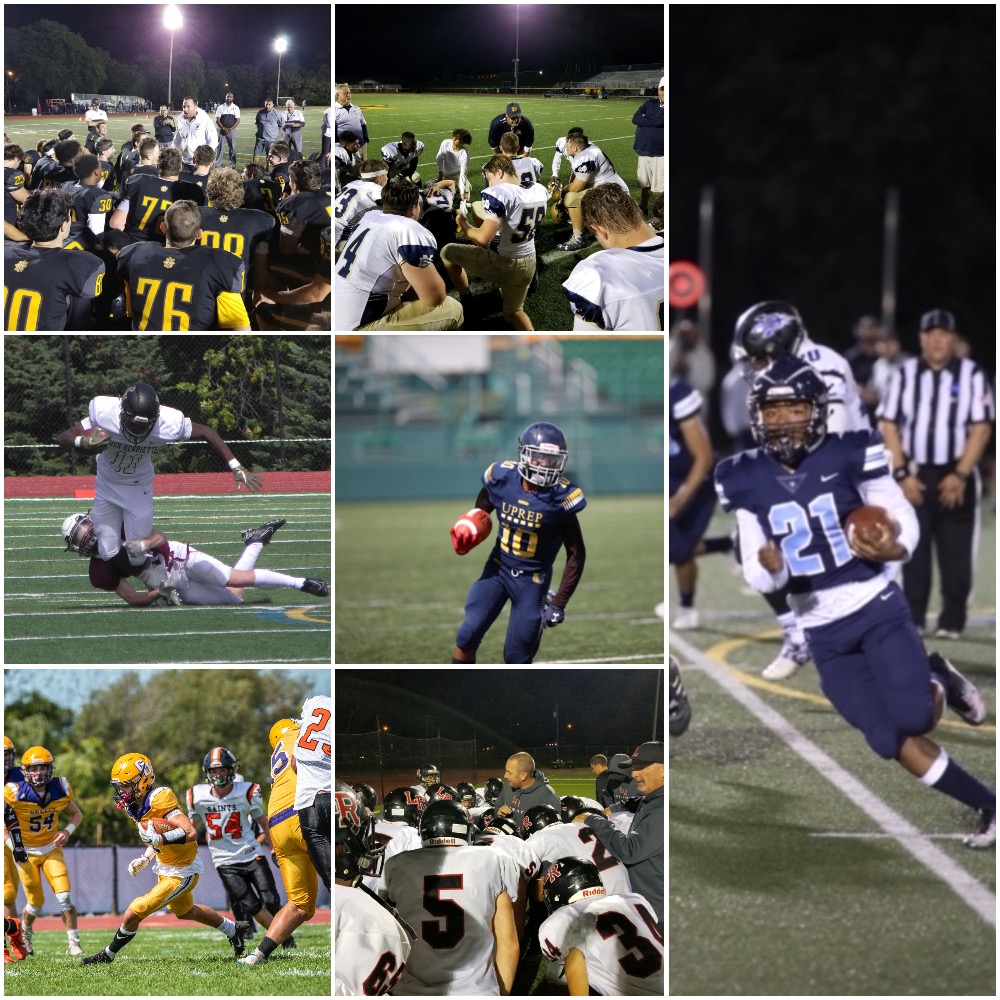 PITTSFORD 0
MCQUAID 28
For the second straight week, the McQuaid Knights' offense took time to get going, totaling 36 yards through two drives in the opening period. However, Bobby Bates's squad found their groove in the second quarter, exploding for 21 points. READ MORE.
CHURCHVILLE-CHILI 9
GREECE OLYMPIA/ODYSSEY 20
Xavier Hurell completed 16 of 19 passes for Greece Olympia/Odyssey and threw for 283 yards. He also threw two touchdowns. Scott Parr had nine receptions for 111 yards. Luke Strong and Kadeem Walker each had a touchdown reception for Olympia/Odyssey, and Corey Bright ran the ball 17 times for 73 yards and a touchdown. On defense for Olympia/Odyssey, Cory Bright, Mike Matteson and Makyle Murdock each had seven tackles.
RED JACKET 18
FALCONER 13
Red Jacket made a defensive stand in its own territory at the end of the game to secure the victory. Jake Anderson had 15 tackles for the Indians and Kyle Denmore had 11 tackles. Hunter Fitzpatrick had a sack, Blaze Hickson recovered a fumble and Ethan Lenny had a sack and fumble recovery. Red Jacket scored its first touchdown when Matt Record connected with Jarrett LeGault for a 40-yard passing touchdown. Record later threw a three-yard touchdown pass to Chase Rizzo. Logan Keifer ran the ball 19 times for the Indians, totaling 115 yards and a rushing touchdown.
RUSH-HENRIETTA 20
AQUINAS 38
Aquinas jumped out to a 24-0 lead at halftime and never looked back. William Benjamin Jr. had two rushing touchdowns and a receiving touchdown for Aquinas. Tyler Szalkowski scored an early rushing touchdown on a QB keeper and found Steven Mahar for a passing touchdown later on. Mahar also recovered a fumble on defense.
GREECE ARCADIA 41
GREECE ATHENA 2
FAIRPORT 38
MONROE 14
Klay Stuver collected three total touchdowns to lead Fairport. Stuver was 5/15 passing for 87 yards and a touchdown, and ran the ball 23 times for 64 yards and two touchdowns. Kaevon Rice also scored two rushing touchdowns for Fairport. He had 17 rushing yards on the day. Andrew Smith added two receptions for 40 yards and a touchdown. For James Monroe, Quinton Everett threw for 99 yards, two touchdowns and two interceptions. Kennyh Hardeman caught both touchdowns, and had four total receptions for 74 yards.
HONEOYE FALLS-LIMA 34
UNIVERSITY PREP 44
Michael Cathey rushed for 114 yards and three touchdowns on 21 carries to lead UPrep for the second straight week. Clyde Davis, Jr. threw for 132 yards on 11 of 20 completions and one touchdown. Christon Jean had four rushes for 85 yards including a 51-yard scamper for a touchdown. Mark Rogers caught four passes for 107 yards including a 65-yard touchdown strike from Jamari Johnson. Anthony McCoy led the defense with 18 tackles including 11 of the solo nature. Ray Rivera had 10 tackles. Luis Ortiz finished with two sacks and Andre Facen, Jr. had one. Anthony McCoy returned an interception 65 yards for a pick six. Mohamed Hussein went 53 with an interception.
WILSON 24
BISHOP KEARNEY/ROCHESTER PREP 8
Jahkier Moore scored both of Wilson's first two touchdowns, the first coming on a 65-yard rush and the second on a 21-yard rush. Moore totaled 89 rushing yards on eight carries. Dante McGowan had 12 tackles, an interception and a forced fumble for Wilson, and Myles Lofton added 10 tackles and an interception return for a touchdown. BK/RP's touchdown came on a 12-yard pass from Azavier Ross to Javier Flowers.
FRIDAY
LEROY 32
EAST ROCHESTER/GANANDA 7
After exploding for 46 points last weekend, the LeRoy Knights varsity football team struggled to get going against the physical East Rochester/Gananda defensive line. Besides a safety at the start of the second quarter, Brian Herdlein's squad racked up 123 yards of offense through the first 21 minutes of game action. READ MORE.
BROCKPORT 21
EASTRIDGE 42
The Brockport Blue Devils dressed 22 healthy players for their Week 2 Section V football matchup at Eastridge on Friday night. READ MORE.

BRIGHTON 29
GATES CHILI 0
The game plan wasn't really all that complex for the Brighton Barons. READ MORE.
IRONDEQUOIT 14
EAST 33
East's Freddie Brock led the Eagles with nine carries for 107 yards and a touchdown. Mike Maxwell added 13 carries for 74 yards with 2 catches for 29 yards. Yasiir Daniel had 6 carries for 26 yards and a touchdown with three receptions for 57 yards. Anthony Gilbert went 7-for-12 passing for 95 yards.
NEWARK 47
MIDLAKES 6
Travontay Murray led the Newark Reds on offense with 13 carries for 171 yards and five touchdowns. Tajhmere Greene scored on both of his carries on the night for 14 yards. Zachary Ludolph added 10 carries for 50 yards.
MARCUS WHITMAN/BLOOMFIELD 12
PENN YAN 35
Penn Yan scored 28 unanswered points between the second and third quarter to run away with the victory. Mekhi Mahan scored five times in three quarters to lead Penn Yan. He finished with 19 carries for 164 yards and three receptions for 29 yards. Kyle Berna went 8-for-15 passing for 89 yards and carried the ball 13 times for 87 yards. Kyler Lloyd added six carries for 37 yards. For Marcus Whitman/Bloomfield, Seth Benedict went 6-for-13 passing for 78 yards with two carries for seven yards and a touchdown. Justin Smith had 136 yards on 26 carries with a touchdown. Kyle Valastro led the receiving with three receptions for 61 yards and Ethan DeCarlo had two catches for 17 yards.
HILTON 13
WEBSTER SCHROEDER 28
Webster Schroeder's Travis Dear led the offense going 14-for-21 passing for 188 yards with two passing touchdowns. He also added seven carries for seven yards with a rushing touchdown. Victor Snow hauled in six catches for 53 yards and Jack von Ahnen had five catches for 84 yards and a touchdown. Ethan Fame added three catches for 53 yards and a touchdown catch. Darius Johnson led the rushing attack with 15 carries for 62 yards and a score. Kaden Leonard had nine carries for 36 yards and Xavier Morales added three carries for 10 yards. 
CAL-MUM/BYRON BERGEN 47
WELLSVILLE 14
Bryce Yockel had a night to remember with 20 carries for 250 yards and six rushing touchdowns through three quarters. Kyle Wade added two carries for 24 yards rushing and had 87 yards receiving with a touchdown. Wellsville's Blake Beckwith finished with 20 carries for 124 yards rushing and a touchdown. Ethen Stoll caught a touchdown pass from Liam McKinley.

ALEXANDER 7
BOLIVAR-RICHBURG 6
Alexander fumbled the opening kickoff and Bolivar-Richburg scored the first points of the game off the turnover. The Trojans ran 66 offensive plays and recorded 328 yards of offense with two turnovers. Ty Woods scored the lone Trojan touchdown on a run from one yard out. Kicker Eric Cline nailed the PAT which turned out to be the winning point. Kam Lyons had three receptions for 61 yards and Woods had three receptions for 33 yards with 30 carries for 141 yards and a touchdown. Devin Dean had two catches for 17 yards and Hayden Walton had a catch for 25 yards. Nick Kramer led the team in tackles with eight and Dylan Busch and Hayden Walton each recorded six tackles.
YORK/PAVILION 14
CANISTEO-GREENWOOD 16
James Kennedy led the rushing attack for York/Pavilion with 19 carries for 90 yards and a touchdown and a two-point conversion. He also went 8-for-16 for 122 yards and a touchdown. Ethan Doran added 14 carries for 82 yards. Riley Stella pulled in three receptions for 69 yards and Josh Davis had three receptions for 37 yards and a touchdown. Tim LaGeorge led the defense with nine tackles and a pick. Dylan Gray and Drew Edwards each added eight tackles of their own. Canisteo-Greenwood's Roque Santiago finished 10-for-14 passing for 170 yards and two touchdowns. Jacob Houghtaling had 10 Carries for 38 yards with six receptions for 122 yards and a touchdown. He added eight tackles and had an interception on defense. Blake Updyke pulled in two receptions for 37 yards. Dale Houghtaling recorded four Tackles, an interception and a fumble recovery. He also had a touchdown reception. Andrew Morling had nine tackles, Nate Button had seven tackles with a sack and Ryder Slayton added four tackles and a sack.
ATTICA 48
BATH-HAVERLING 6
Attica went up 27-0 at the half and never looked back. The offense was led by Zach Strzelec who finished with 10 carries for 202 yards and three touchdowns. He also had 15 tackles and a fumble recovery on defense. Jake Gross had five carries for 110 yards and two scores. Lucas Krawczyk had a touchdown with 13 tackles and Zack Friedhaber added a reception for 37 yards for a touchdown from quarterback Jake Dressel. Joe Kubik, Josh Conrad and Lucas Johnson each added 11 tackles of their own. Tyler Meyer returned an interception for 38 yards.
MYNDERSE/SOUTH SENECA 8
LETCHWORTH/WARSAW 48
Letchworth/Warsaw's Brett Vasile ended his impressive night with 9-for-11 passing for 91 yards and a touchdown. He also had four carries for 10 yards and three rushing touchdowns. Austin Williams went 2-for-3 passing for 10 yards with four rushes for 36 yards and two touchdowns. CJ Hallopeter had nine carries for 56 yards and a touchdown. Josh Andrews had seven carries for 50 yards and a touchdown with seven tackles on defense which led the team and Danny Baker-Herter had two carries for three yards and a score. Dalton English hauled in the only receiving touchdown of the game. Eddie Stores led the receiving with three receptions for 42 yards.
PENFIELD 7
AUBURN 41
WEBSTER THOMAS 6
CANANDAIGUA 30
AVON 15
WAYLAND-COHOCTON 12
HORNELL 20
GENEVA 46
VICTOR 12
SPENCERPORT 21
LIVONIA 8
BATAVIA 19
PALMYRA-MACEDON 0
WAYNE 26
GENESEO/MOUNT MORRIS 14
CLYDE SAVANNAH 8
THURSDAY
BATAVIA-NOTRE DAME 64
PERRY 3
Gabe Macdonald has adjusted to the quarterback position and fitted it into his style of play. After throwing only seven passes in last weekend's victory, the 6-foot-3 senior slung five more from the pocket, Thursday night. That was more than enough as the Batavia-Notre Dame Fighting Irish offense exploded. READ MORE.