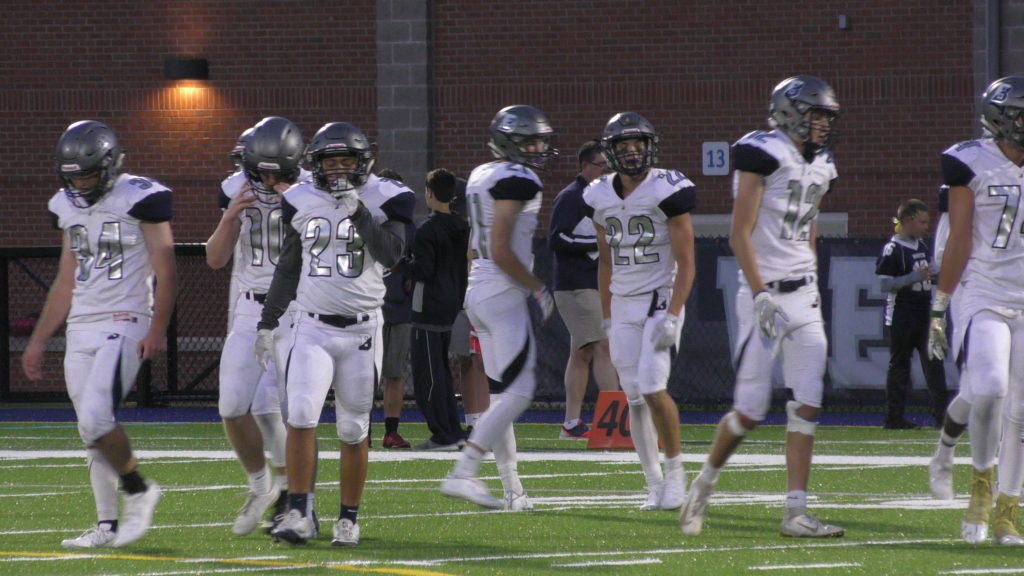 By KEVIN OKLOBZIJA
The game plan wasn't really all that complex for the Brighton Barons.
They planned to call the number 22 early and often. And then a few more times for good measure.
"We were going so put the ball in Sam Tourangeau's hands and we knew he would carry us," said Barons coach Stephen Lian.
Talk about the perfect plan.
Tourangeau, a junior running back and defensive back, carried 23 times for 146 yards and two touchdowns and also caught three passes for another 24 yards as Brighton (1-1) spoiled the inaugural football game at the sparkling new Spartan Stadium with a 29-0 victory over Gates Chili (1-1) on Friday night.
"We got back to playing our kind of football," Tourangeau said. "You do your assignment and trust your brothers to do theirs."
Tourangeau, who a year ago was the only sophomore named 1st team all-Monroe County, actually made his first impression of the night on defense. He intercepted a pass on the game's third play, giving the Barons a first down at the Spartans 31.
They needed just five plays to score, with Tourangeau breaking a tackle 4 yards past the line on his way to a 21-yard TD scamper and a 6-0 lead just 3:24 into the game.
"I have to give a big shout out to our linemen, they were great all night in allowing me to break off," he said.
Tourangeau should have had at least one more touch in the first half, however. The Barons were content to run out the clock as the second quarter was ending, since they were starting a drive at their own 7 yard line and going directly into winds that were gusting over 20 mph.
Except senior wide receiver Jack Carl found himself uncovered along the left sideline, prompting quarterback Teddy Knapp to change the play at the line of scrimmage.
Instead of giving it to Tourangeau for a run up the middle, Knapp threw a 10-yard pass to Carl and the speedster did the rest, using his 4.5 speed in the 40-yard dash to outrun the Spartans defense for a 93-yard touchdown.
"Teddy Knapp made a great read and all I did was catch the ball and run as fast as I could," Carl said.
Lian wasn't taking any credit for that score. The game plan never called for a pass from their own 7.
"It's nice when the kids can play a little backyard football on their own," he said with a smile. "We had run called but they left him uncovered."
Tourangeau then ran straight ahead on the point-after conversion and Brighton took a 14-0 lead into halftime.
The Barons dominated the second half, chewing up half the third quarter on the first drive. While they didn't score, they did have the Spartans pinned deep and took advantage of field position and exceptional defensive play. Linebacker Brady Johnson was in on 9.5 tackles and intercepted a pass.
Coming off a 38-24 loss to Spencerport in Week 1, the Barons' defenders knew they needed to respond.
"Coach (Drew) Fox put together an outstanding game plan," Lian said.
Said Carl, who also plays in the defensive secondary: "Our preparation was huge this week. There's never a surprise because the coaches prepare us for everything they (the opponents) are going to do."
Brighton extended its lead to 20-0 3:25 into the fourth quarter when junior running back Elijah Lamonaco raced around the right end and sprinted 57 yards for a touchdown.
Tourangeau scored the Barons final touchdown, a 19-yard gallop 2:30 later to make 27-0.
"This is definitely what we needed," Tourangeau said.