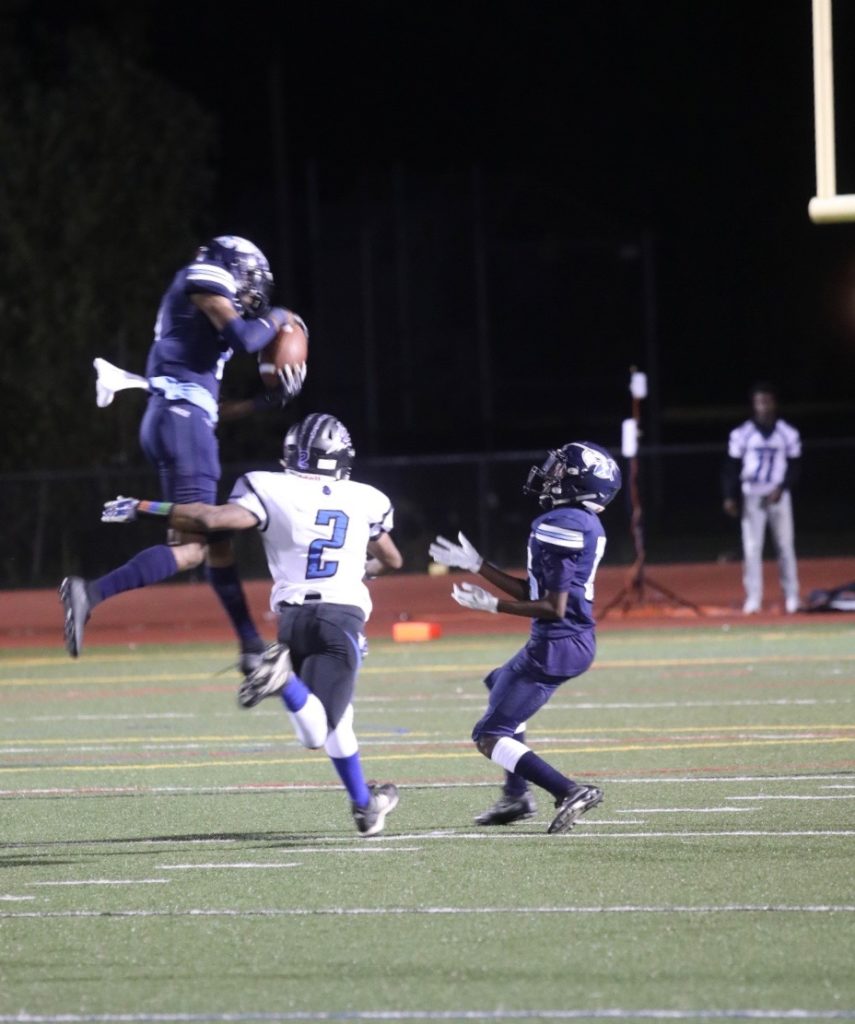 By CHUCKIE MAGGIO
ROCHESTER, N.Y. — The Brockport Blue Devils dressed 22 healthy players for their Week 2 Section V football matchup at Eastridge on Friday night.
In a sport where depth is king, against a Lancers squad that prides itself on swarming the ball and invoking speedy skill players, injuries saddled Brockport from the start. A talented Eastridge team pounced, building a 28-7 first half lead and eventually earning a 42-21 victory.
"We've got a nice team here," head coach Jasson Jobson said with a smile, knowing his squad's 2-0 start can't be credited to just one facet.
The Lancer defense had a four-interception day, and it wasn't just usual suspects like Tony Arnold doing the picking. Arnold did register the defensive highlight of the night, showcasing his vertical leap to haul in a deep ball at his own 20-yard line. Defensive backs Eric King and Matthew Brantley also recorded takeaways at Brockport quarterback Ryan Judd's expense.
But the buzz of the stadium, and the Eastridge postgame locker room, was defensive lineman Najm Dowdell's interception at the start of the third. The 6-foot-4, 311-pound senior is believed to be the first Lancer lineman since 2013 alum and current coach Chyron Brown-Wallace to register an interception, though Brown-Wallace was quick to let Dowdell know that his was a pick-six to beat Greece Athena.
Dowdell may not have made a house call in his last home opener, but he did set up the first points of the second half, an eventual Jalen Rose Hannah rushing touchdown at the two-yard line.
The Lancers' defense allowed just 158 total yards and only surrendered one touchdown in the first 47 minutes. A helmet-to-helmet personal foul led to Dante Burandt getting Brockport on the board in the second quarter, but the Blue Devils could only manage a kick return touchdown (Judd went 75 yards) and a garbage time score with 15 seconds left (Jake True touchdown reception) in the second half.
"Brockport was pushing and getting something going up the middle," Jobson acknowledged, "but we got on our linebackers, we fixed it a little bit. They started reading, and we got on our D-tackles to get lower. I like our defense… and they fly. We've got guys that run to the ball, we have a fast team. We've got guys that aren't afraid to hit. We hit people."
Strong defense supported strong offense as Eastridge ran wild, totaling 252 yards on the ground. Sher'Ron Davis displayed his dual-threat abilities with 92 rushing yards and a touchdown that complemented his 111 passing yards, which also included a TD.
Davis's touchdowns both came in the first quarter, as he scrambled for a 12-yard score 52 seconds into the game, then connected with Brantley for a 36-yard tally three minutes later.
"I thought (Davis) played awesome," Jobson remarked. "That's what we've been waiting for out of him. The offense we run, some of those aren't pass plays but he has the option to pass it. I thought he ran the offense really well today. It's nice to have a kid that can throw it and run it and that's smart enough to make the decisions, to read the defense and see if we have leverage, to be able to throw it out to our skills. Offensively, I thought we played really well."
Davis helped lead a rushing attack that featured two touchdowns from Ruben Torres in less than two minutes. Torres, playing just his second game for Eastridge after transferring from Aquinas, added to his reputation as a bruiser with 10 carries for 60 yards. Hannah and King each found paydirt, while Brantley had 57 yards on seven carries.
"We've got a good front; I've got big boys. I've got two 300-pounders, we have a 265-pounder, a 285-pounder… this is the biggest front we've had in a while," Jobson noted. "And yeah, I'm gonna tell you, it's nice to have four kids that can run it and they're all different. Ruben will hit you in the mouth, he hits the hole really fast, he'll lower his shoulder and break tackles; Matthew Brantley hops around, he's very patient, he had some beautiful runs today; J-Rose (Hannah) is usually a one-cut-and-go guy; and then Sher'Ron will juke you out and he's fast enough to get to the corner."
Eastridge has no shortage of skill and is excited to have its first 2-0 start since 2015. Jobson knew it wasn't a seamless performance, as his team collected offensive penalties he referred to as "drive-killers," but the foundation is in place for a successful season.
"We've gotta not get comfortable," Jobson said enthusiastically. "On to Newark. Newark's up next."