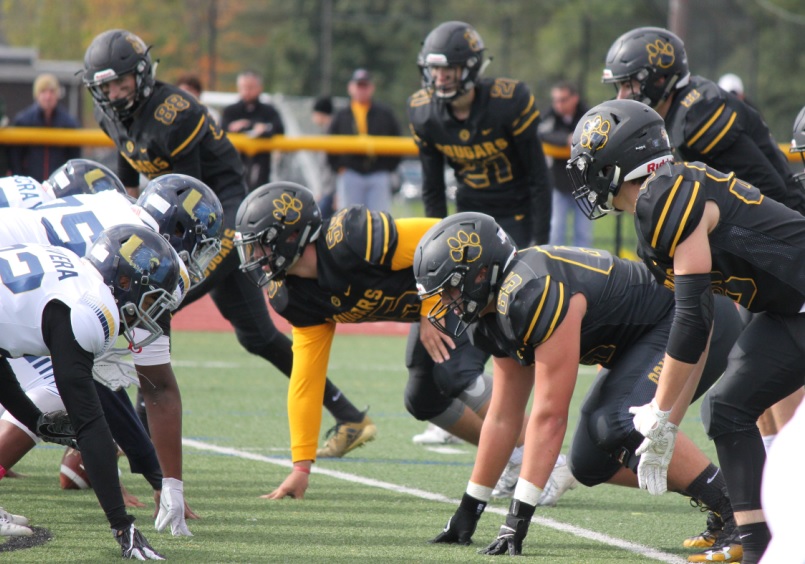 By JOHN LIKANJE
The 2019 Section V football season is in full swing. Victor defeated Canandaigua in the highly-anticipated Teddi Bowl. Due to the Federation schedule changes, three teams (Bishop Kearney/Rochester Prep, Monroe and Webster Schroeder) were moved up from their classifications. Now that the first week jitters are out of the way, here are a few upcoming matchups featuring a sectionals rematch and a pair of local rivals:
GAME OF THE WEEK: HONEOYE FALLS-LIMA VS. UPREP
Both of these teams are coming off convincing, season-opening wins. The Honeoye Falls-Lima Cougars jumped out to an early 24-0 lead en route to a 44-7 rout of Newark, Friday night. Senior Mason Ferrara scrambled for 216 rushing yards and three touchdowns. Junior quarterback Reece Joint completed six of his 11 passes for 159 passing yards.
The UPrep Griffins defeated Palmyra-Macedon, 24-6, on Saturday afternoon behind Michael Cathy's 190 rushing yards and three touchdowns. Sophomore quarterback Clyde Davis, Jr. went 7-of-17 for 143 yards and a touchdown in his first career varsity start. Andre Facen, Jr., Brandon Lucas, Anthony McCoy and Ray Rivera combined for 55 tackles.
These squads will match up for the third time since the last week of the regular season a year ago. Honeoye Falls-Lima defeated UPrep, 14-8, in last year's regular season finale before holding them to 188 yards of offense in a 25-8 sectionals victory the following week. Ferrara combined for 175 yards and a touchdown in both contests. Rivera compiled 23 tackles against the Cougars. "We want to do better," Davis said during a scrimmage back on August 31st. "We don't want to lose first game of sectionals. We want to win sectionals this year. We're bringing a whole new vibe. Just new stuff. We're striving to be better than we were last year."
Game is set for Saturday at 1 p.m. at Marina Auto Stadium.
OTHER MATCHUPS TO LOOK OUT FOR…..
Livonia at Batavia – Last season's top two sectional teams from class B had offensive explosions over the weekend. The Livonia Bulldogs sprinted to a 35-0 first quarter advantage en route to a 55-0 domination of Midlakes. The Batavia Blue Devils' ground game picked up right where it left off in a 42-12 victory over Wayne. This will be the second straight year these squads match up in Week 2 of the regular season. The Blue Devils scored 13 unanswered points to defeat the Bulldogs on the road, 26-14. Game will be Friday at 7 p.m. at Batavia High School.
Greece Arcadia at Greece Athena – Senior running back K'myn Crumity rumbled for 176 yards and three touchdowns in Greece Arcadia's 47-15 statement win over Irondequoit, Friday night. Greece Athena's defense held firm in a 20-14 victory over Geneva. The local rivals will congregate at Athena High School Saturday at 1 p.m. Arcadia defeated Athena, 42-20, in last year's regular season matchup.
Hilton at Webster Schroeder – Moved up from class A to AA this year, the Webster Schroeder Warriors started off their campaign with a 33-12 victory over Monroe. Junior running back Kaden Leonard scrambled for 161 yards and a pair of touchdowns. Ty Harrell led the defense with eight tackles. Now, Michael Stumpf's squad will challenge a Hilton team coming off seven wins last season and a 13-8 triumph over fellow sectional semifinalist, Pittsford. Game is set for Friday at 7 p.m. at Webster Schroeder High School.
Alexander at Bolivar-Richburg – The Alexander Trojans did not skip a beat in a 48-14 thumping of Lyons. Senior quarterback Dylan Busch threw for 127 passing yards and two touchdowns and Devin Dean had 10 tackles to lead the reigning class D sectional champions. The Bolivar-Richburg Wolverines defeated Cuba-Rushford, 16-7, in the Hyphen Bowl behind Alec MacDonnell's 105 rushing yards and Hudson Evingham's 12 tackles. Game will be Friday at 7:30 p.m. at Bolivar-Richburg High School.
FULL SLATE
THURSDAY
7:30 p.m. – Batavia-Notre Dame at Perry
FRIDAY
6 p.m. – Irondequoit at East
6:30 p.m. – Edison Tech at Fulton (III)
7 p.m. – Penfield at Auburn (III)
7 p.m. – Webster Thomas at Canandaigua
7 p.m. – Avon at Wayland-Cohocton
7 p.m. – LeRoy at East Rochester/Gananda
7 p.m. – Brockport at Eastridge
7 p.m. – Brighton at Gates-Chili
7 p.m. – Hornell at Geneva
7 p.m. – Cuba-Rushford at Lyons
7 p.m. – Newark at Midlakes
7 p.m. – Marcus Whitman/Bloomfield at Penn Yan
7 p.m. – Victor at Spencerport
7 p.m. – Livonia at Batavia
7 p.m. – Dansville at Waterloo
7 p.m. – Palmyra-Macedon at Wayne
7 p.m. – Hilton at Webster Schroeder
7 p.m. – Caledonia-Mumford/Byron Bergen at Wellsville
7:30 p.m. – Alexander at Bolivar-Richburg
7:30 p.m. – York/Pavilion at Canisteo-Greenwood
7:30 p.m. – Geneseo/Mount Morris at Clyde-Savannah
7:30 p.m. – Attica at Bath-Haverling
7:30 p.m. – Mynderse/South Seneca at Letchworth/Warsaw
SATURDAY
1 p.m. – Rush-Henrietta at Aquinas
1 p.m. – Greece Arcadia at Greece Athena
1 p.m. – Churchville-Chili at Greece Olympia/Odyssey
1 p.m. – Fairport at Monroe
2 p.m. – Wilson Magnet at Bishop Kearney/Rochester Prep
1 p.m. – Honeoye Falls-Lima at UPrep
7 p.m. – Pittsford at McQuaid
INDIVIDUAL CATEGORY LEADERS
*Individual statistics based upon those reported by schools.
| | | | |
| --- | --- | --- | --- |
| Class AA | | | |
| Passing | | | |
| Player | School | Year | Yards |
| Szalkowski, T. | Aquinas | Jr. | 226 |
| Stuver, K. | Fairport | Sr. | 137 |
| Dear, T. | Schroeder | Sr. | 92 |
| Cairns, J. | McQuaid | Jr. | 83 |
| | | | |
| Receiving | | | |
| Russell, U. | Aquinas | Jr. | 168 |
| Smith, A. | Fairport | Jr. | 70 |
| Snow, V. | Schroeder | Jr. | 49 |
| Knapp, J. | Fairport | So. | 47 |
| Harrell, T. | Schroeder | Sr. | 24 |
| | | | |
| Rushing | | | |
| Meyers, S. | Hilton | Sr. | 198 |
| Passero, A. | McQuaid | Sr. | 173 |
| Leonard, K. | Schroeder | Jr. | 161 |
| Ingalls, G. | Fairport | Sr. | 119 |
| Walker, W. | Rush-Henrietta | Sr. | 115 |
| | | | |
| Tackles | | | |
| Kander, J. | Rush-Henrietta | Sr. | 13 |
| Benjamin, W. | Aquinas | So. | 12.5 |
| Knapp, J. | Fairport | So. | 12 |
| Peers, C. | Fairport | Sr. | 10 |
| | | | |
| | | | |
| Touchdowns | | | |
| Passero, A. | McQuaid | Sr. | 2 |
| Ingalls, G. | Fairport | Sr. | 2 |
| Leonard, K. | Schroeder | Jr. | 2 |
| 3 players tied with 1 touchdown | | | |
| | | | |
| | | | |
| Class A | | | |
| Passing | | | |
| Player | School | Year | Yards |
| Hurell, X. | OLY/ODY | Jr. | 245 |
| Knapp, T. | Brighton | Jr. | 190 |
| Jackson, S. | Wilson Magnet | Sr. | 149 |
| Carter, K. | Thomas | Sr. | 144 |
| Gilbert, A. | East | Jr. | 135 |
| | | | |
| Receiving | | | |
| Card, D. | Thomas | Jr. | 122 |
| Parr, S. | OLY/ODY | Jr. | 114 |
| Lazenby, A. | Brighton | Jr. | 109 |
| Clark, B. | Wilson Magnet | Sr. | 96 |
| Maxwell, M. | East | Jr. | 95 |
| | | | |
| Rushing | | | |
| Beamon, K. | Spencerport | Jr. | 224 |
| Crumity, K. | Arcadia | Sr. | 176 |
| Baker, R. | Victor | Jr. | 157 |
| Clark, B. | Wilson Magnet | Sr. | 122 |
| White, J. | Irondequoit | Sr. | 113 |
| | | | |
| Tackles | | | |
| Knapp, T. | Victor | Jr. | 14 |
| Anderson, K. | Irondequoit | Jr. | 12 |
| Keohane, T. | Victor | Sr. | 12 |
| Bright, C. | OLY/ODY | Sr. | 12 |
| Hay, C. | Victor | Sr. | 11 |
| | | | |
| Touchdowns | | | |
| Beamon, K. | Spencerport | Jr. | 4 |
| 3 players tied with 3 touchdowns | | | |
| | | | |
| Class B | | | |
| Passing | | | |
| Player | School | Year | Yards |
| Blakenberg, M. | Wayne | So. | 191 |
| Joint, R. | HF-L | Jr. | 159 |
| Davis, Jr., C. | UPrep | So. | 143 |
| Kearney, J. | Livonia | Fr. | 82 |
| | | | |
| Receiving | | | |
| Sills, B. | Wayne | Sr. | 95 |
| Slymon, M. | HF-L | Sr. | 74 |
| Lustyk, P. | HF-L | Jr. | 71 |
| Powell, Z. | UPrep | Jr. | 62 |
| | | | |
| Rushing | | | |
| Ferrara, M. | HF-L | Sr. | 216 |
| Cathy, M. | UPrep | Sr. | 190 |
| Carter, N. | BK/RP | Sr. | 184 |
| Burns, C. | Batavia | Sr. | 135 |
| Smith, J. | Livonia | Jr. | 125 |
| | | | |
| Tackles | | | |
| Jean, C. | UPrep | Sr. | 14 |
| Rivera, R. | UPrep | Sr. | 13 |
| Pullen, J. | Wayne | Sr. | 13 |
| Allen, T. | Livonia | Jr. | 12 |
| 2 players tied with 11 tackles | | | |
| | | | |
| Touchdowns | | | |
| Ferrara, M. | HF-L | Sr. | 3 |
| Cathy, M. | UPrep | Sr. | 3 |
| Haugh, R. | Livonia | Sr. | 3 |
| 5 players tied with 2 touchdowns | | | |
| | | | |
| Class C | | | |
| Passing | | | |
| Player | School | Year | Yards |
| Berna, K. | Penn Yan | Sr. | 144 |
| Rowland, N. | Avon | Sr. | 107 |
| Dressel, J. | Attica | So. | 93 |
| Vasile, B. | Letsaw | Sr. | 66 |
| McKinley, L. | Wellsville | Jr. | 35 |
| | | | |
| Receiving | | | |
| Volpe, R. | Avon | Jr. | 74 |
| Wade, K. | CM/BB | So. | 73 |
| Mahan, M. | Penn Yan | Jr. | 53 |
| Prather, B. | Penn Yan | Sr. | 51 |
| English, D. | Letsaw | Sr. | 32 |
| | | | |
| Rushing | | | |
| Yockel, B. | CM/BB | Sr. | 160 |
| Swagler, T. | ER/G | Sr. | 156 |
| Wade, K. | CM/BB | So. | 138 |
| Strzelec, Z. | Attica | Jr. | 104 |
| Clarq, C. | ER/G | Sr. | 101 |
| | | | |
| Tackles | | | |
| Strzelec, Z. | Attica | Jr. | 22 |
| Mahan, M. | Penn Yan | Jr. | 18 |
| Dettman, T. | Dansville | Sr. | 13 |
| 3 players tied with 12 tackles | | | |
| | | | |
| Touchdowns | | | |
| Strzelec, Z. | Attica | Jr. | 4 |
| Rowland, N. | Avon | Sr. | 3 |
| Hill, J. | LeRoy | Sr. | 3 |
| 6 players tied with 2 touchdowns | | | |
| | | | |
| Class D | | | |
| Passing | | | |
| Player | School | Year | Yards |
| Record, M. | Red Jacket | Sr. | 187 |
| Macdonald, G. | B-ND | Jr. | 153 |
| Kennedy, J. | York/Pavilion | Jr. | 134 |
| Busch, D. | Alexander | Sr. | 127 |
| Santiago, R. | Can-Green | Jr. | 80 |
| | | | |
| Receiving | | | |
| Rizzo, C. | Red Jacket | Sr. | 140 |
| Sanders, M. | B-ND | Jr. | 127 |
| Davis, J. | York/Pavilion | Sr. | 79 |
| Morling, A. | Can-Green | Jr. | 55 |
| | | | |
| Rushing | | | |
| Reese, J. | B-ND | Sr. | 208 |
| Rattray, N. | Clyde-Savannah | Sr. | 105 |
| MacDonnell, A. | Bolivar-Richburg | Jr. | 105 |
| Houghtaling, J. | Can-Green | Jr. | 103 |
| 2 players tied with 98 yards | | | |
| | | | |
| Tackles | | | |
| Evingham, H. | Bolivar-Richburg | Jr. | 12 |
| Damore, K. | Red Jacket | So. | 12 |
| 5 players tied with 10 tackles | | | |
| | | | |
| Touchdowns | | | |
| Sanders | B-ND | Jr. | 3 |
| 8 players tied with 2 touchdowns | | | |