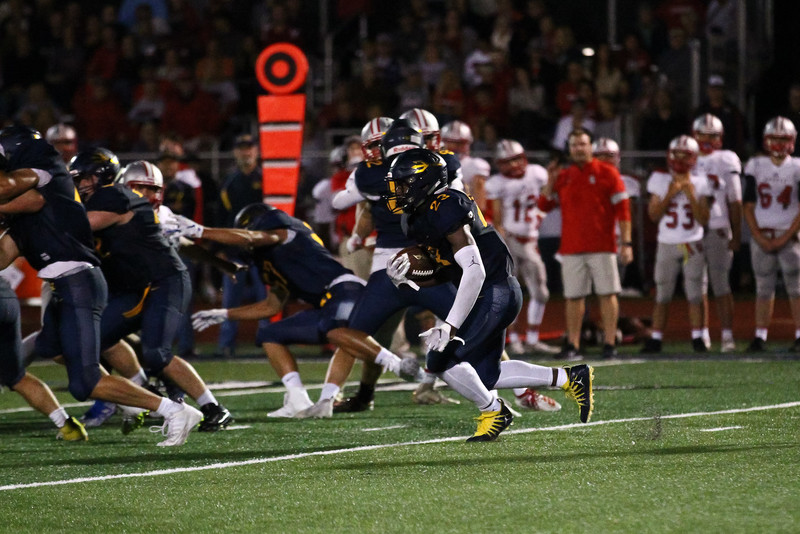 By JOHN LIKANJE
VICTOR, N.Y. – Junior running back Rushawn Baker ran for 118 of his 157 yards in the first half as the Victor Blue Devils defeated the Canandaigua Braves, 31-14, Thursday night at Corbit Field. Tied at 14 with 3:29 left in the second quarter, Baker sped up the sideline for a 72-yard touchdown to give the Blue Devils the lead.
"It was a toss play," Baker explained. "I knew the play before. We ran an inside run and I just tripped up. My line got me there."
"Simple pin and pull into the boundary," Blue Devils head coach Geoffrey Mandile explained. "He's put on some weight and he's a tough guy to bring down with one guy."
Baker compiled eight of his 13 carries through the first two quarters. The junior running back caught a pair of passes for 25 yards as well.
"It's all my linemen and the coaching staff," Baker said as six of his 13 carries went for at least six yards. "They do a great job of planning it all out. My linemen do a great job to make up holes."
"We try to scheme some things so he could get some runs, but he's a pretty special kid," Mandile said about his junior running back. "He got a little seam on the long run. He's powerful too."
3rd and 11 from the 19 Rushawn Baker. pic.twitter.com/kai28EtT7x

— Paul Gotham (@PickinSplinters) September 6, 2019
Junior quarterback James Knapp settled down to go 8-of-18 for 125 yards and three touchdowns. Knapp completed five consecutive passes in the first half, two of which found the end zone.
"He's always been stepping up," Baker said. "He's the captain now. He's still grinding. He's doing a great job. Even though he had a pick, he flushed it and just went right back in and threw three touchdowns."
.@SecVFootball – @CABravesFB vs. @VictorFootballB: QB James Knapp finds Mark Oddi from 5 yards out to cap off a 10-play, 21-yard drive. Victor leads Canandaigua 31-14. @PickinSplinters pic.twitter.com/vyYulRwT6u

— John Mitchell Likanje Junior (@jml5798) September 6, 2019
Joey Pezzimenti capped off a six-play, 82-yard drive with a 55-yard touchdown reception as the Blue Devils took a 14-7 edge. The senior running back had nine carries for 17 yards and an interception early in the third quarter. Junior wide receiver Trevor Knapp snagged a ball in the end zone from 24 yards out to tie the game in the opening period. Senior Alec Russell corralled three passes for 13 yards.
The Blue Devils tallied 190 rushing yards on 29 carries and 125 receiving yards on nine catches.
For Canandaigua, Casey Herod hurled himself into the end zone from a yard out for a quick 7-0 lead. The senior quarterback went 10-of-18 for 81 passing yards and rushed 12 times for 19 more.
"It was a great opportunity to learn about ourselves," Braves head coach Jeffrey Welch said. "We knew that this was going to be a very good challenge. Every facet of the game needs to get better."
.@SecVFootball – @CABravesFB vs. @VictorFootballB: QB Casey Herod caps 5-play drive with a rushing TD from 4th & Goal. 6:28 1Q: Canandaigua leads Victor 7-0. @PickinSplinters pic.twitter.com/V5KaexzEyH

— John Mitchell Likanje Junior (@jml5798) September 5, 2019
Dom Comella hustled for a 95-yard kickoff return touchdown to knot the game at 14 apiece with 8:56 remaining in the first half. The junior running back compiled 12 carries for 54 yards. Seven of Comella's carries were at least five yards. The junior caught two balls for 31 yards as well.
"We played very one-dimensional," Welch said. "Not kind of, we were very one-dimensional. They (Victor) were able to tee off on that. We have weapons. We just got to find a better way to utilize them."
Senior running back Seth Vigneri rushed six times for 19 yards. Junior wide receiver Sam Bennett had three catches for 35 yards.
"Confidence will come with experience," Welch explained. "You get punched in the face against a good team. It's a wake-up call, but it's also an opportunity to learn and get better."
The Braves carried the ball 37 times for 99 yards and caught 10 passes for 81 more.
After being shut out in last year's regular season matchup, Victor has won back-to-back games in the rivalry and outscored Canandaigua a combined 58-21. Victor will travel to Spencerport next Friday at 7 p.m.