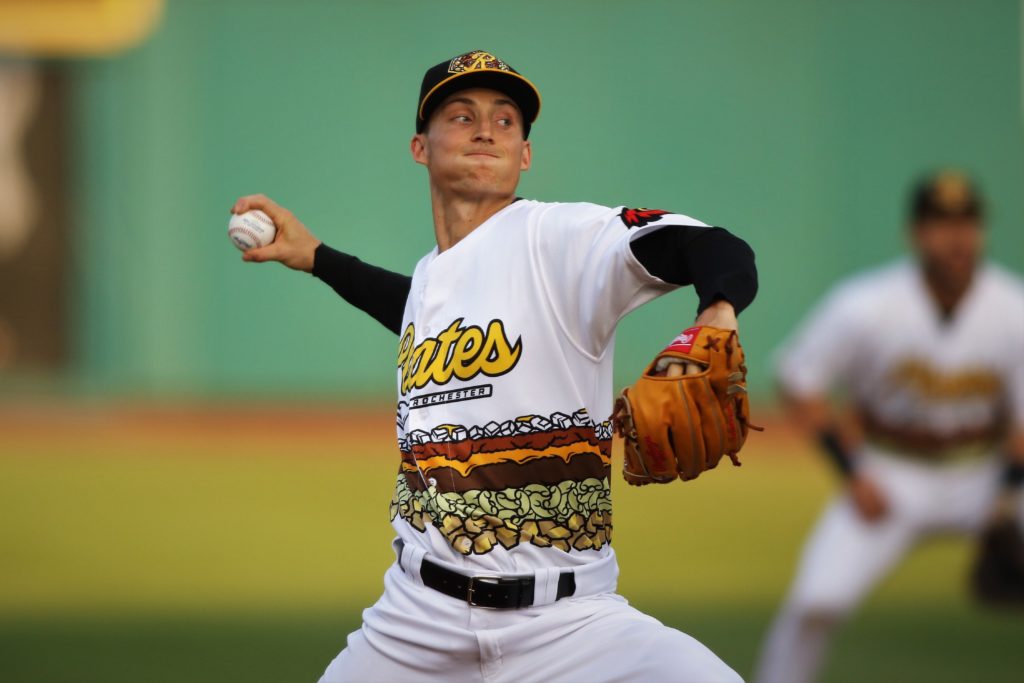 By PAUL GOTHAM
ROCHESTER, N.Y. — Griffin Jax received his introduction to a "Garbage Plate" while overhearing a conversation on his flight to Rochester earlier this week.
Thursday night, Jax donned the uniform commemorating the local culinary icon. The third round pick from the 2016 MLB draft didn't disappoint.
Jax picked up the win in his Triple-A debut as Rochester downed Gwinnett, 7-4.
"It felt good to get it out of the way," the right-hander said of his first start for Rochester. "Had a little bit of nerves leading up to the game and the first few innings. I felt like I settled in well after that. Glad to finally be here and get going for the rest of the year."
The Englewood, Colorado native struck out three and walked three over six innings of work. He surrendered a run in the first and two more in the second before finding his rhythm.
"I just wanted to get out there and get my feet wet, get myself situated with the different level of play. After that first inning happened, I thought it'd be smooth sailing from there. Hit a little rough patch in the second. After the second I felt like the game went pretty good and according to plan."
Jax retired six of the last seven batters faced. After needing 36 pitches to get through the first two innings, the Air Force Academy graduate used 42 tosses over the remaining four innings.
VIEW MORE JOE TERRITO PHOTOS HERE.
"That was huge because we've had some pitching issues with guys going back and forth," Wings manager Joel Skinner said referring to the recent promotions of Randy Dobnak, Zach Littell, Devin Smeltzer and Kohl Stewart as well as the trade involving Drew Hutchison.  "That was big on his part to go six solid and finish up so strong like he did."
Rochester's bats came alive in the fourth and helped the Wings take the lead in the fifth.
Wilin Rosario finished 2-for-3 on the night with three RBI and two runs scored. His 17th home run of the year highlighted a three-run fourth. He plated Ramon Flores with a shot off Gwinnett starter, Touki Toussaint. Rosario singled and scored in a four-run fifth when the Wings took a lead they did not surrender.
"That's why we park him in the middle of the lineup," Skinner said of the Wings designated hitter who came into the game ninth in the league with a batting average of .311. "Guys do a good job of getting on base in front of him. He's got a knack for not trying to get beyond the moment. He's right in the middle of it."
Alejandro De Aza gave the Wings the lead with a two-run double off Gwinnett reliever, Huascar Ynao. De Aza and Mike Miller collected two hits apiece in the win.
"When they started swinging, I just kept telling myself to go out there and keep pounding the zone," Jax stated. "Let your team get back in the dugout because they did a great job."
Drew Waters led the game with a double and scored on an Andres Blanco single to give Gwinnett an early 1-0 edge. Former Wing Pedro Florimon made it 3-0 with a two-run home run in the second.
"They punched him, and he punched back," Wings manager Joel Skinner said of Jax who allowed three hits over the remaining four innings.
Rochester (59-57) moved into a second-place tie with Buffalo in the IL's Northern Division five games back of first place Scranton/Wilkes-Barre which also lost on Thursday.
The Wings dropped three straight at Gwinnett in late July by a combined score of 25-6. The Stripers came into the game with a league-best record of 67-47.
"They spanked us down there," Skinner stated. "Just looking at their roster, you could tell they had a lot of guys with a lot of games played. In Triple-A your pitching rosters are always going to be moving. They've had a chance to have a real solid core of players and have played well all year."
Jax is a 2nd Lieutenant in the Air Force and an acquisition officer. He is part of the Air Force Services World Class Athlete Program. He is an inductee in the U.S. Air Force Academy Baseball Hall of Fame and the most decorated player in Academy history.
As for the Garbage Plate.
"I might give it a shot," he said. "I might have to after being up here."
The Wings have won seven of nine games and  host Louisville (Cincinnati) for a three-game series starting Friday. Adam Bray (1-1, 4.50) is scheduled to get the start.