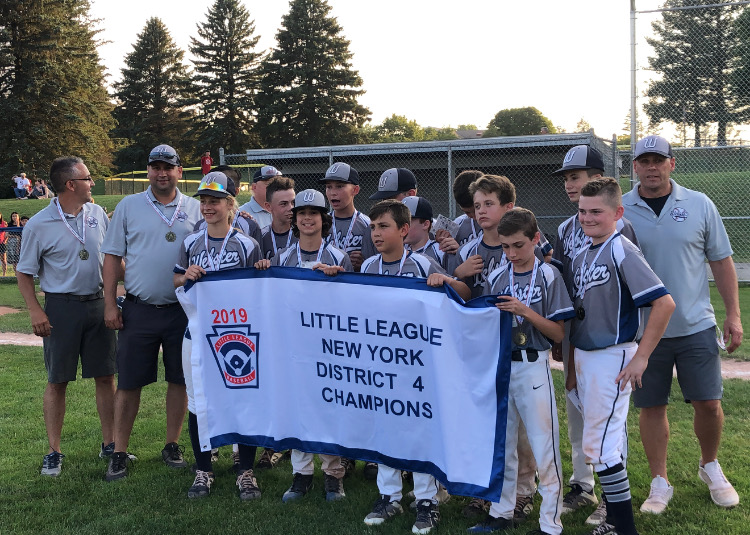 By BILLY HEYEN
PENFIELD, N.Y. — As Jack Kelly strolled to the plate with the bases loaded and a 10-run rule possibility at hand, his third base coach had three simple words for him.
"It's your time."
Kelly, who'd pitched a strong complete game to that point, delivered a walk-off grand slam over the tall leftfield fence. His teammates on the base paths raised their arms as the ball cleared the fence, and Kelly was mobbed at home plate.
When asked if there'd be a more fun way to win a game, Kelly laughed and said, "I don't think so."
Webster's pitcher just hit a walk-off mercy grand slam to win 12-1 over Penfield and advance in the Little League tournament. @PickinSplinters @jml5798 pic.twitter.com/ArSrwu0eBe

— Billy Heyen (@Wheyen3) July 10, 2019
The grand slam sent Webster Little League past Penfield Little League with a 12-1 win in the Little League New York District 4 final. It's the third-straight year this group of Webster kids has won their particular age group, but this year is special, head coach Brian Beachner said. Williamsport and the Little League World Series are in play this time around.
"This one is special because this is the road to Williamsport," Beachner said. "And these kids deserve it because this was a team win."
Webster trailed 1-0 until coming to hit in the fourth. They were nervous, Kelly said, and he didn't expect his team to come back. They were quiet, added Joey Baller. Beachner said he "rattled them" before the fourth, telling them they needed a "firework."
Baller was just that. With two on to open the inning, Baller delivered a two-run knock to take the lead, an advantage Webster and Kelly wouldn't give back.
"We all work together, and we don't care if we don't have playing time," Baller said. "We just keep going and rallying."
Kelly continued to use high heat to get outs and maintain the lead, which had ballooned to 6-1 after the fourth. Heading to the bottom of the fifth, Beachner reminded his team that five runs could end it.
A walk then a Baller single began the frame. Eventually, Kelly got his shot with the bases loaded. He didn't miss.
Webster received their medals afterward, then posed for photos in front of the winning scoreboard. One of Kelly's teammates joked with him about being interviewed, and another asked a TV reporter, "Is this really going to be on Channel 8?" Webster will move on to the regional tournament against four other western New York foes and play on Sunday with a chance to advance to the state tournament.
"We feel good," Beachner said. "We're riding this wave out of districts."